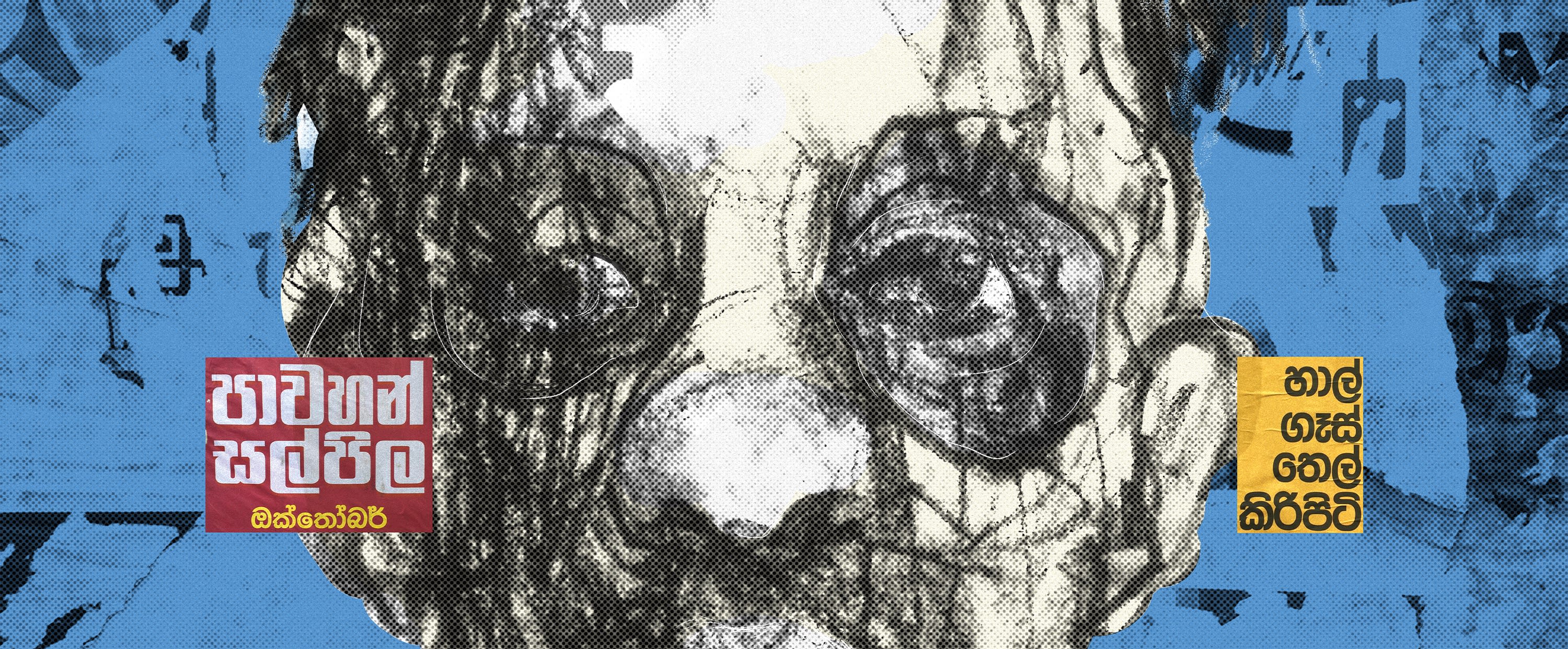 The past year at SFG has been a whirlwind! We persevered through the political and economic turmoil that engulfed Sri Lanka in the first half of the year, to showcase a variety of exhibitions and curated installations.
Represented artists Hashan Cooray, Fabienne Francotte and Nuwan Nalaka continued to evolve and expand their bodies of work, while debut solo exhibitions at SFG by Chaturika Jayani and Kavan Balasuriya introduced a fresh and new vocabulary of visual language to Sri Lankan Contemporary Art. With one more solo exhibition lined up to open in mid-December by newly signed SFG artist Arjuna Gunrathne, the year is set to close on a triumphant note.
Despite all odds, it has been a fortunate year, and we have been able to sustain art practices and conversations. Muvindu Binoy's solo exhibition, Survival of the Fragile and Protest in Colour along with Chandraguptha Thenuwara's annual Black July exhibition, Ecce Homo lent their imagination to Sri Lanka's mass protest movement that was shaped by artists.
It was a momentous year for our artists as we also had the opportunity to make Sri Lanka's presence felt on an international stage. Chandragupta Thenuwara and Saskia Pintelon were selected for the 59th Biennale de Arte in Personal Structures hosted by the European Cultural Centre in Venice. In addition, Thenuwara went on to showcase his work from this exhibit, 'Covert' at Frieze London. And, his installation work Barrelism was selected along with work by Muvindu Binoy to be showcased in Pop South Asia: Artistic Explorations in the Popular hosted by the Sharjah Art Foundation.
Scroll down to take a look back on some of our key highlights of 2022!
---
EXPLORING NEW IDEAS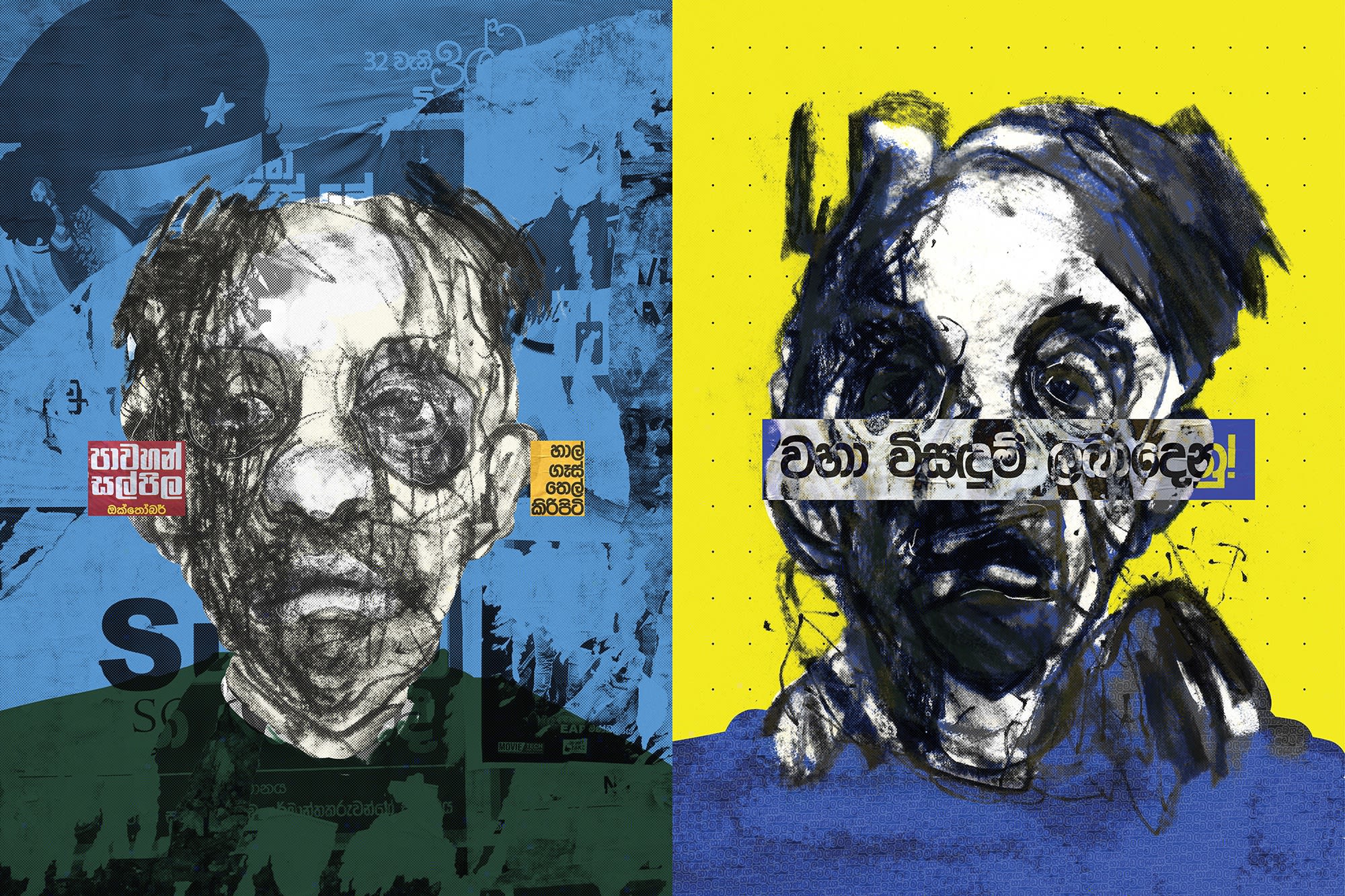 Hashan Cooray, Stick No Bills #18 + #17, 2022, Single Edition Giclée Print on Archival Matt Paper, 80 x 60 cm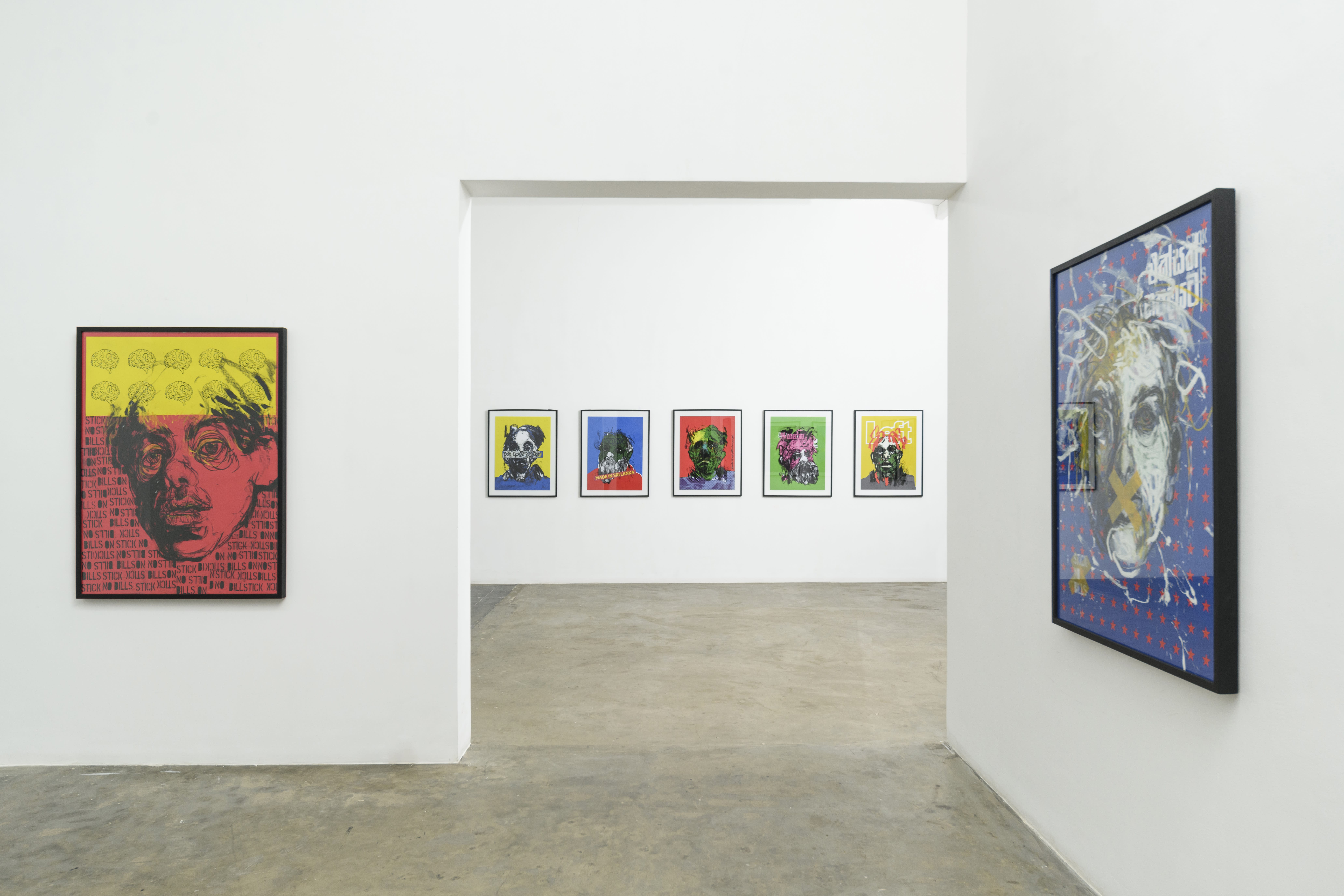 Hashan Cooray, Stick No Bills, Saskia Fernando Gallery, 2022
Hashan Cooray returned with his gestural & intense portraiture style to investigate themes of identity, deception and power. Through a series of canvases, poster prints and video art, Stick No Bills presented the artist's experience of navigating the worlds of commercial advertising, political propaganda and social critique by contrasting media headlines with a set of vibrant colour palettes that also reflect the traditional CMYK colour printing sequences of modern print media. The series brought into play a selection of posters stripped from the public walls of Colombo to explore the impact that excessive multimedia propaganda has on the psyche of an individual.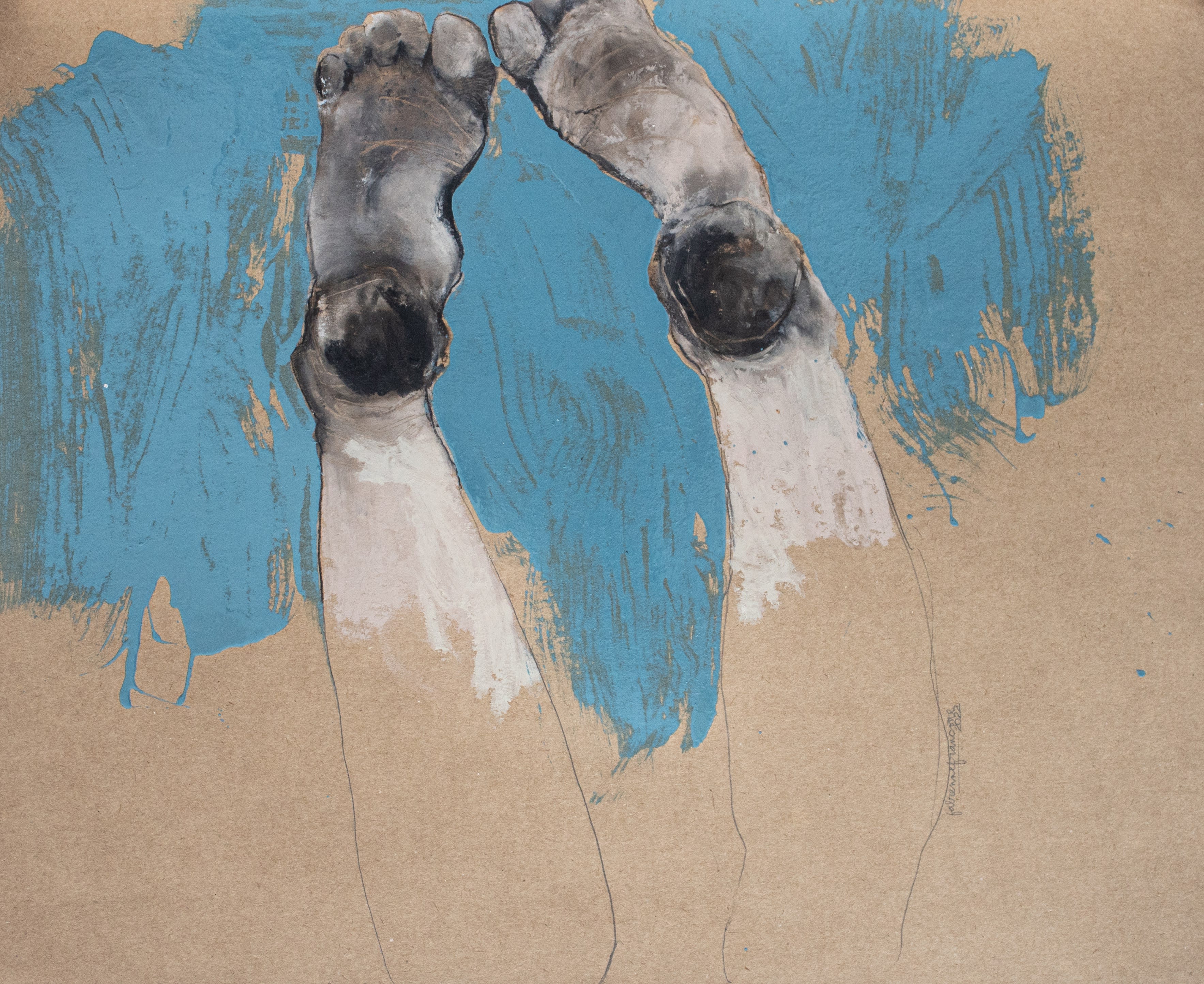 Fabienne Francotte, The Fragmented Body 4, 2022, Mixed Media on Cardboard, 54 x 66 cm
Through a collection of portraits, installation drawings and anatomical sculptures, represented artist Fabienne Francotte presented a framework to access and speak about invisible wounds, hidden traumas, and pervasive power structures in our communities in her 2022 solo exhibition, Nature Morte.

Nature Morte situated the human body as the site of what remains in the aftermath of trauma, abuse and migratory displacement. Created over several years, the collection of works were part of the artist's engagement with abuse victims at sites ranging from mental hospitals and children's development centers in Sri Lanka to Rohingya refugees in Bangladesh and troubled youth in Belgium.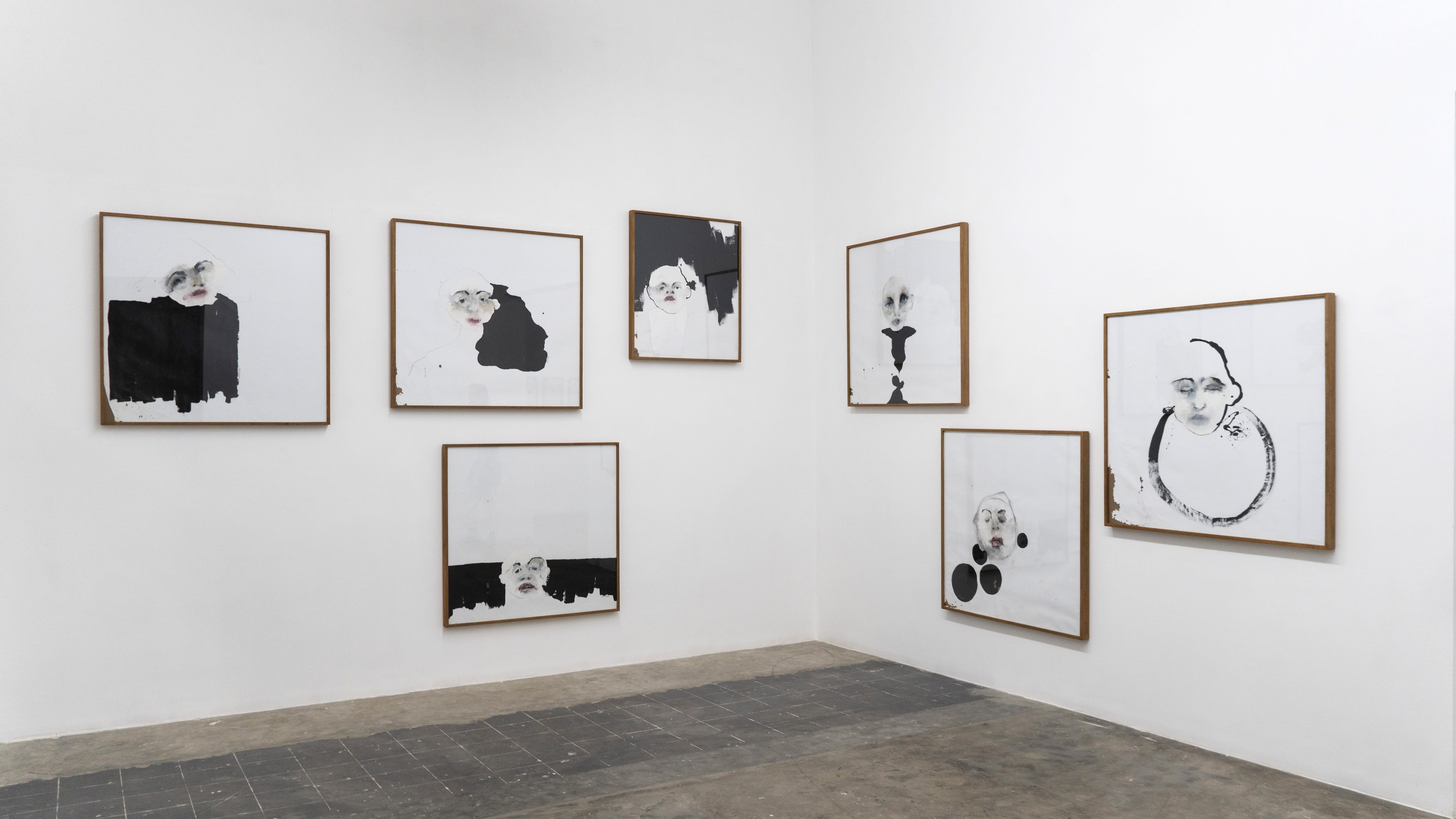 Fabienne Francotte, Nature Morte, Saskia Fernando Gallery, 2022
In his third solo exhibition at SFG, Nuwan Nalaka returned to his intricate and vivid floral motifs in Prakriti, expanding his expertise in the traditional painting techniques of tempera and watercolour. The artist continued to engage with Hindu and Buddhist philosophies as seen in his previous exhibitions Sansara (2020) and Sutra (2017), where he reappropriated and reimagined ancient iconographies to explore concepts of femininity, sexuality and the erotic, probing the limits of agency, freedom and of expression that a woman is granted.


Nuwan Nalaka, Prakriti VII & Prakriti VIII,

2022,

Tempera on Fabriano paper, 76 x 56 cm
---

DEBUT SOLO exhibitions AT SFG
Dreamscapes, Chathurika Jayani's debut solo show at SFG, depicted fantastical urban situations to explore themes of urbanism and city building. Through the use of heavy set tones reminiscent of polluted skies, textured corrugated board alluding to the ubiquitous tiling sheets found on buildings across the country, and meticulous needle work which drew the viewer into a deeper contemplation with her work, she skillfully unveiled the hidden realities of urban development and gentrification prevalent in the 21st century global city.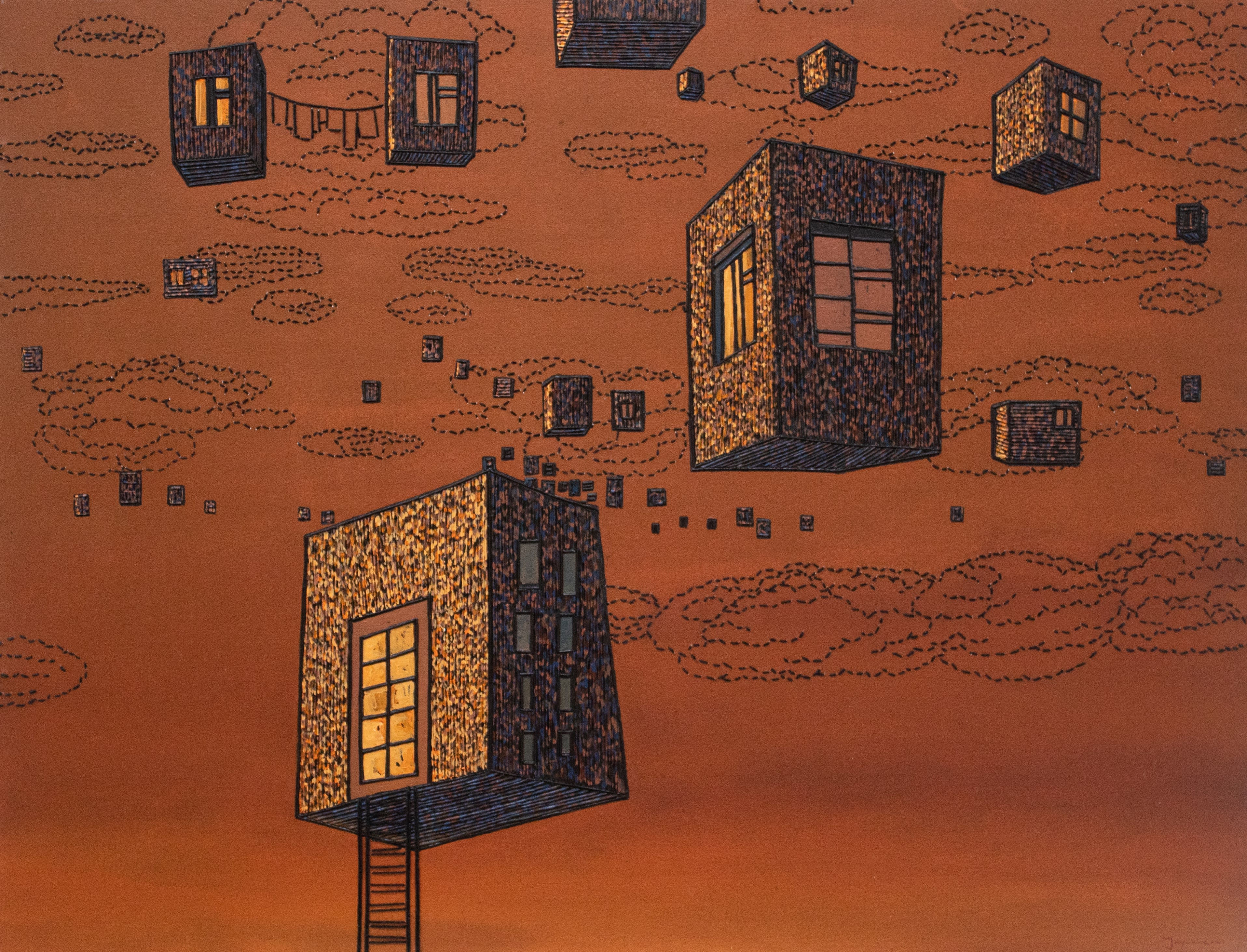 Dreamscape 9, Acrylic, corrugated board and woolen thread on canvas, 94cm x 123cm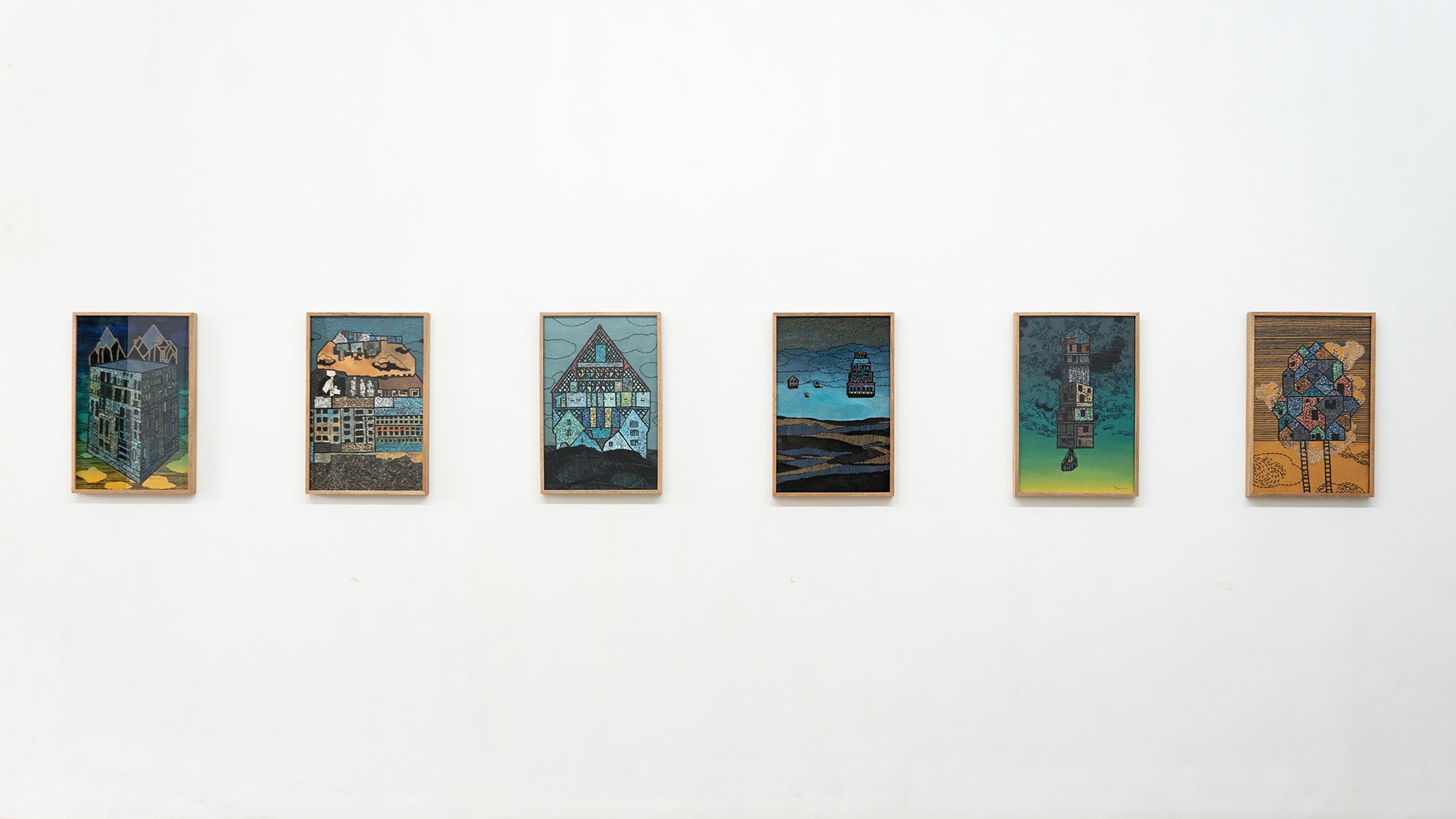 Chaturika Jayani, Dreamscapes, Saskia Fernando Gallery, 2022
In his debut solo exhibition at SFG,
Lightlines,
Kavan Balasuriya continued to use his drawing practice to engage in a dialogue between maker and material. The artist combined his drawing practice with traditional printmaking techniques to trace and engrave the surface of aluminum foil to explore light, shadow, space and depth. Inspired by architecture, textiles, and organic compositions, the resulting geometric abstractions presented the potential of static objects being fluid visual experiences.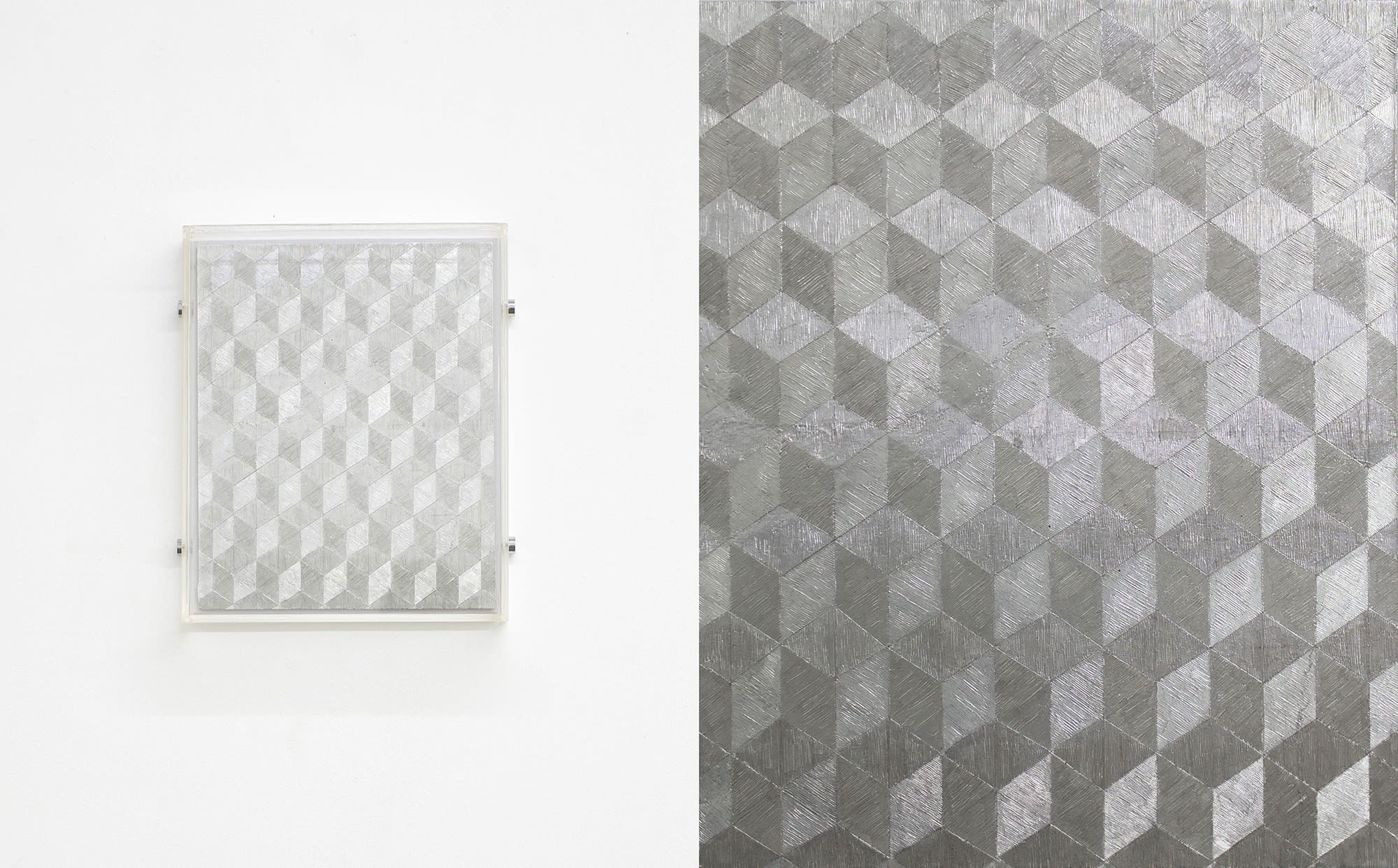 Kavan Balasuriya, Formation I, 2021, Graphite and Aluminimium Foil on Board, 25 x 20 cm
---

In responSe TO THE CURRENT CLIMATE
Muvindu Binoy's Survival of the Fragile, was a reaction to the shifting dynamics between Sri Lanka's politicians and the people they govern. Completed during the artist's residency in Paris with the Cité Internationale des Arts in 2021, the twenty-six digital collage pieces were a response to the political and economic upheaval in Sri Lanka. The artist enlisted an object vocabulary lifted from roaming the streets and museums of Paris to poke holes in our false equation of fragility with weakness. Industrial blocks, rocks, and spools of barbed wire—symbols of barriers, obstacles and the toxic machismo, were incorporated to suggest that virility possesses its own kind of weakness.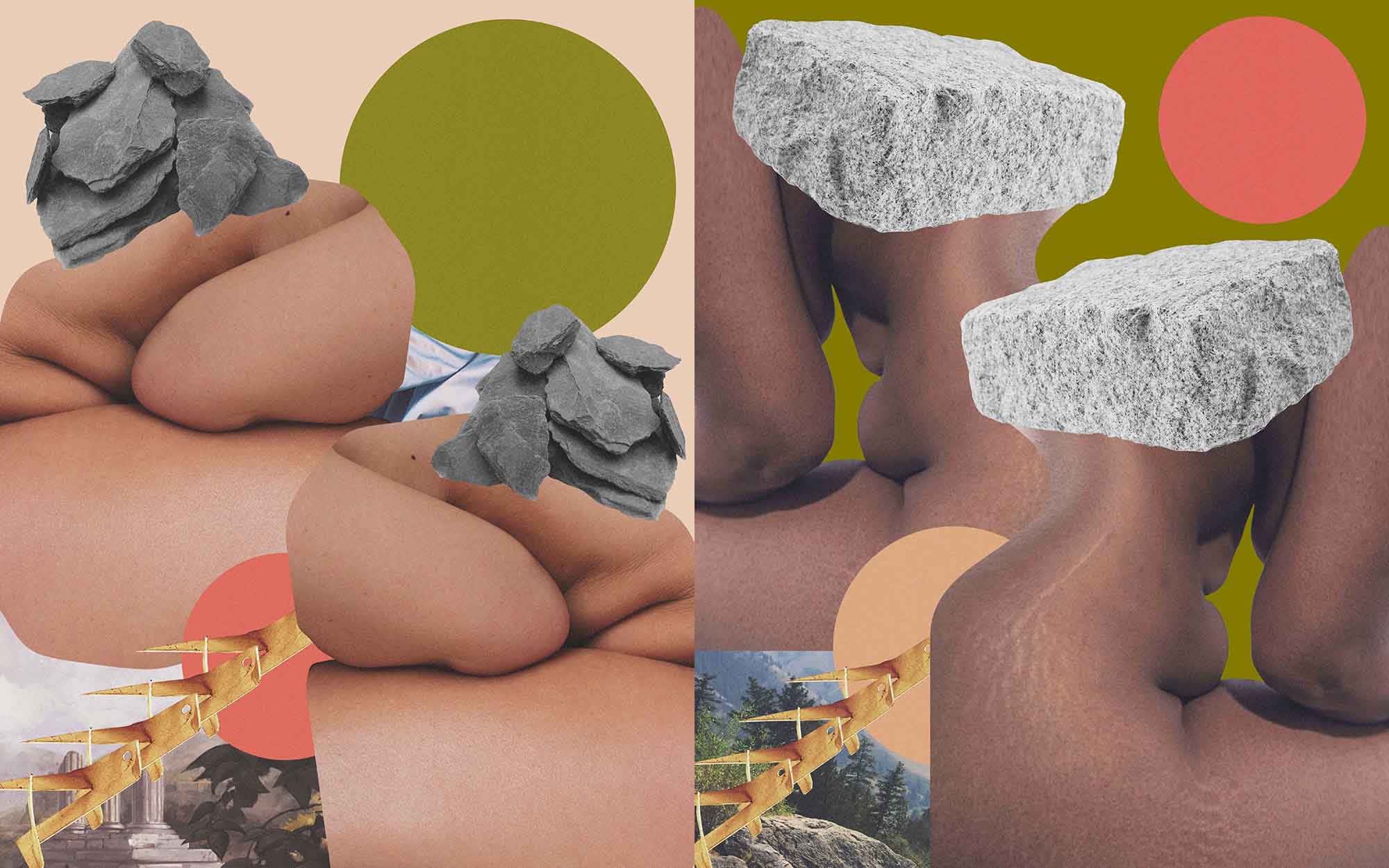 Muvindu Binoy, Fragile 04 & 01, 2022, Giclee Prints on Archival Photo Paper, 140 x 112 cm
Muvindu Binoy's Protest in Colour series shown alongside Survival of the Fragile, was created by feeding widely circulated photographs from the GotaGoGama protest site into AI image-generative technology through carefully engineered prompts. The process was arduous and overly technical and Binoy soon realised he could produce the same effect using an app on his iPhone. The artist generated over two-hundred versions of each photograph, slowly whittling the number down until he was left with around five of each. He then manually layered these remaining images on top of each other to create emotive blurs of colour, figures, and shadows which resembled the gestural brush strokes of paintings.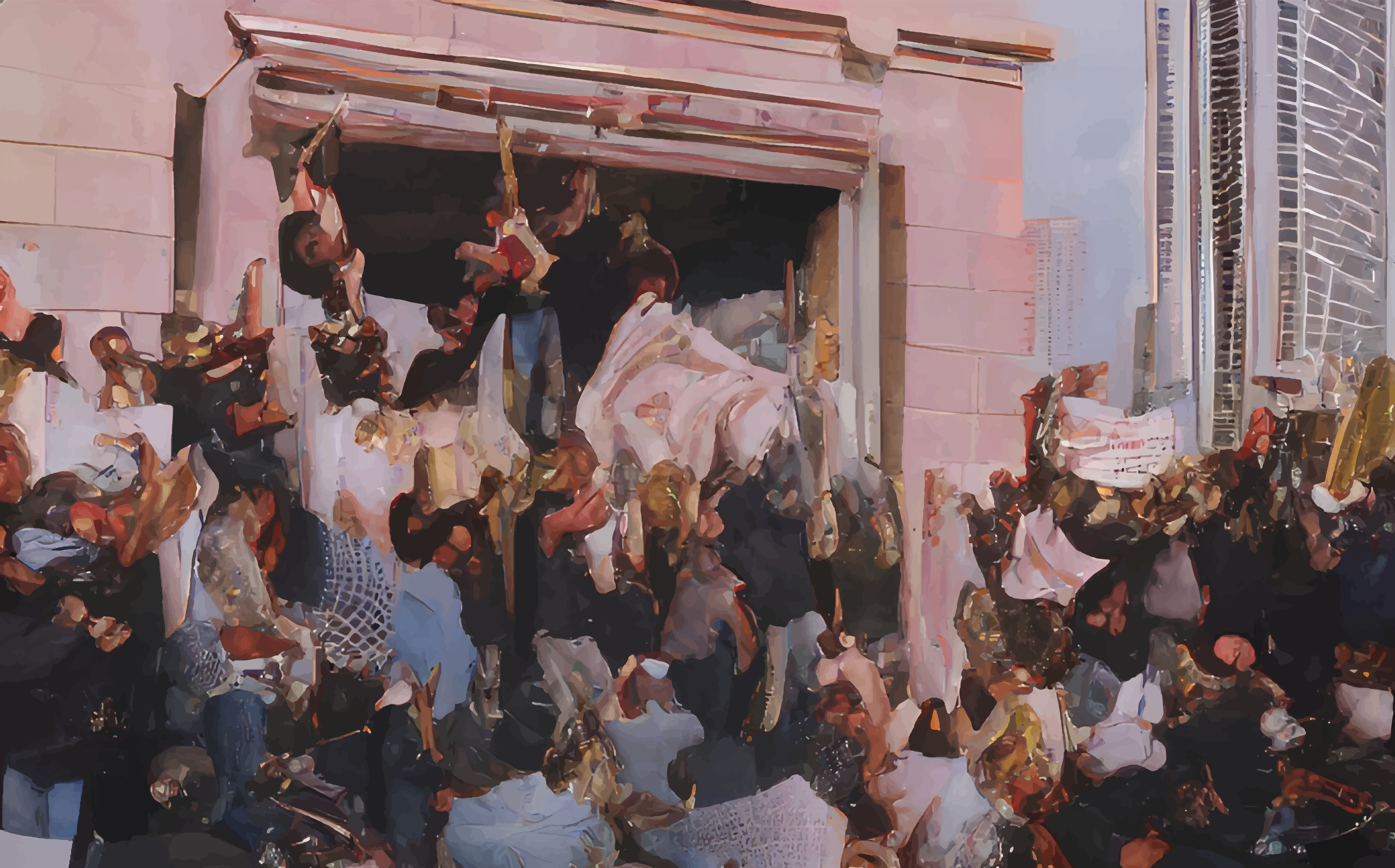 Muvindu Binoy, Protest in Colour 02, 2022, Giclee Print on Archival Photo Paper, 19 x 31 cm
Ecce Homo was Chandraguptha Thenuwara's annual Black July memorial exhibition. This iteration came at a decisive moment in Sri Lankan history and Thenuwara used this new body of work to question the idealism of democracy as a governing system. Rendering his works in oil and ink, he traced parallels between lines in biblical stories and events in Sri Lanka's violent political history.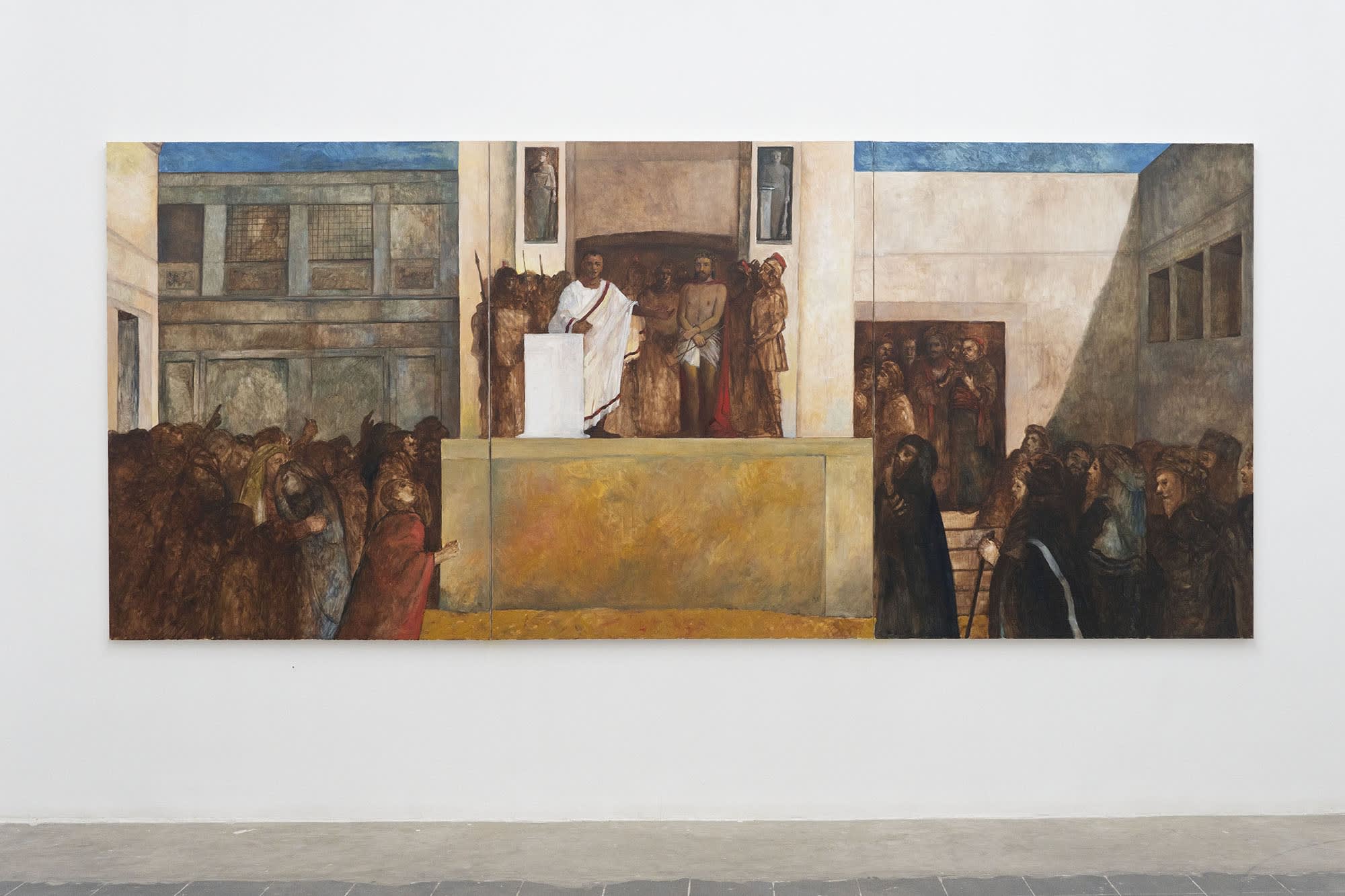 Chandraguptha Thenuwara, Ecce Homo. 2022, Saskia Fernando Gallery
---

EXPANDING OUR HORIZONS
Works by represented artists Chandraguptha Thenuwara and Muvindu Binoy were featured at Pop South Asia this year. Pop South Asia: Artistic Explorations in the Popular by Sharjah Art Foundation was one of the first major exhibitions to provide a substantial survey of modern and contemporary art in South Asia from the mid-twentieth century to the present. While Binoy turned towards digital collages and Sri Lankan films in an examination of generational politics, and cultural responses; Thenuwara critically engaged with the politics of memory and violence through the use of unconventional material like barrels, maps, brass & bricks. His work inquired into the beautification, erasure, and camouflaging of socio-political and cultural realities of war-torn and post-war Sri Lanka.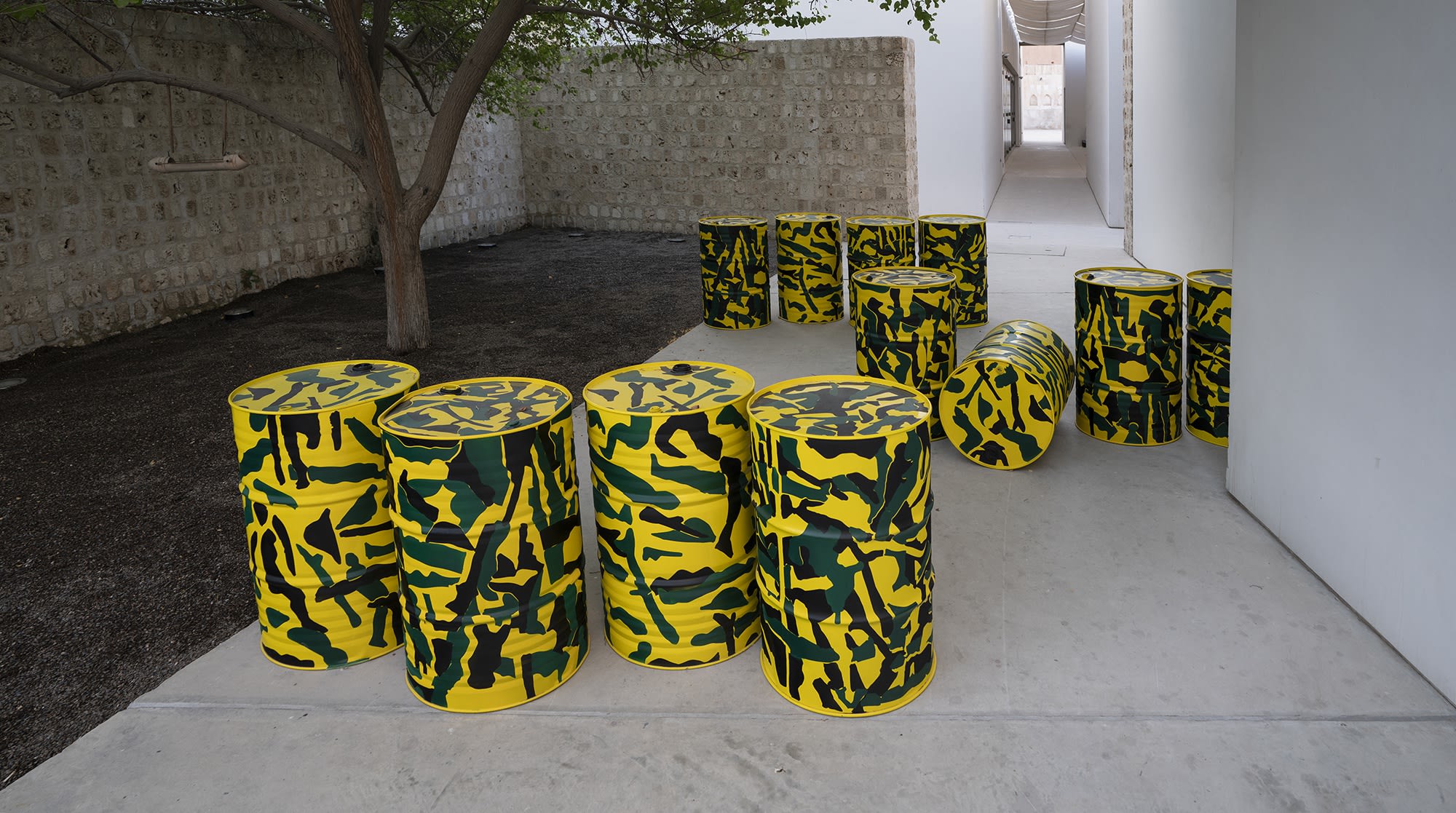 Barrelscape (1998), Chandraguptha Thenuwara, Sharjah Art Foundation, 2022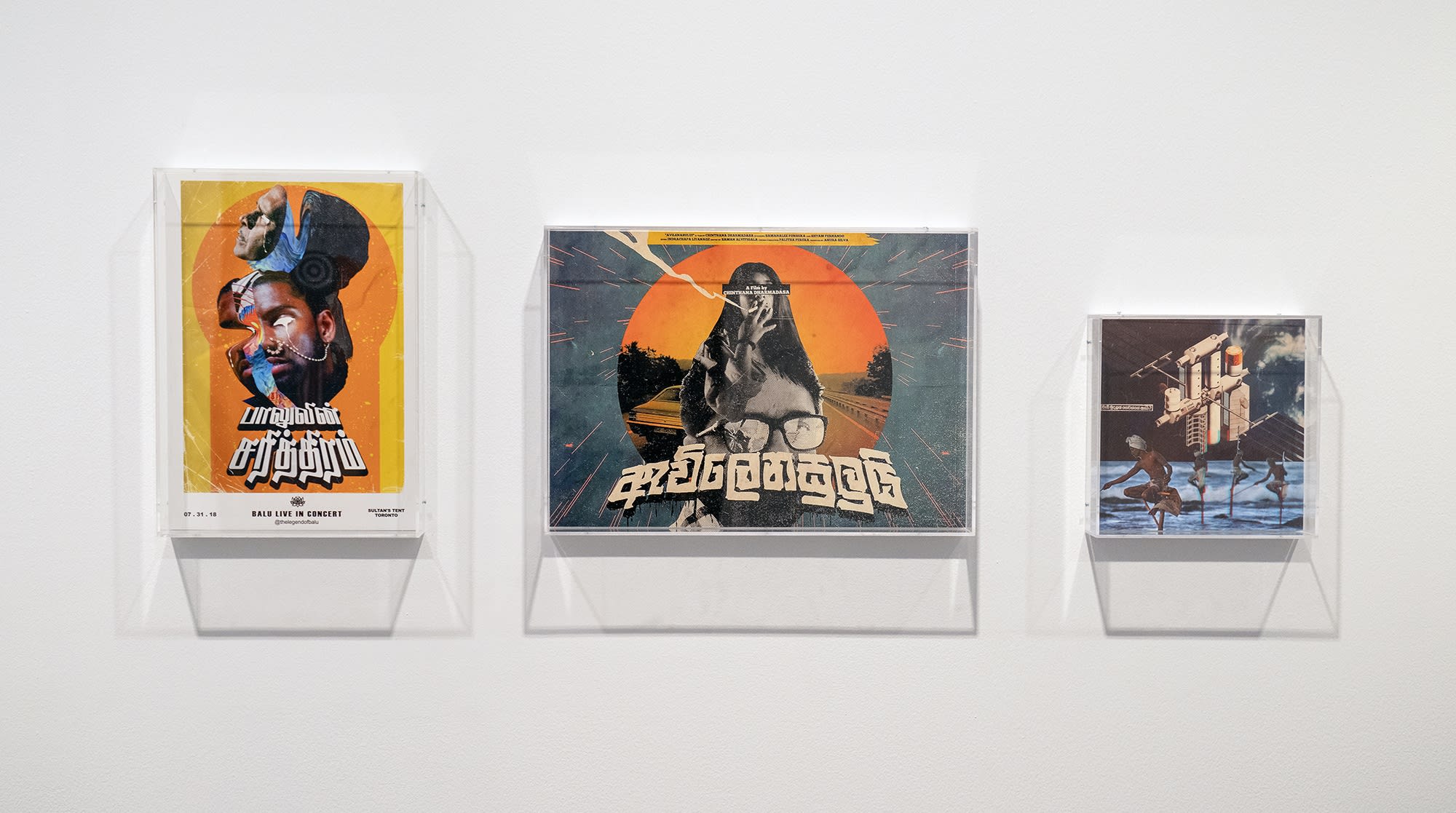 Muvindu Binoy, Legend of Balu, Avilenasului & Moon Men, Sharjah Art Foundation, 2022
The sixth edition of the

Venice Biennale

's contemporary art exhibition Personal Structures presented a selection of nearly 200 participants from all over the world, including the works by SFG represented artists Chandraguptha Thenuwara and Saskia Pintelon.

The 2022

edition revolved around the idea of reflections, which embodies the dual meaning of a visible episode perceived by the eyes and a mental deed stemming from the action of thinking and pondering with the mind.
Saskia Pintelon, Through the eyes of a baby, Personal Structures, ECC, Venice, 2022
Saskia Pintelon presented Through The Eyes Of A Baby for the 59th Venice Biennale as part of the 'Personal Structures' exhibition. The installation included large scale works on canvas alongside a collection of drawings compiled of scratched-out text, and cut-outs placed over pages culled from newspapers. In keeping with the theme of the exhibition Pintelon attempted at a wilful distortion of traditional news stories, by channeling the news through the filter of her mind. Replete with saucy asides and irate outbursts known internally but seldom articulated, Through The Eyes Of A Baby, engaged the artist and the viewer in private outbursts, as they reflect on experiences of bewilderment and disbelief for events and people.
Chandraguptha Thenuwara, Covert, Personal Structures, ECC, Venice, 2022
Every year, in response to the political climate of the time, Chandraguptha Thenuwara presents a renewed look at specific motifs used throughout his practice: the lotus, the stupa, the barrel, or the soldier. For the 59th Venice Biennale as part of the 'Personal Structures' exhibition at European Cultural Centre, Thenuwara created a vortex of these interlocking motifs in the form of a welded metal installation entitled Covert. This ritualistic approach to his craft enables Thenuwara to allow the milieu of the time to shift what each motif signifies. Covert functioned as a meditation on that recurrence, on the continuous renewed and reimagined use of the same motifs. In this instance, as a critique on militarization and the incendiary role of religion in politics.

The Covert Drawings, a series of ink on paper works developed as a continuation of the same ideas was showcased at Frieze London 2022 as part of 'Indra's Net', curated by Sandhini Poddar.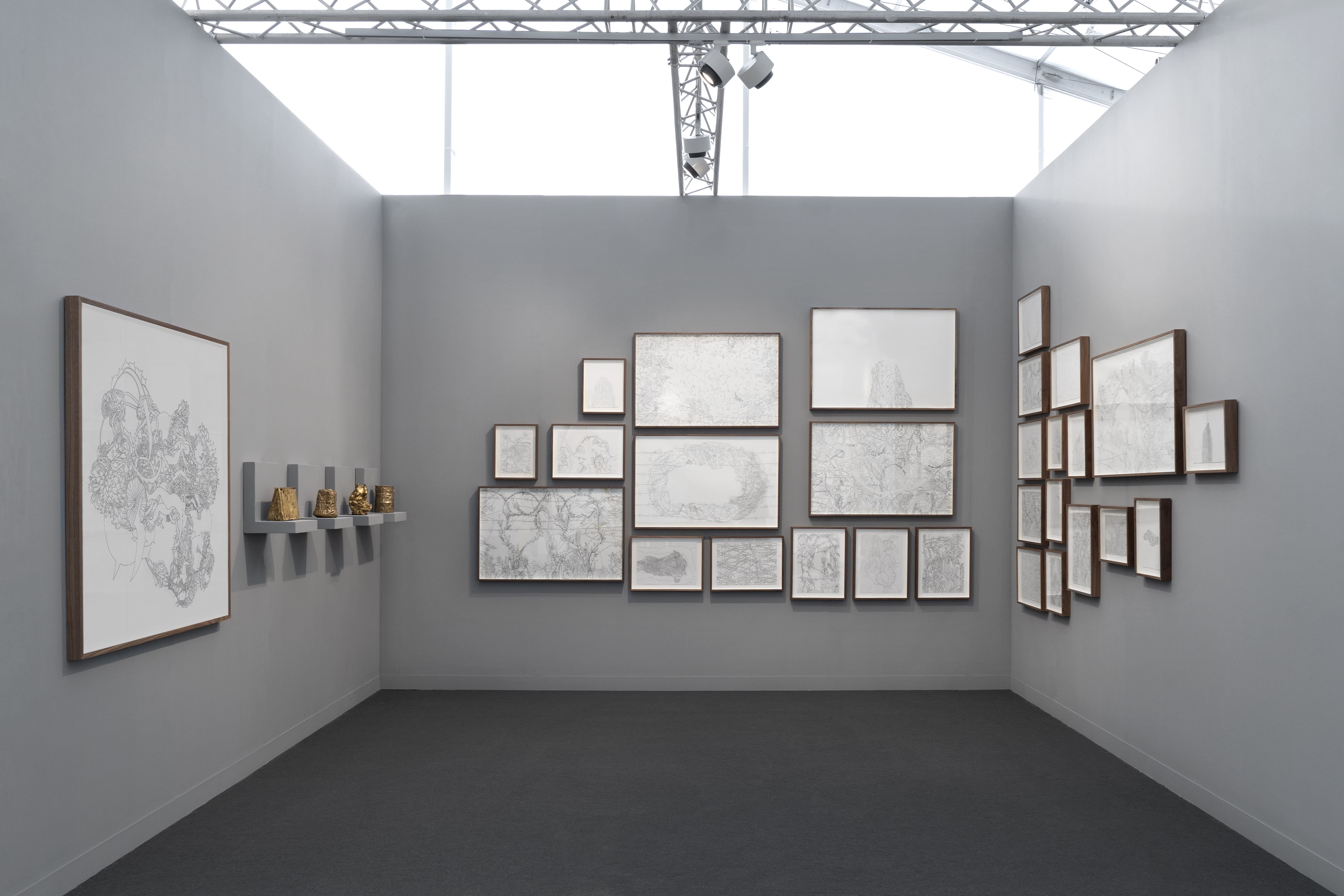 Installation view of SFG stand at Frieze London 2022, featuring work by Chandraguptha Thenuwara. Photo by: Paula Caballero Villegas.