Born and raised in Paris, Srimoyi Bhattacharya has lived between France and India since she was born. She founded her own PR agency Peepul in New York in 2006, and moved to India very soon after to expand the firm. Known as the 'PR Genius' today her agency has presence in three major Indian cities. When her family has time off they hop a flight to Sri Lanka, a second home for Sri, her husband Sourabh and daughter Dayani. Sri is truly a citizen of the world, her eclectic taste in art reflects this and it is her passion for the Sri Lankan contemporary art scene and keen eye that keep her coming back for more!
Srimoyi Bhattarcharya says
OUR LOVE FOR SRI LANKAN ART STARTED WITH UNDERSTANDING THE SOCIAL MESSAGE BEHIND THE ART COMBINED WITH THE VIBRANCY OF LIGHT AND COLOURS.
Tell us a little about yourself... Where do you live and what makes it a home to you?
We currently live in a leafy area in the heart of Delhi...but you never know where we may be next year as we are rolling stones! Our home is like our launch pad because it gives new flow and energy to our work. And it is our retreat, made to be welcoming and comfortable with jolts of colour and memories of our travels. The art we have chosen is a reflection of our appetite for colour and memento and has brought the home together through the years. Our lovely neighborhood makes it cosy, to chance upon a friend, walk to a class or be surprised by a home-baked cake has made all the difference!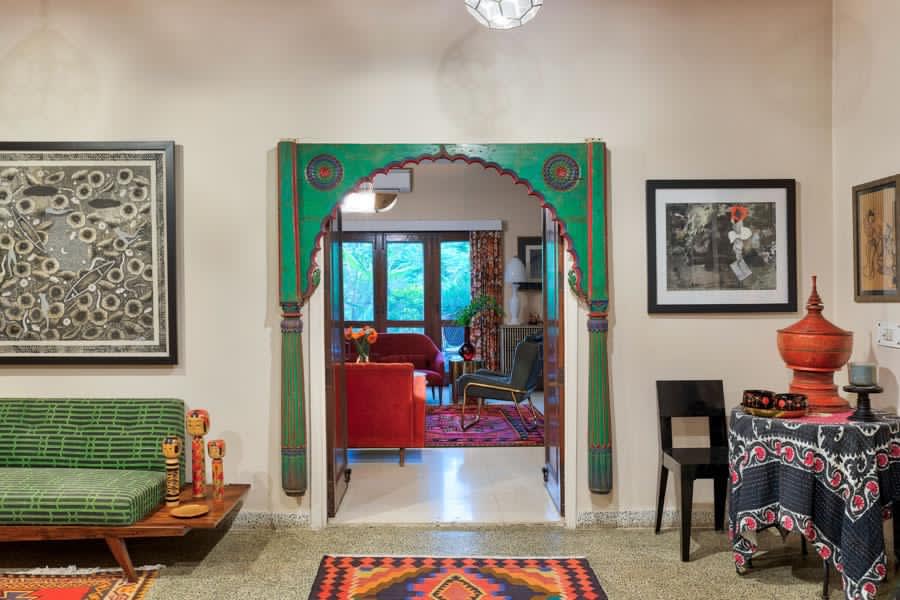 (far left) Nuwan Nalaka Sutra Series painting, (right) Sujeewa Kumari
Tell us about Peepul...
Peepul is an advisory firm in PR and marketing specialised in luxury, lifestyle and arts/culture. We represent homegrown and international brands of all scales with equal passion and belief. Our presence in Mumbai, Delhi and Bangalore has given us the immense privilege of working with the country's finest brands, whether they are start ups or steeped in legacy.
| | |
| --- | --- |
| | |
| | Jagath Ravindra, Blooming Beauty XVIII, 2018 (far right) |
Tell us about when you first started visiting Sri Lanka and started looking at the local art scene?
My first visit was when I was six or seven years old with my parents as I faintly remember walking through rice fields and the hum of women singing in the paddies.
My husband Sourabh and I have been visiting Sri Lanka for over ten years now and have seen the landscape change so much in the short span of a decade. We discovered Saskia Fernando's Gallery as we were passing by sometime in 2010- we were invited at a vernissage where the space was outdoors and had some live music flowing. That first encounter took away the formality and the intimidation!
Our love for Sri Lankan art started with understanding the social message behind the art combined with the vibrancy of light and colours.
Where do you draw inspiration from?
I think we draw references from our roots as it also helps us find stillness in our constant uprooting. From past repertoires of art or design, whether it's Art Deco or Bengal modern. I was naturally drawn to Nuwan Nalaka's work because it reminded me of our Bengal folk art in some way and I believe that his time in Calcutta may have greatly inspired the ethos of his work, while exploring the intersection of Sri Lankan culture and religion.
Our travels and our curiosity for local artisanship have been another significant source of inspiration, from Tokyo to Colombo.
Saskia Pintelon

Untitled XII, 2019

Mixed Media on Paper

170 x 130 cm

Saskia Pintelon

What to do, 2006

Mixed Media on Paper

87 x 63 cm

Fabienne Francotte

27

Mixed Media on Paper

25 x 17 cm

Fabienne Francotte

14

Mixed Media on Paper

25 x 17 cm
What are some of the most sentimental or meaningful pieces in your collection?

Priyantha Udagedara Garden of Earthly Delights II 2016 Mixed Media on Canvas - remains one of my favourite works from Sri Lanka. I picked this piece when I was about to close our home in Delhi and it was to celebrate this new chapter in our lives. Every time we look at Priyantha's work, we discover a new layer, a new meaning. There couldn't be a better feeling and that's when you know a piece belongs to the home.

It's a tie with the proud welcoming of a glorious piece by Saskia Pintelon which I fell in love with earlier this year at the India Art Fair. It was a first of many sorts and I am very grateful to the gallery for making an old dream come true as we have been following Saskia Pintelon's works for many years.

How would you describe your personal style?

I am told it's "bohemian chic" !

Srimoyi with artist Priyantha Udagedara at the SFG Booth at India Art Fair 2020
Favorite museum or creative space for inspiration?
Whenever we are in Paris, a family visit is a must at the Musée des Arts Decoratifs owing to it's diverse set of exhibitions, from fashion to design. The Musee Bourdelle is also a beautiful example of an evolving museum space in an old Paris atelier of late 19th century surrounded by Bourdelle's sensual and majestic sculptures.
What was the first piece you fell in love with?
It was a glorious Ruwan Prasanna piece which made us appreciate a more abstract brushstroke, a new aesthetic space for us. His work is luminescent and vibrant, in a way so meditative.
Ruwan Prasanna

Twilight VIII, 2019

Acrylic on Canvas

169 x 167 cm

Nuwan Nalaka

Sutra XXVIII, 2019

Watercolour on Fabriano Paper

111 x 112 cm