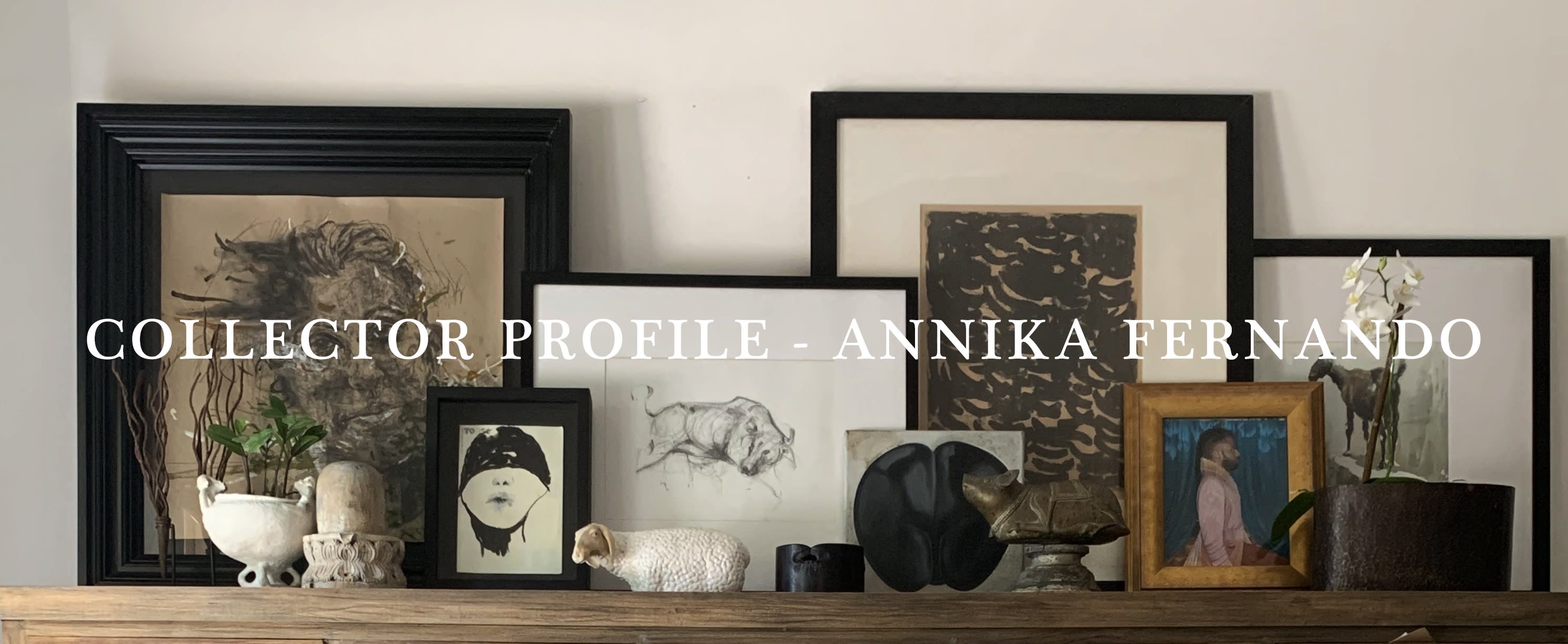 Multihyphenate designer Annika Fernando owns a very special collection of art carefully selected and curated for her Colombo home. Each work in her collection has a special story and while a few of these works were gifted by her father, art patron Udayshanth Fernando of Paradise Road, she engages with the Sri Lankan contemporary scene both as an interior designer advising clients and carefully acquiring pieces to add to her own home . Her collection is an eclectic mix of modern and contemporary pieces by predominantly Sri Lankan artists. Read on to learn about what inspired her to begin collecting, and where she finds inspiration.
Annika Fernando at home (Jagath Ravindra painting in the background)
Annika Fernando says
LEARN WHAT YOU DON'T LIKE, SOMETIMES IT'S EASIER THAN LEARNING HOW TO APPRECIATE YOUR OWN UNIQUE TASTE WHEN ART HASN'T FELT LIKE SOMETHING YOU UNDERSTOOD. ALWAYS BUY AUTHENTIC, DON'T FEED THE IMITATION WORK WHICH FEEDS OFF SOMEONE ELSE'S CREATIVE TALENT.
Where do you live and how did you find your space? What makes it a home to you?
I live in central Colombo in a residential area. I've never felt attached to spaces or addresses. Growing up, we moved from house to house and I enjoy the renting process and transformation of decorating and redecorating using a collection of furniture, art and objets d'art. Home is where my family is and given my career, I feel I could make almost any space home.
How have you and your team at both AF Design and PR been keeping focused during times like these? Any thoughts you want to share around the current situation at hand?
During lockdown I viewed the time as a gain for documentation. Construction was on hold, so it was a bonus period to work on design drawings for existing projects.
I do wish I felt more creatively inspired in terms of design, as it would have made my time even more productive in that sense.
It surprised me that when our office returned to operational, that I felt creative once again and it's been a busy and productive period with several projects at different stages.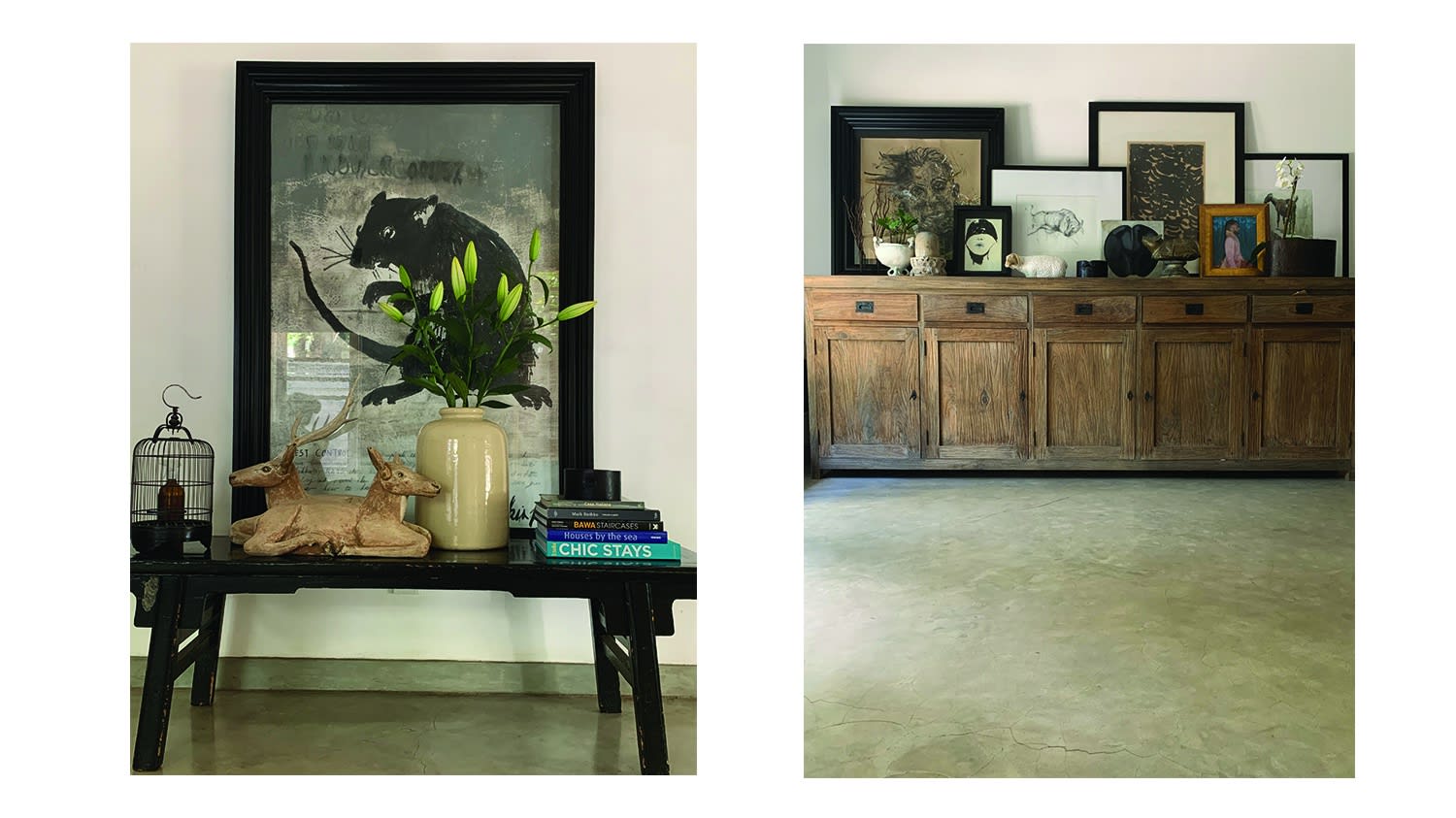 Saskia Pintelon Rat painting (From left) Hashan Cooray, Fabienne Francotte, George Claessen, Rajni Perera
Where do you think your creative drive comes from?
I often wonder this myself. It's intuitive; mostly driven by subconscious inspiration. A talent which makes my career choices natural is the ability to envisage spaces. I often lie in bed thinking of a project and end up travelling through plans in my dreams, which have always been incredibly vivid.
No question, growing up in a home and family environment where art and design were appreciated and acknowledged in everything we did planted the seeds for creative drive.
How does your taste in art influence your work as a designer?
I think it influences the project rather than myself as a designer. The biggest difference is my client's interest in art, whether a collector, interested in art or event not. It can really define how the project develops. I believe in value at every level. Even if a client may not be interested in making a larger investment in art, I do always think it's important to purchase something authentic. I always advise clients who don't have interest in art per se, to learn what they don't like and also not buy something which is a copy of anyone else. I also feel art is incredibly personal, so unless I'm looking for something for a commercial space and it doesn't need to relate to the client's personal taste, I work very strongly with my clients as guide.
Authenticity is key and it defines value.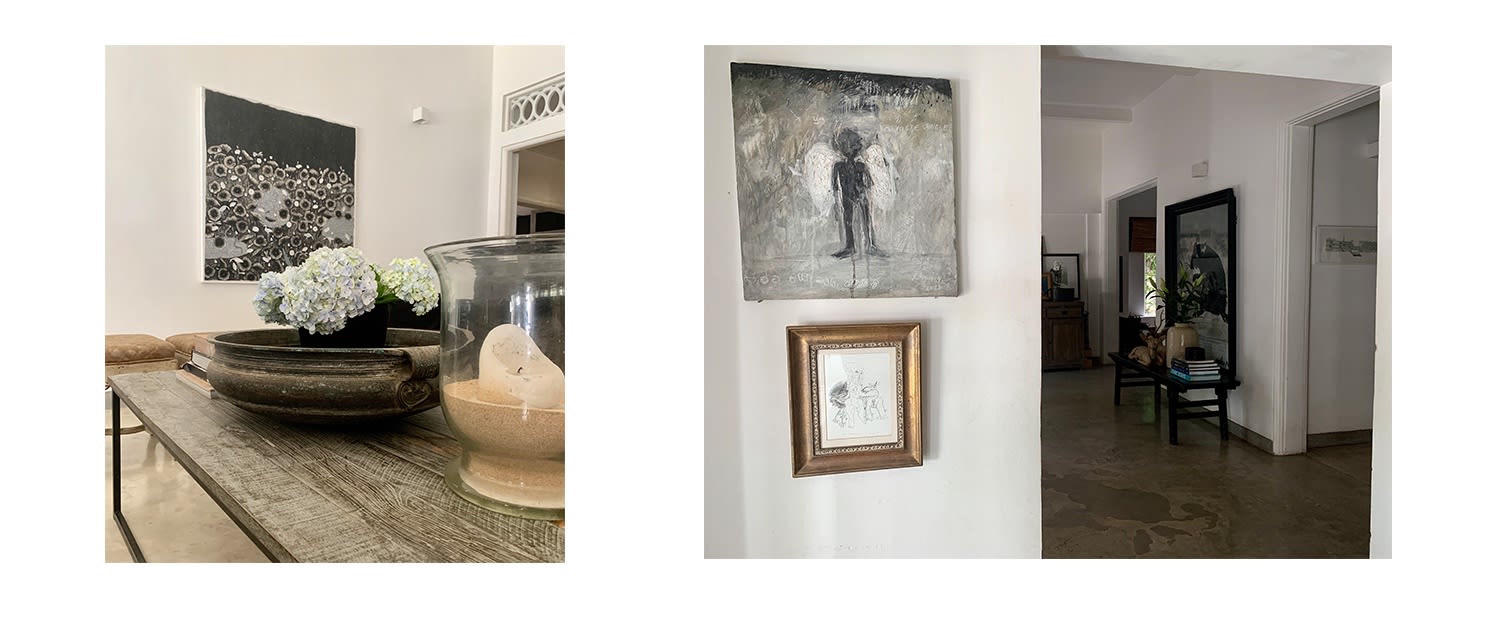 Nuwan Nalaka Sutra Painting (from top) Chamila Gamage, Kingsley Gunatillake
When did you first start acquiring art?
Probably younger than even I know. I've had a Donald Friend from his Balinese period hanging in my bedroom since I was a child. My earliest pieces were gifts from my art collector father, they formed the basis of my collection. One of the first paintings I chose for myself was a Sanjeewa Kumara that I saw and loved while on a university holiday in Colombo at one of the first studio visits I made with my father just before the now well-established artist's very first exhibition at Paradise Road Galleries.
I bought my first antique in my late teens at a French flea market, an antique doll's mannequin which sits at my design store PR.
What was the first piece you fell in love with, and why?
Probably a George Keyt my father owned and sold when I was 12-14. I was so upset that he sold it but he replaced it with one of his most favourites in his current collection. He has a Lionel Wendt photograph of a detail of that original painting and I can still picture the whole work.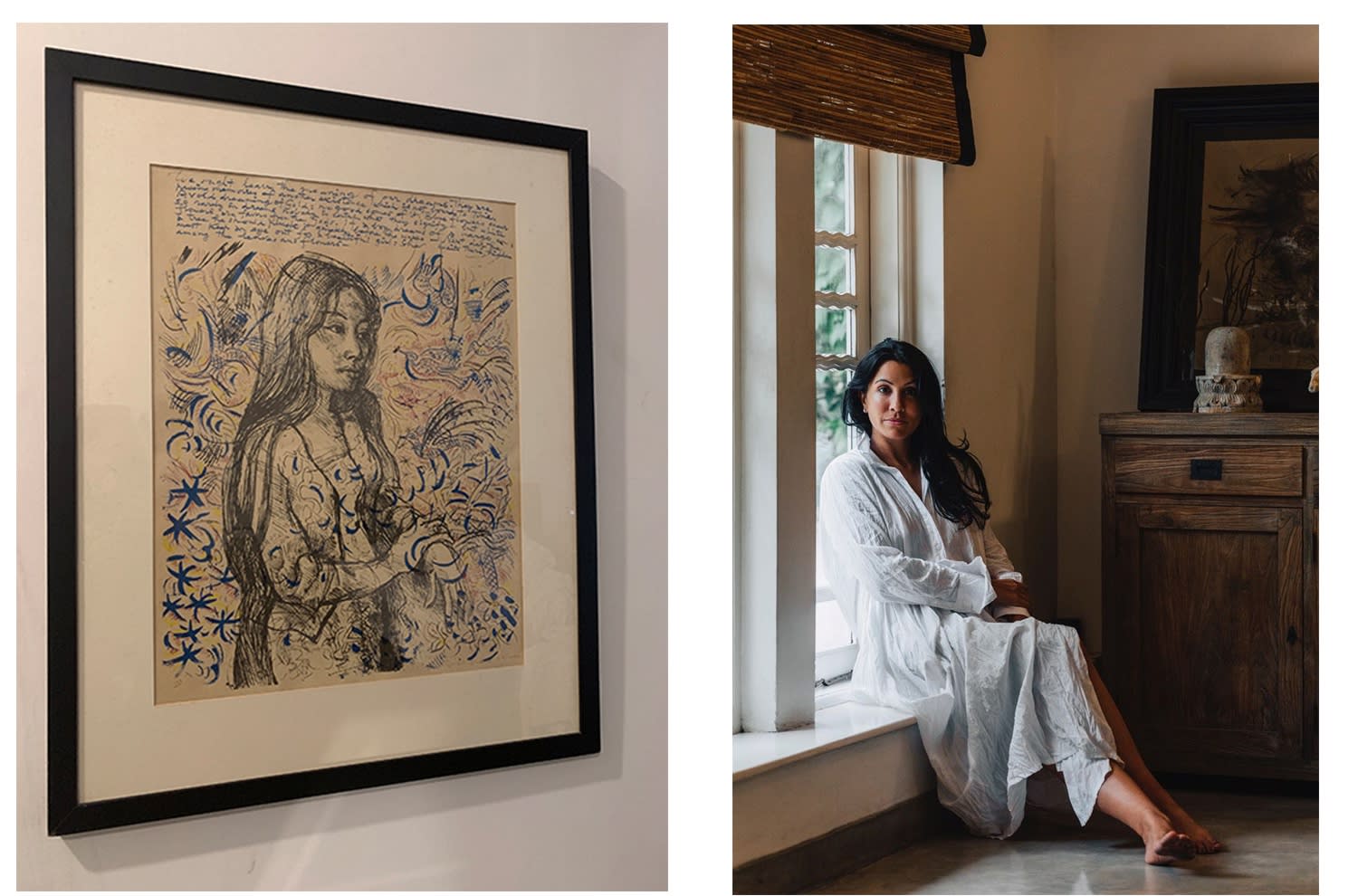 Donald Friend Annika at home
What are some of the most sentimental or meaningful pieces in your collection?
The Donald Friend in my bedroom of course, a painting of a rat by Saskia Pintelon, both gifts from my father; a portrait of myself by Hashan Cooray, my sister gifted me on my birthday which is special but I keep it discreet as I'm still not comfortable hanging a portrait of myself in our home. These all have sentimental value.
To be honest, I don't purchase pieces I don't love. I'm a cautious collector and I know when I really love a work. This is why I find it hard to commission for myself.
For new collectors, do you have any advice you wish to impart? Do you have a collecting ethos or philosophy that you want to share?
Probably the same advice I give my interior design clients. Learn what you don't like, sometimes it's easier than learning how to appreciate your own unique taste when art hasn't felt like something you understood. Always buy authentic, don't feed the imitation work which feeds off someone else's creative talent.
Featured works

PRIYANTHA UDAGEDARA

Orientalism 02, 2019

JAGATH WEERASINGHE

Untitled XXXII, 2019

JAGATH WEERASINGHE

Untitled XX, 2019
Mixed Media on Canvas
Mixed Media on Paper
Mixed Media on Paper
184cm x 249cm
16cm x 22cm
16cm x 22cm

CHANDRAGUPTHA THENUWARA

Glitch Robe, 2018

CHANDRAGUPTHA THENUWARA

Glitch + I, 2017

HASHAN COORAY

Masochist Poem VI, 2019
Acrylic on Canvas
Mixed Media on board
Mixed Media on paper
70cm x 90cm
30cm x 42cm
64cm x 51cm
Favourite museum or creative space for inspiration?
I love the Tate Modern in London and Madrid's Reina Sofia. MoMa's work of Monet's water lilies is breathtaking and Amsterdam's Rijksmuseum is one of the most beautifully curated collections. Museums and galleries are always a highlight and focus when travelling and I've been blessed to have visited so many.
I think one of the last and most unexpected visits was to The Last Supper I finally saw a couple of years ago in Milan with my husband.
I never expected it's size or appreciated it's fragility. Creative spaces for inspiration - we have such strength in local architecture, historical monuments and natural beauty in Sri Lanka, absolutely no shortage for inspiration.
Who do you want to collect next?
I have my eye out for a Priyantha Udagedara but generally I visit exhibitions and fall for individual pieces.

FIRI RAHMAN

Kartel I, 2016

FIRI RAHMAN

Untitled II, 2018

SASKIA PINTELON

Friends III, 2015

Mixed Media on paper
Pen on paper
Chinese Ink on Paper
99cm x 69cm
62cm x 34cm
36cm x 27cm
FABIENNE FRANCOTTE

I Can Walk Mentally VI, 2020

FABIENNE FRANCOTTE

I Can Walk Mentally IX, 2020

RAJNI PERERA

Aftab II, 2018

Mixed Media on paper
Mixed Media on paper
Mixed Media on inkjet print
42cm x 30cm
42cm x 30cm
76cm x 51cm
CHUDAMANI CLOWES

Water Deer Horn Coral, 2018

CHUDAMANI CLOWES

White Musk Deer Horn Coral, 2018

MUVINDU BINOY

Girls Night Out, 2020
Mixed Media on Canvas
Mixed Media on Canvas
Giclée print on archival photopape
65cm x 80cm
60cm x 70cm
25cm x 25cm