---
Kavan Balasuriya (born 1992, Colombo Sri Lanka) is a London based, Sri Lankan artist whose drawing practice investigates the inherent qualities of various materials and surfaces. In his more recent work, he traces and engraves the surface of aluminium foil to create geometric abstractions inspired by architecture, textiles, and organic compositions. In examining the foil's spatial, emotive and novel qualities, he presents the potential of static objects being fluid visual experiences. Inspired by craft-based practices, Kavan uses his drawing practice to engage in a dialogue between maker and material.
Kavan earned a BA in Fine Art (2014) and a Foundation Diploma in Art & Design (2010) from Central Saint Martins College of Art & Design, University of the Arts London. Kavan has held three solo exhibitions in Colombo, as well as participating in numerous festivals including Cinnamon Colomboscope (2015, 2016), Colombo Art Biennale (2016), Colombo Fashion Week (2016, 2018), Galle Literary Festival (2018), and Serendipity Arts Festival (2018).
Kavan's latest body of work, 'Lightlines' is currently on show at Saskia Fernando Gallery until 29.10.22.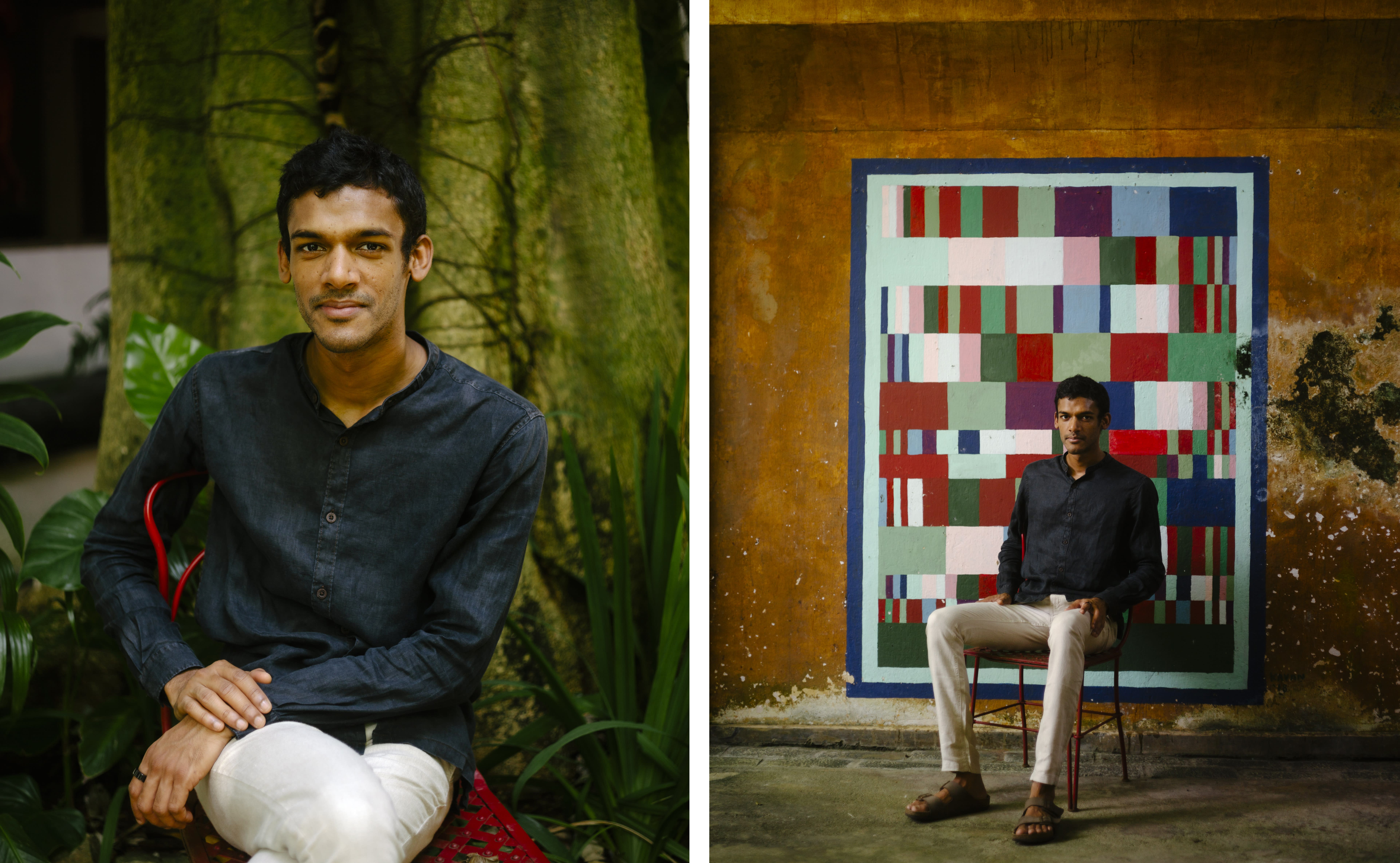 Portrait of Kavan taken in front of an untitled mural (2018) painted in his home. Photo by: Tavish Gunasena
---
WHO AND WHAT INFLUENCES YOUR CREATIVE PRACTICE?
My immediate cultural and familial background influences my practice. It is between Sri Lanka, India, Myanmar and the United Kingdom. All of these countries are historically connected. I love seeing colonial architecture subsumed by the chaos of climate, colour and culture, totally appropriated from its original context.
YOU HAVE LIVED BETWEEN SRI LANKA AND ENGLAND — HOW HAVE THESE TWO PLACES INFLUENCED YOUR PRACTICE?
They couldn't be more different in atmosphere and climate. As a result, each place lends a certain quality and sensitivity to colour, light and texture. Whenever I produced art in Sri Lanka, the colours tended to be brighter. When the skies of England are white and lighter shades of grey, especially in the cooler months, I enter a more reflective mood. When I moved to London, my work had a more subdued and monochromatic palette. This change also surprised me; perhaps I have a sensitivity to the quality of light in my environment.
WHAT INSPIRES YOU?
Perhaps it's a bit cliché, but I am currently enjoying the colours and textures of Sri Lanka. After being away for three years, I find the combination of humid climate, weathering and architectural façade a vibrant and necessary part of my wellbeing. It's one of the things I've looked forward to the most. I'm pretty inspired by the field of contemporary illustration as well.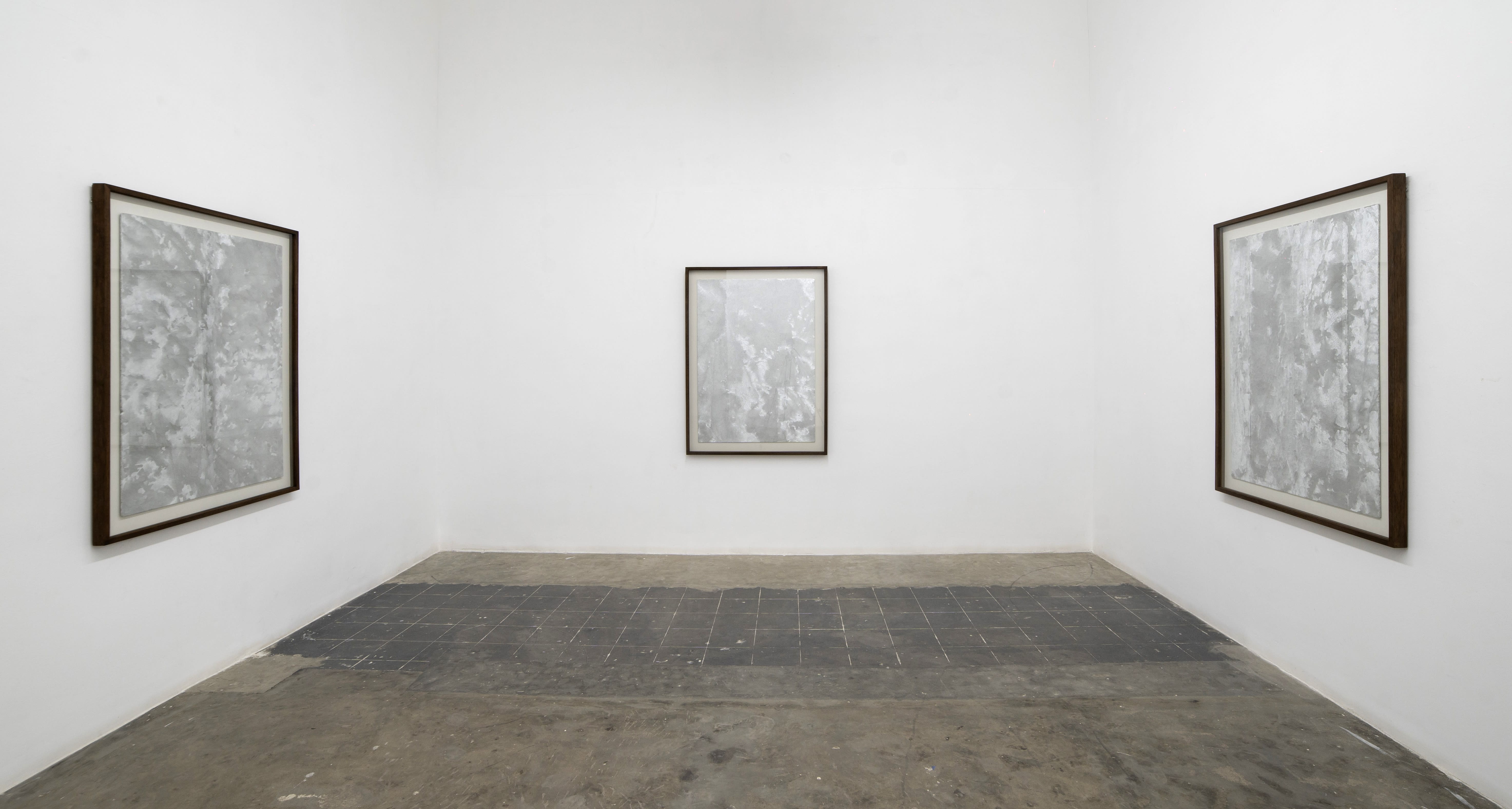 Interstice I, II & III (2022) Etching on Aluminium Foil Mounted on Foam Board, 119 x 84 cm (each) in Lightlines : Kavan Balasuriya (2022) at Saskia Fernando Gallery
---
WHAT ARE SOME FUNDAMENTAL DISCOVERIES YOU MADE DURING YOUR TIME AT CENTRAL ST MARTINS?
Generally, it taught me to look beyond the immediacy of what I was working with and to look at my ideas from different perspectives. This approach eventually grew into exploring the boundaries of material and genre. I began to engage with my work more critically and conceptually. I was also encouraged to combine different genres and methods. Of course, there were talented people from other disciplines who had a terrific work ethic and dedication to refining their craft.
WHAT IS YOUR TYPICAL DAY LIKE?
Over this year, I've taken two buses for around 45 minutes to arrive at the Wimbledon Arts Studios building where my studio is. I am currently renting a relatively long, narrow room with good natural lighting partially circling along the top of the room's walls. I fell in love with it the first time I saw it. It's on the edge of the building, so it's boiling in summer and freezing in winter. Upon arriving, I settle in with a cup of coffee. I usually look over the previous day's work or plan the day. Sometimes, I spend the entire day working on one piece. Otherwise, I tend to split the day into two halves and work on different projects.

Kavan's studio in Wimbledon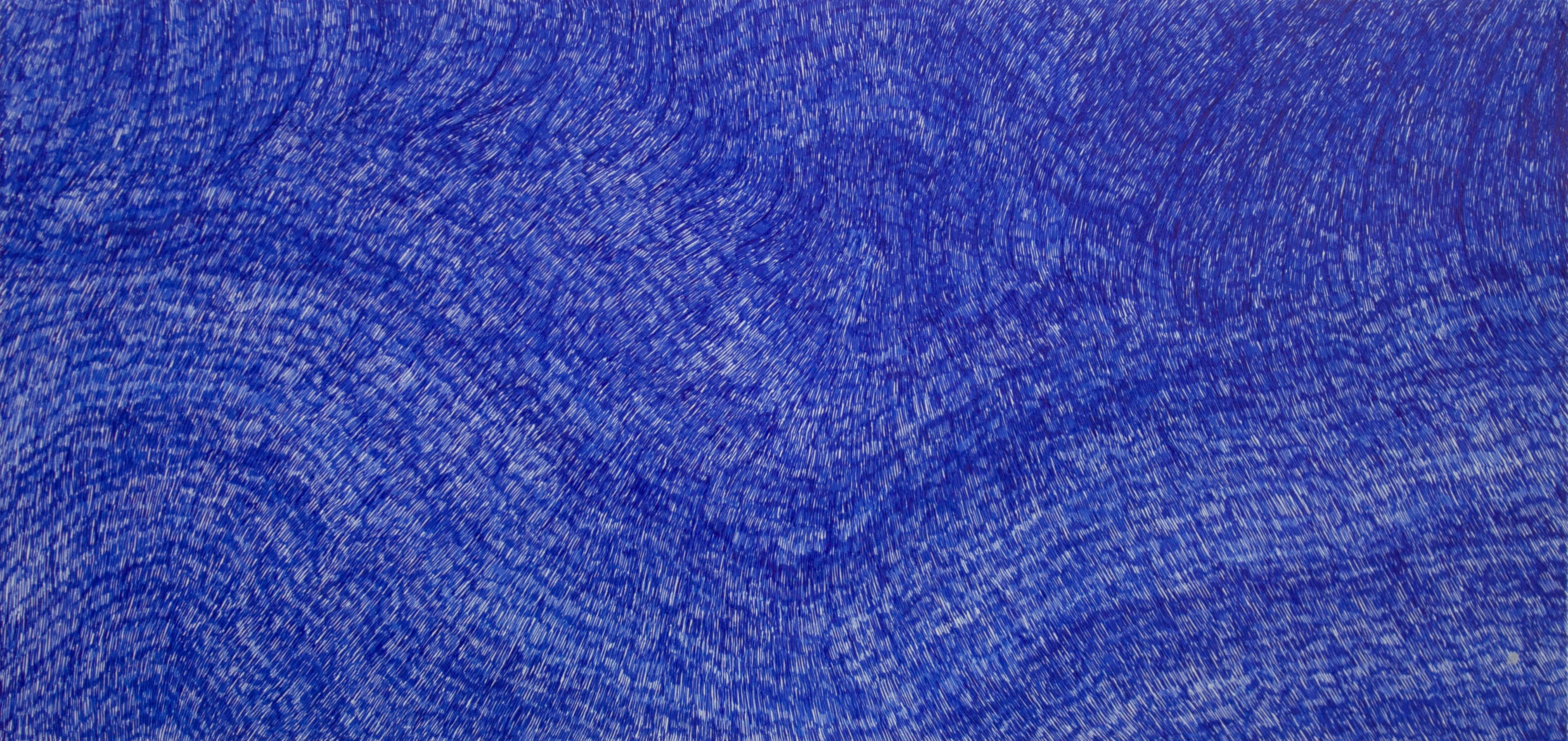 Conduit II (2021) Ink on Paper, 14 x 29 cm
---
YOU DESCRIBE YOUR PRIMARY PRACTICE AS DRAWING — WHEN DID YOU FIRST FIND AN AFFINITY WITH THIS METHODOLOGY, AND HOW HAS YOUR DRAWING PRACTICE EVOLVED SINCE?
I've always been drawing, from a young age and throughout my childhood. If you visited my home as a toddler, you'd have found many crayon scrawlings on the walls. This 'practice' continued through some fun creative phases as I grew up and settled on a style of illustration. I spent a lot of time drawing superheroes and fantasy creatures and settings from graphic novels, animations and my imagination in a tone that was quite gothic. I'm happy to look over those teenage works once in a while, as they hold good memories and also give me an insight into how my handling of the drawn line evolved and grew into something sharper over the years. I began exploring the line in a conceptual sense, specifically during college, resulting in formal abstraction and technique. This process involved letting go of my earlier illustrative and representational style and subject matter and then delving into full-blown abstraction.
DO YOU LISTEN TO MUSIC WHILE YOU DRAW?
Yes, I do sometimes need it to stay focused. Depending on the intensity of my mood and the work at hand, my taste ranges from ambient to dancefloor-oriented electronic music and contemporary jazz. I created a small playlist while answering this interview.
---
COULD YOU TELL US ABOUT YOUR INTEREST IN RECYCLING AND HOW THIS INFLUENCES YOUR CREATIVE PRACTICE?
Admittedly, it was a feeling of guilt for using single-use plastic back in the day. It's important not to be wasteful - this attitude also filters into the experimental side of my practice. I began using plastic bags and polythene to create textures in paintings. I experimented with improvised block prints to bricolages of material I knew wouldn't be recycled. I eventually came to handle aluminium packaging, started curiously engraving it, and settled on regular store-bought aluminium foil rolls as they produced a refined visual effect. I think my friends may have received some weird birthday presents those days!
Coincidentally, this phase aligned with my practice of exploring the boundaries of traditional materials and media like paper, acrylic and watercolour paint, charcoal and pastel. The foil was an unusual addition to this repertoire. While it fits well within my drawing practice, I am still in the process of understanding how it affects my relationship with colour and paint. I cycle through different drawing styles and observe how each one affects and influences the other.

Untitled I (2021) Etching on Mounted Aluminium Foil, 20 x 20 cm & Untitled II (2022) Etching on Mounted Aluminium Foil, 15 x 21 cm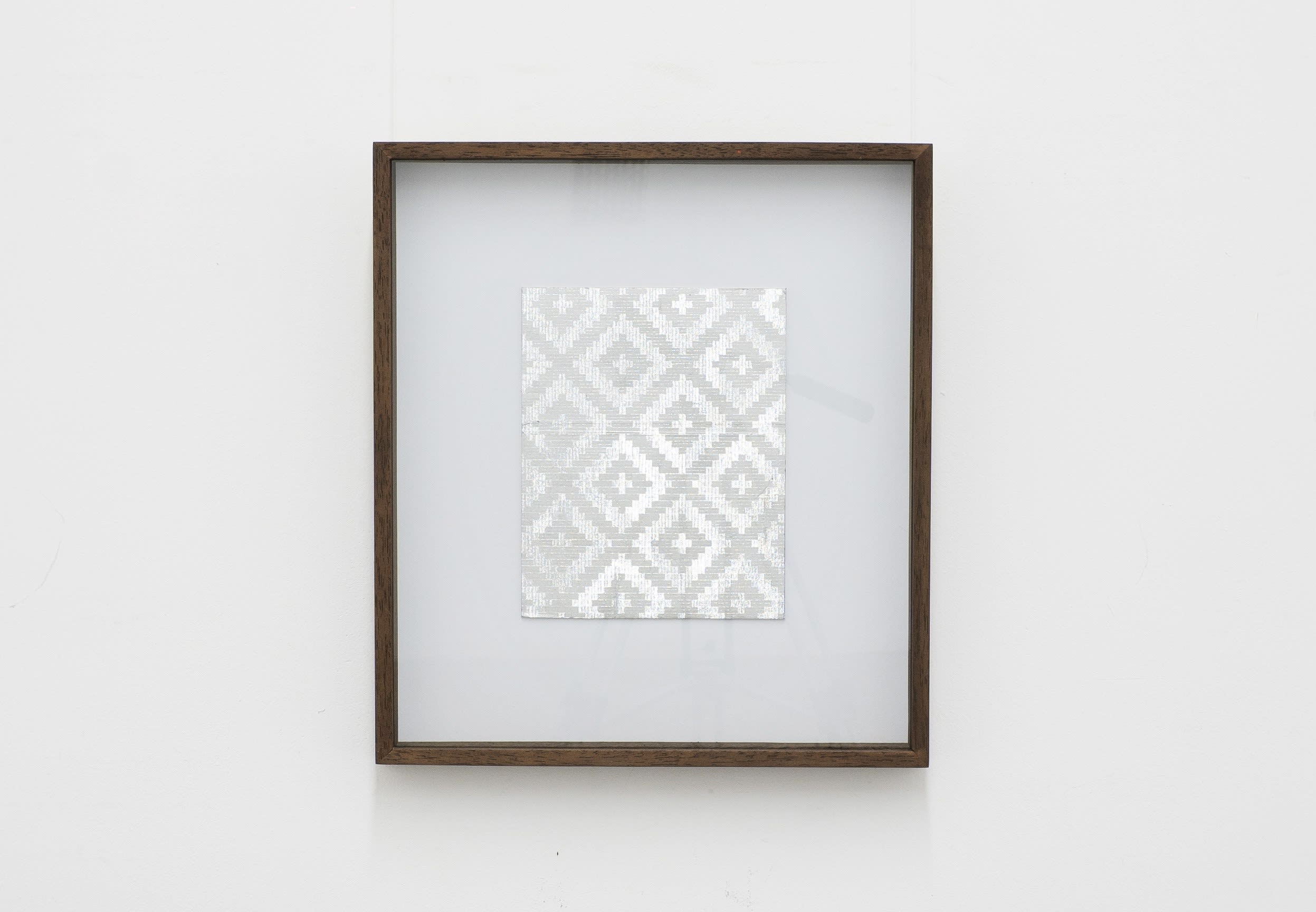 Untitled I (2019) Etching on Mounted Aluminium Foil, 15 x 21 cm in Lightlines : Kavan Balasuriya (2022) at Saskia Fernando Gallery
---
WHAT DRIVES YOUR DESIRE TO TRANSFORM THE SURFACE OF THE MATERIALS you work with AND HOW DO THESE MATERIALS, IN TURN, TRANSFORM THE NATURE OF YOUR WORK?
I once felt that the material I used could reflect who I was on a deeper level. I no longer have use for this exact comprehension as I would have materials undergo transformations that were damaging. I created a series of works using household detergent and bleach on black cotton fabric in one instance. Utilising tie-dye techniques, I applied bleach to burn the colour away from the cotton. I then used the detergent to modulate and interrupt the bleaching process, which went from reddish brown to orange to white. I took this as an effort to transform what I perceived as representing my personality as I had just concluded similar monochromatic work. I suppose I wanted to do away with elements of my identity at the time, to set them ablaze and hope they would have a feedback effect.
In another instance, I started scraping away at the entire surface of a painting right before I went on my first vipassana meditation retreat. Upon returning from the retreat, my understanding of this piece had fundamentally changed as my relationship with myself changed. My feelings now involved more compassion, forgiveness and patience. Since then, my work has tried to be more affirmative, being more about the positive application of media to material rather than forcing it to be extracted or taken away from the surface.
Paradigm (2015) at Colomboscope 2015, Rio Hotel, Slave Island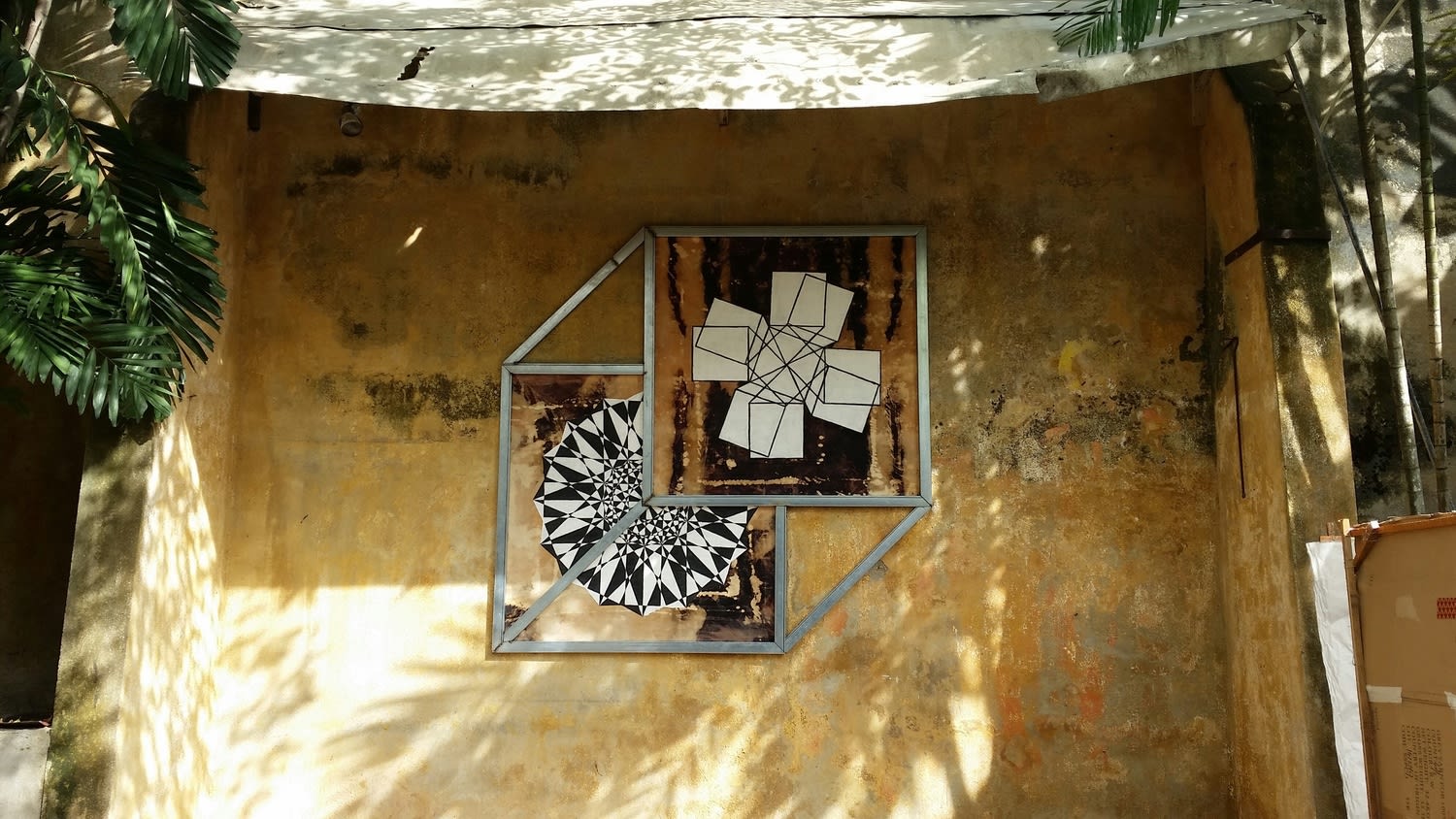 Dualism (2015) Hot Butter Collective, Barefoot Gallery, Colombo
---
TELL US ABOUT YOUR SENSE OF DISCOVERY IN WORKING WITH AND INTERPRETING AN UNCONVENTIONAL AND FRAGILE MATERIAL SUCH AS ALUMINIUM FOIL.
It was a process of trial and error where weeks of work could end up unusable due to a technical fault or miscalculation. Nevertheless, it has been an exciting and humbling learning experience, as each composition has something different to offer, quite playfully so. Moreover, the outcomes surprise me more often than not, as the reflective nature of the foil presents light and shadow in ways I hadn't experienced before.

Dualism (2022) Etching on Mounted Aluminium Foil, 21 x 30 cm
Few things are more satisfying than laying out these compositions' underlying grids and lines. It makes me feel grounded. They also explore representations of two-and-three dimensional spaces and volume, which I try to disguise or 'flatten' by filling in the entire picture with detail. With the foil works, this creates tension between the sculptural aspect of the engraved material and the three-dimensional aspect of the composition. With the ink drawings, I intend for an entirely new set of patterns to appear in addition to the preliminary design through an exchange of foreground and background details.
---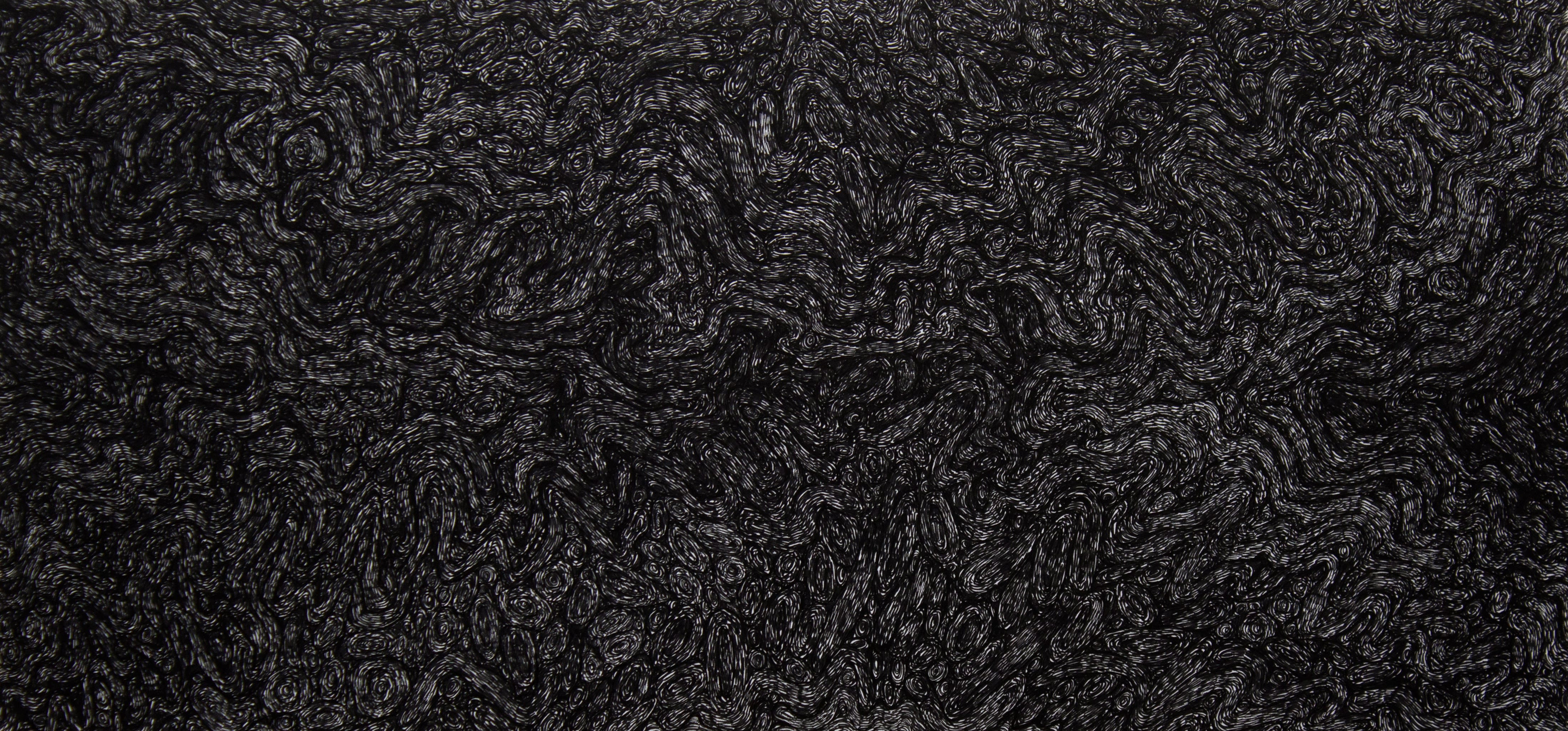 Terraform I (2022) Ink on Paper, 14 x 30 cm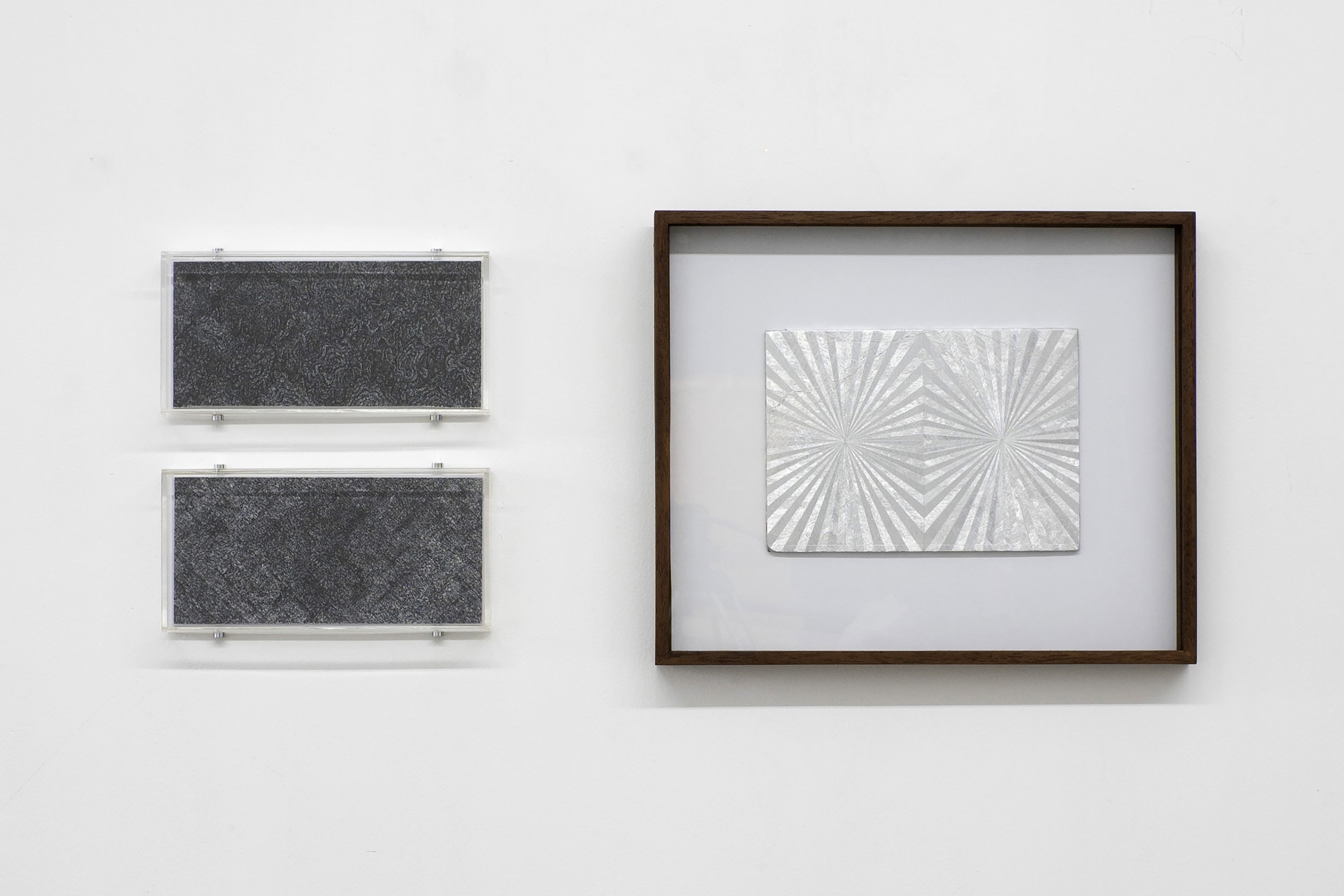 Installation view of Lightlines : Kavan Balasuriya (2022) at Saskia Fernando Gallery
---
DESCRIBE THE ROLE OF PERSPECTIVE IN YOUR WORK.
Aluminium foil is very reflective, and as a result, the foil engravings and etchings change into their inverted, or opposite, tonal form depending on where the viewer is standing and the lighting angle. You can play with this by moving around the work, observing how foreground and background exchange places, how light becomes a shadow, and of a heavier weight. In addition, combining the foil's tactile qualities with its sensitive reflectivity makes for an added layer of optical effect as it makes the textures of the pieces more three-dimensional. I also try to ensure that each drawing style informs one another, so I have included a few ink drawings in the show that explore this dynamic of positive and negative pictorial space entering an exchange.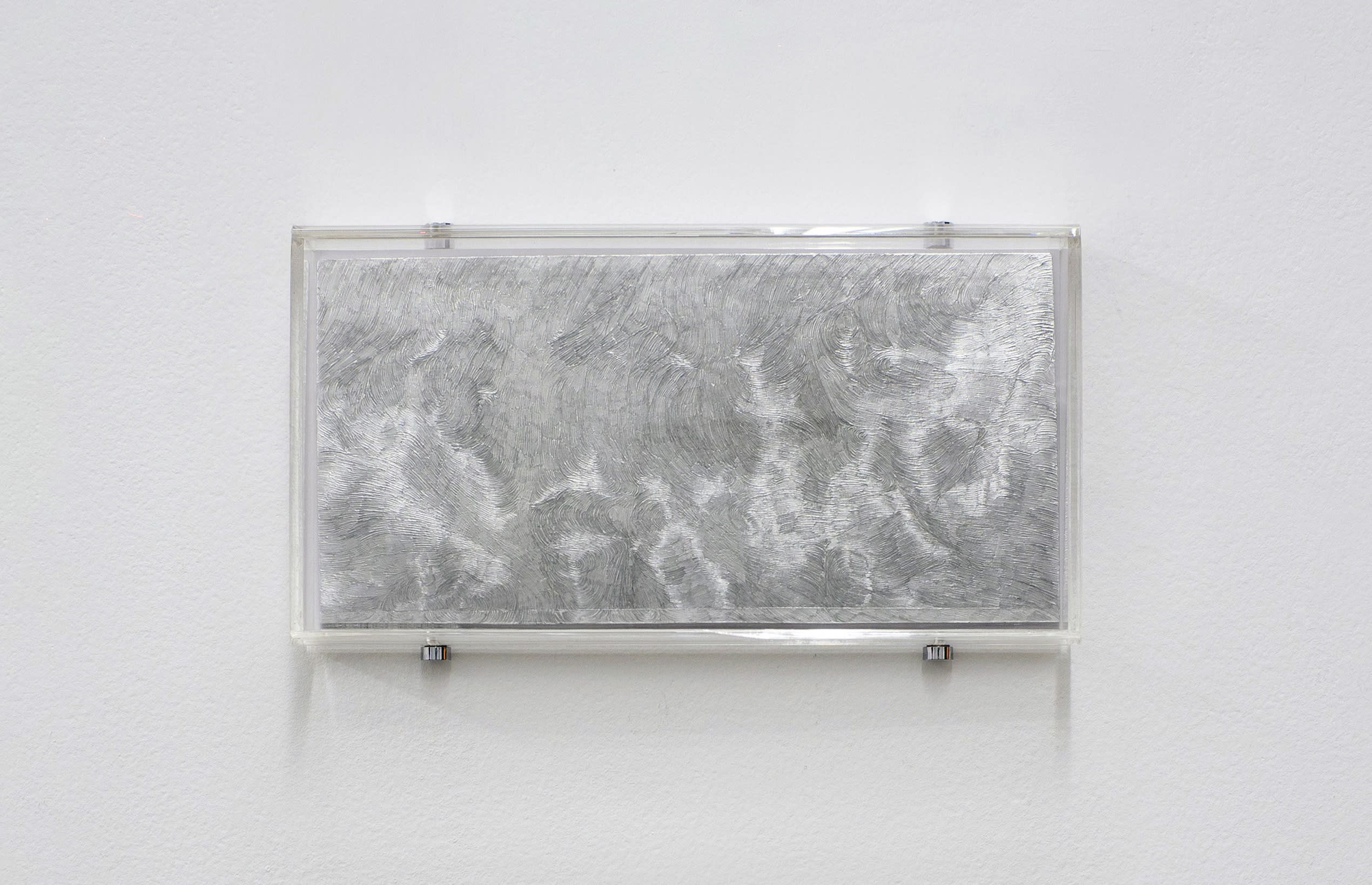 B-Side (2021) Graphite and Aluminium Foil on Board, 14 x 28 cm in Lightlines : Kavan Balasuriya (2022) at Saskia Fernando Gallery
---
YOU HAVE SHOWCASED YOUR WORK IN A VARIETY OF PLACES AND SETTINGS — DESCRIBE YOUR EXPERIENCE OF WORKING WITHIN THESE DIFFERENT CONTEXTS.
I've exhibited work in places ranging from a colonial-era bungalow in Goa, a torched-out hotel and a post office closed due to a presidential assassination attempt in Colombo, and the white cube. Regarding the latter, one space in London was more of a triangular room than a place with four walls. All the other locations have significant contextual and historical implications. With the Rio Hotel, in particular, the abstract drawings exhibited there, although apolitical, took on socio-political significance simply by placement and curatorial discernment. It's also interesting to bring work produced abroad back home and to see the difference in response to them.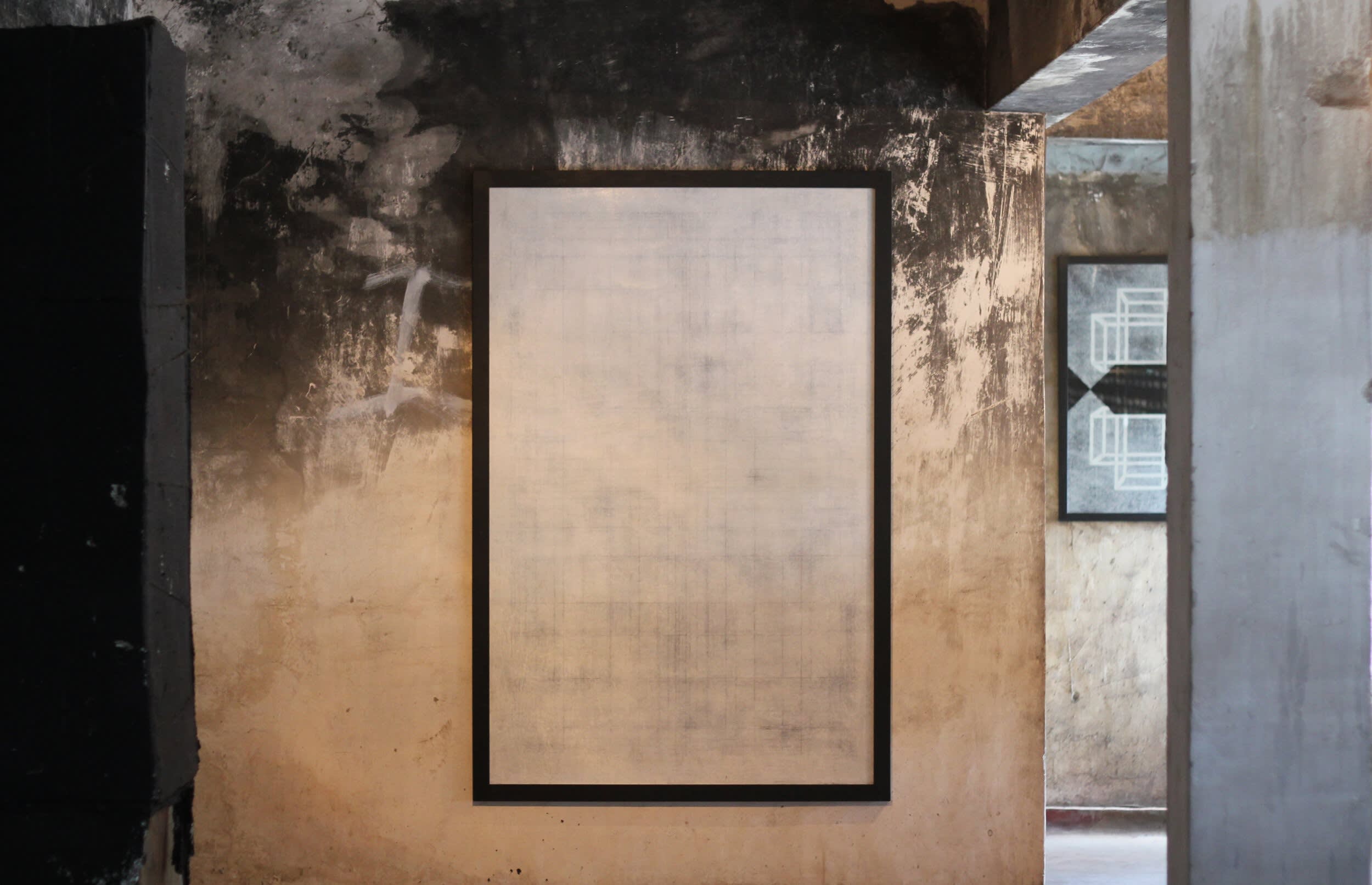 Capital Complex and Paradigm (2015) at Colomboscope 2015, Rio Hotel, Slave Island

---
WHAT DO YOU DO TO RELAX WHEN YOU'RE OUTSIDE THE STUDIO?
I try to incorporate forms of play as much as possible. I enjoy reading and don't think I watch enough TV.
WHAT ARE YOU CURRENTLY READING?
I'm reading Revelation Space by Alastair Reynolds and re-reading Constructions by John Rajchman. My favourite genre of literary fiction is hard science fiction space opera.
WHAT NEXT?
I hope to continue studying and learning. I have just enrolled in a printmaking course in London.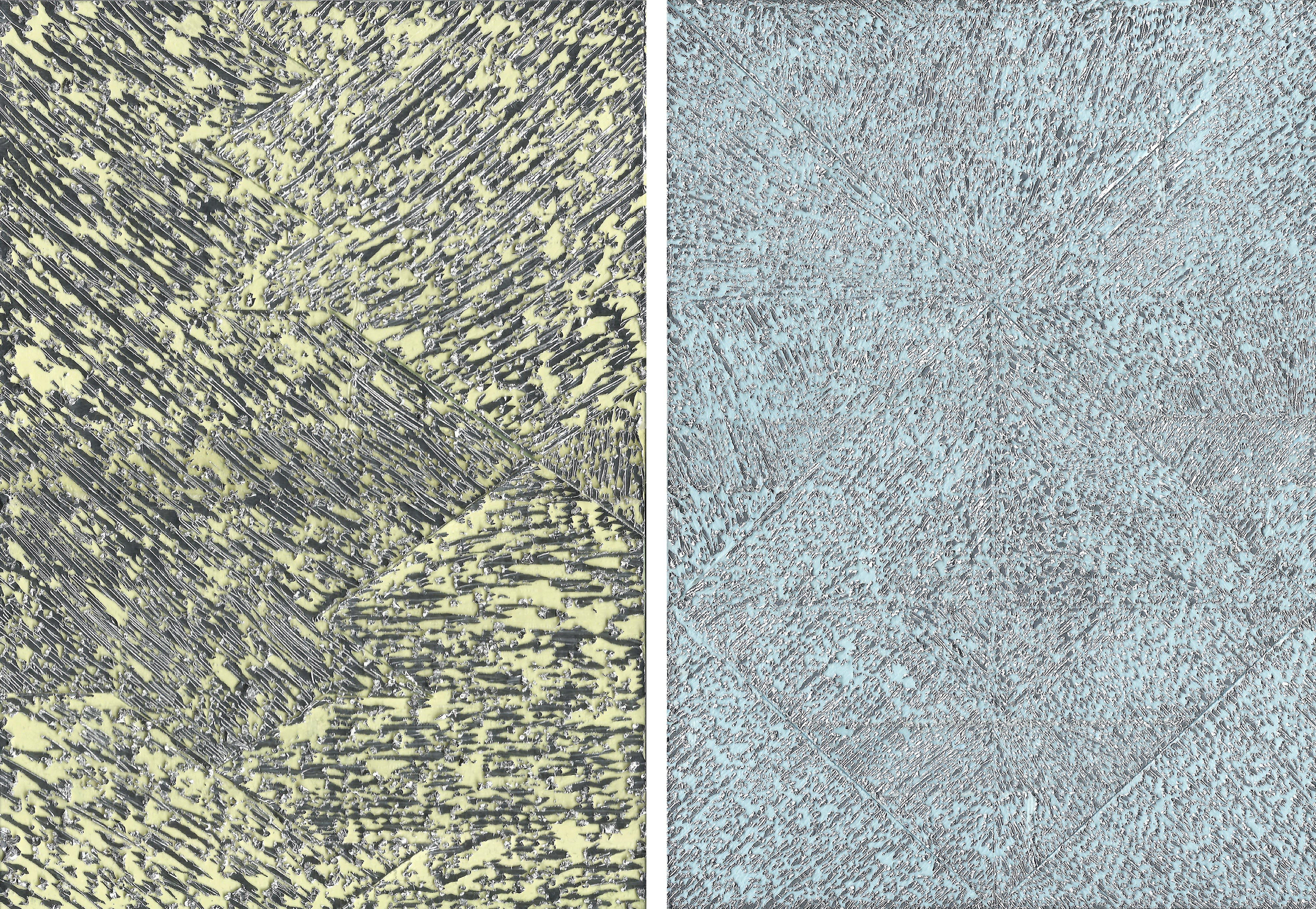 Process II & Process III (2019) Etching on Mounted Aluminium Foil, 15 x 21 cm (each)