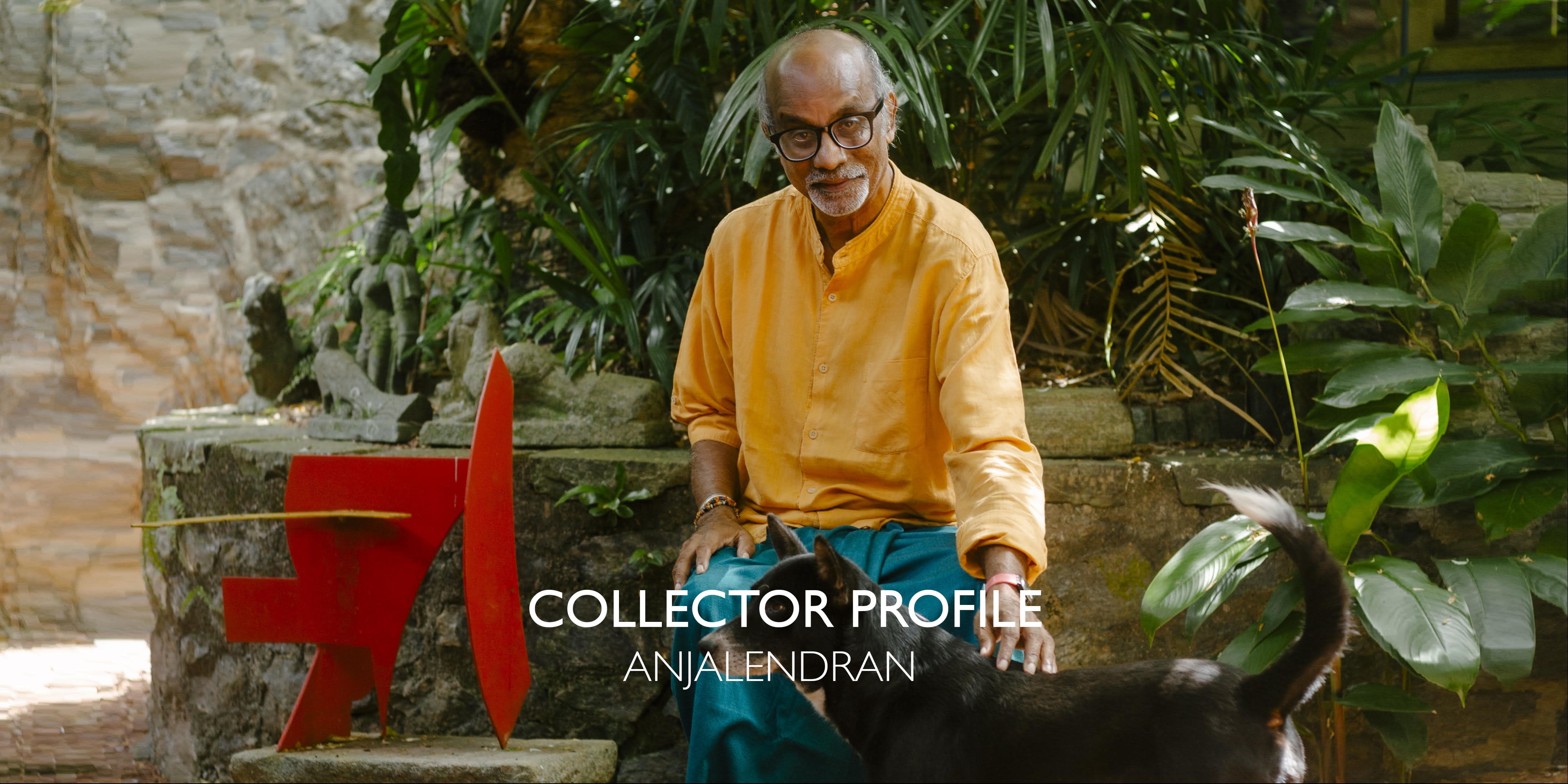 ---
One of the most significant collections of modern and contemporary Sri Lankan art, journey towards collecting of internationally renowned Sri Lankan architect Anjalendran is one that developed from a true understanding and appreciation of art. During his two years in the UK, as a student Anjalendran attended some form of exhibition, film or theatre every week, an experience he accredits as the base of his knowledge of artistic expression equal only to the influence of his mentor Geoffrey Bawa.
To truly absorb Anjalendrans collection, one must spend days, if not weeks. The works are spread across three houses, his own and two homes designed for close friends; not a wall is left empty. A feast for the eyes, every piece has a story, often times that of a collector who knows what he wants and will stop at nothing to get it. Anjalendran prides himself on his relationships with the artists he collects and he has a quirky tendency to boast on the price he obtained his artworks for, much to the dismay of gallerists and artists of whom prices have since appreciated considerably. What is truly outstanding about this veracious patron, is the pure joy with which he engages those he supports and the resilient influence he has had on countless collectors to begin a journey of their own.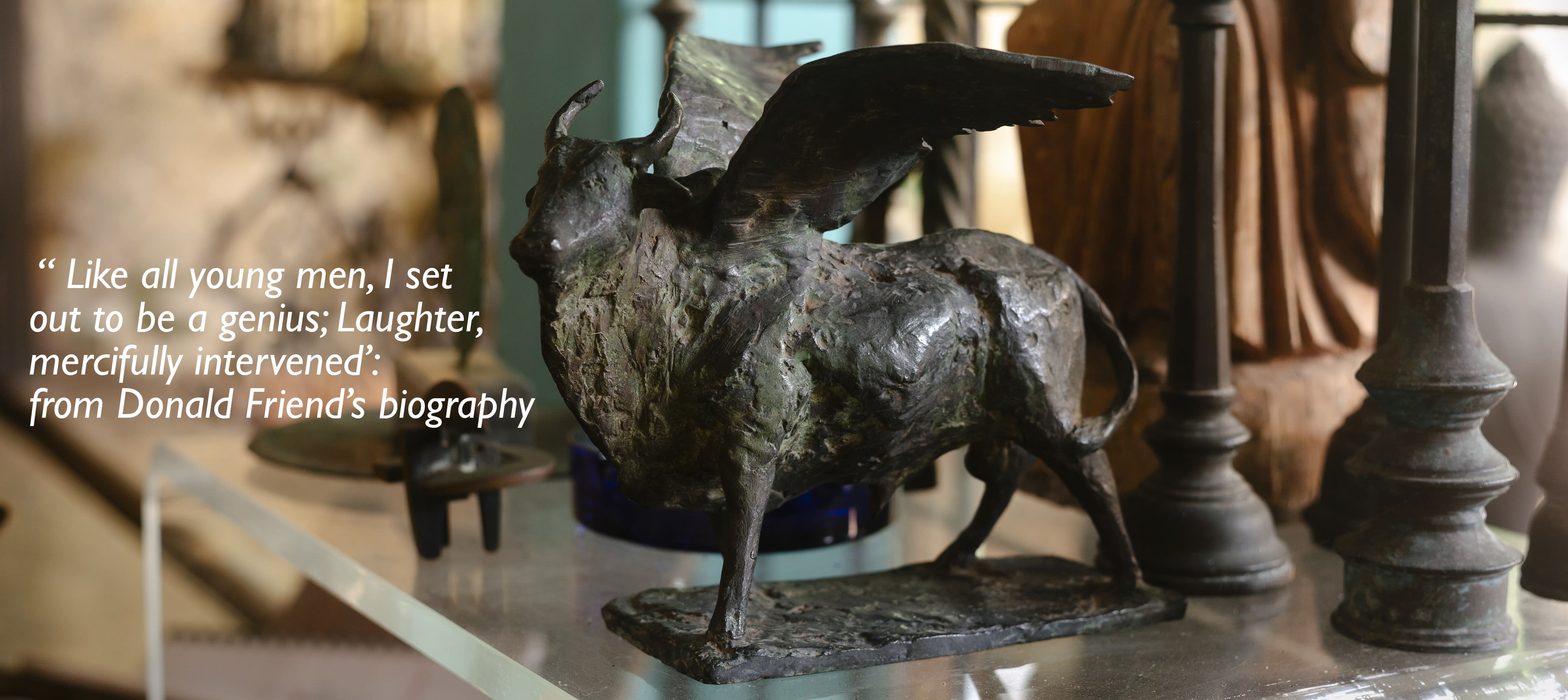 Tissa Ranasinghe, Winged Bull
---
How did you begin collecting?
I was introduced to Geoffrey Bawa in October 1971. He was a genius in architecture, and loved beautiful art, which was often gifted to him or purchased cheap. This understanding of art, was further enhanced by working relationships with textile designer and colourist Barbara Sansoni (in 1983); versatile artist Laki Senenayake (also in 1983) and a little later the batik & craft revivalist, Ena de Silva of Aluwihare (in 1987). Over my three year post graduate studies at the Bartlett in UK, my out of the classroom education, for a quite a lot of this time, was for each week to see an exhibition, film & theatre. This was a finishing school, never to be missed by anybody.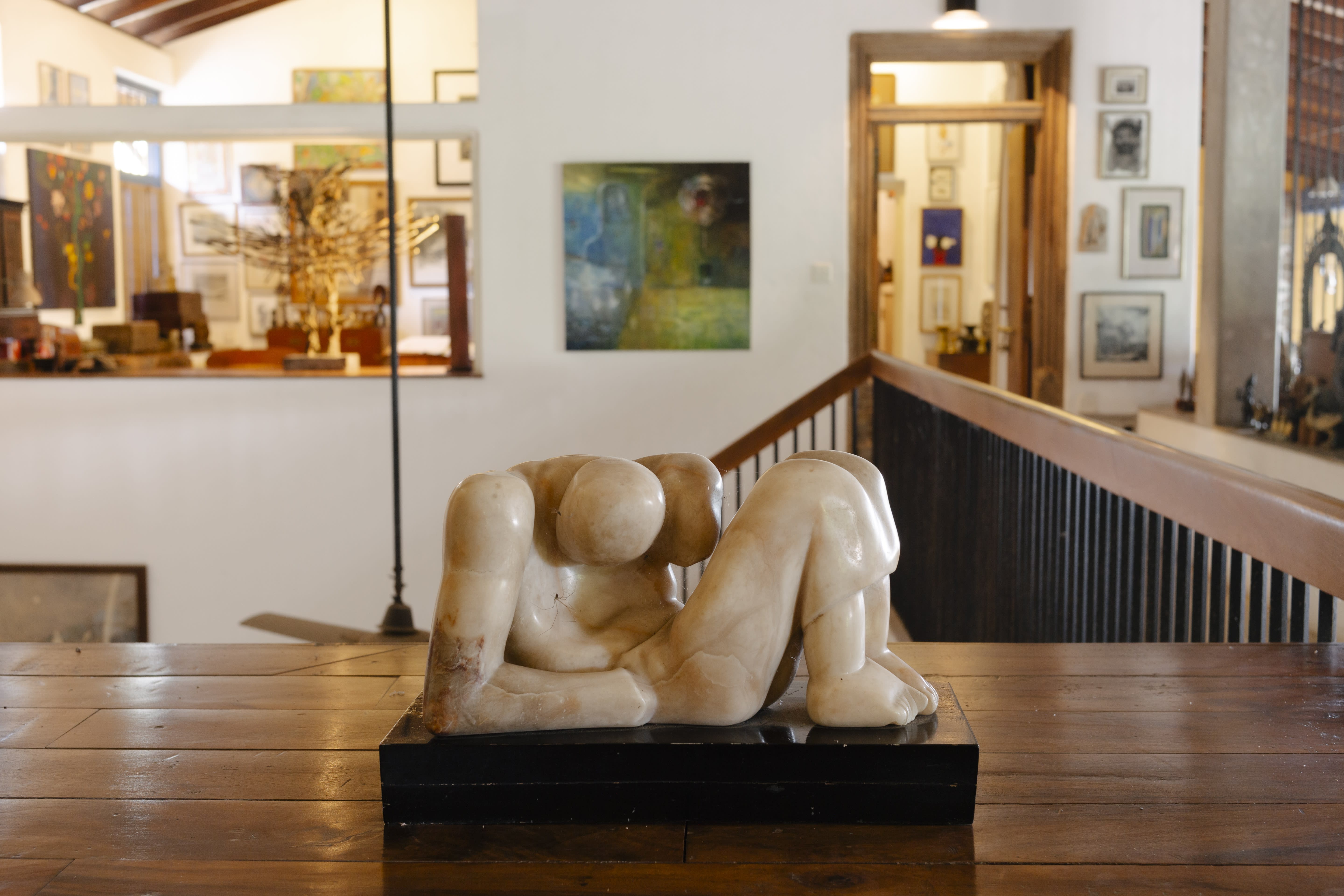 Anoli Perera, Fallen Man
---
[Left to right] Susiman Nirmalavasan, CA Portrait, 2022, Ranil Deraniyagala, The Struggle, 1976, Laki Senanayake
---
You spoke of fakes in the art scene locally, please share with us your experience of this issue locally?
Over the years, I was amused to find, that Geoffrey Bawa wanted to liquidate his possible assets after the 1983 communal burnings, to find refuge in Australia. His most expensive art possessions were some Donald Friends. The large cartoon in his dining room, was replaced by the poster of Lenin's Legs, bought in Moscow. The full size set of pairs of imaginatively painted doors were copied and the originals found their way to the Sydney Art Gallery in Australia. A trojan horse, in aluminum from Lunuganga, was copied in copper and also sent to Australia. What all this symbolized to me was that art should never be considered to be sacred. It is for your enjoyment, and that is all that really matters.
Mir Imran,Organic Geometry, Zarina Hashmi, Laki Senanayake

---

The other side of the coin is when art dealers with studios for copies sell fakes for profit. There is such a studio in Kandy, Sri Lanka, where the aforementioned individual sold to me a line nude of one of our famous artists, Justin Pieris Deriniyagala. This drawing was as good as any Matisse. It was thought that flawless lines must be cheaper than an oil or an acrylic as the background was mostly empty, however a line drawing cannot be corrected once drawn, and shows the perfection and steadiness of the artist's hand; therein lies its beauty. A bad copy of this drawing, created with with overlays, was sold to a client who had to dispose of his assets in an auction in early 2022. The fake therefore was sold - twice over - for profit and not pleasure.

Dominic Sansoni, Coke Faluda, early 1980's, Lionel Wendt, Boy and Wave,1934 ,Ismath Raheem, Pantheon, Rome, Makara, Kandyan Period
---
You love to share a bargain but equally so will invest in very valuable works, what is it that keeps you inspired to collect?
My love, understanding and instinct of art. For example the prints I bought from Sarina Hashmi in Karachi have now appreciated hugely and are being sold by Sotheby's. Of course there are many more examples.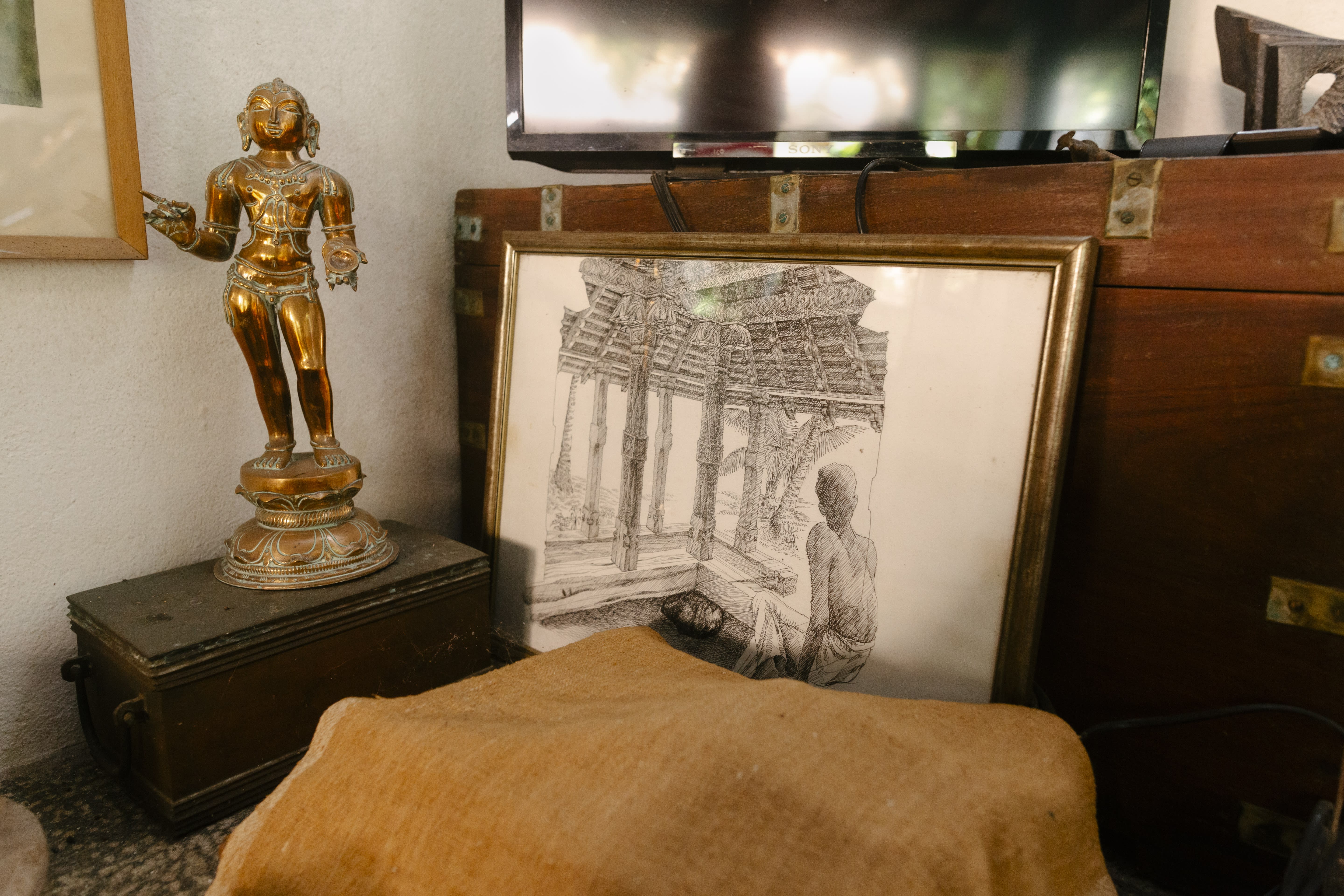 [Left to Right] Thirugnana Sambanda, Child saint of Shaivites, Bronze, Laki Senanayake, Drawing, 1985
---
Your collection is proof of a strong appreciation for very specific modern artists such as Ivan Pieris and George Claessen but also a distinct appreciation for younger collectors as well as long relationships of patronage of artists such as Laki Senanayake and Kingsley Gunatillake. Would you be able to list out your ten favourite modern and contemporary artists?
Ivan Pieris, George Claessen, Manjusri, Bikku Sumedha, Ranil Deriniyagala, Rcihard Gabriel, H.A. Karunaratne, Matisse (original lithograph of 1937, gifted by Julie & Dharmavasan for my 70th birthday), Donald Friend, Imran Mir, Howard Hodgkins

[Left to Right] Ivan Peris, Sailis-1, Sailis-2, Babara Sansoni, Pradeep Chandrasiri, Muhanned Cader, Vajira Sugathadasa,Abstract Form,1999, Jagath Weerasinghe, Turner Wickramasinghe, Doodle,Boat from Turkey , Mao Tse- Tung, Laki Senanayake, Bawa, At a Cocktail Party
---
[Left to Right] Painting of Mahakal with Gold leaf and poster color from Tibet, Rajisthani Style Painting of Balarama with Krishna, Copy of a Rajisthani Miniature, Ismath Raheem, Pantheon, Rome
---
Jagath Weerasinghe, Muhanned Cader, Kingsley Gunatillake, Anoli Perera, Laki Senanayake, Ralph Klose, Pala Pothupitiye, Shanaathanan, Nirmalavasan, Pushpakanathan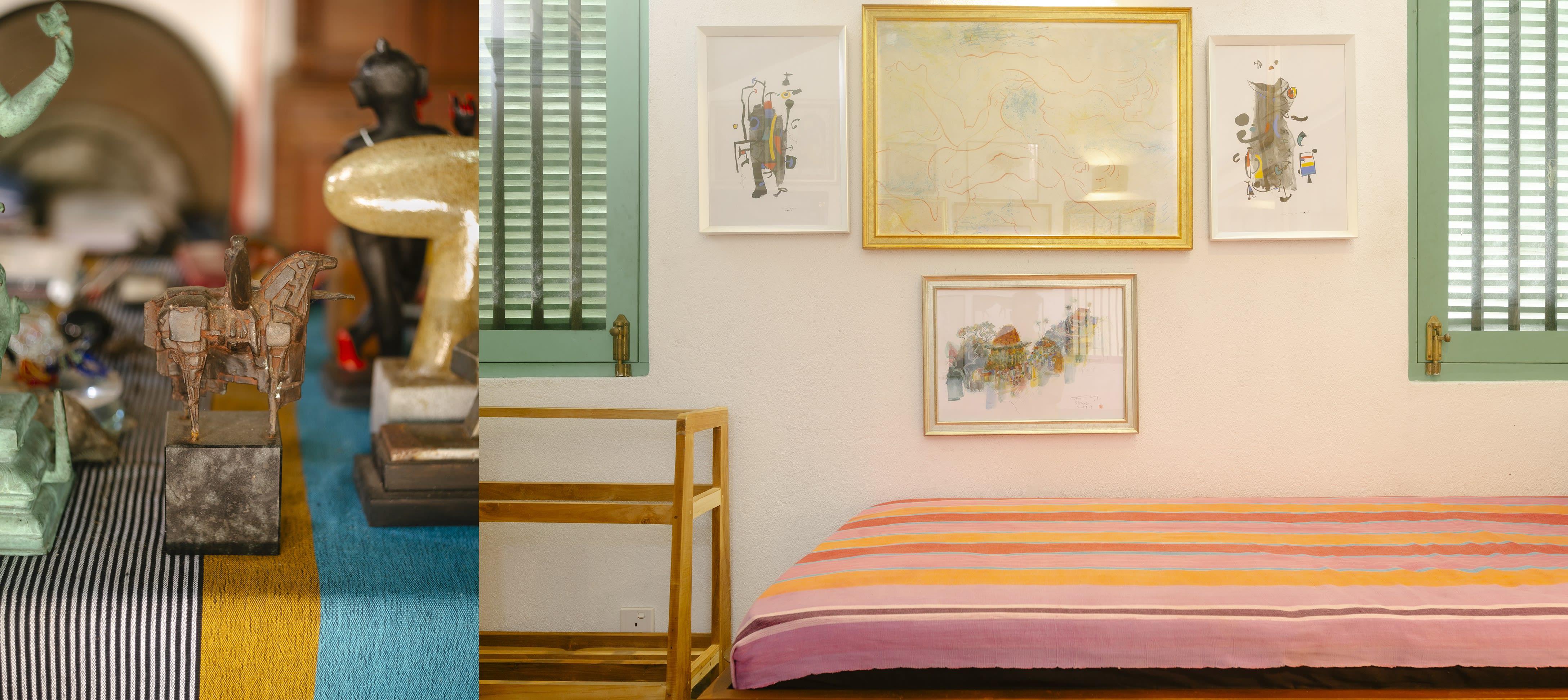 [Left to Right] Eric Claus,Tournament Rider,Amsterdam, Kingsley Gunathilake, A Hill Town in Srilanka,2017, Donald Friend Lithograph
---
Speak to us about your views on the commercial value of art.
Often it is thought that the strength of art is based on its commercial value and high market prices. This opinion misses the point and is confused and ignorant. Commercial galleries only began after the end of the 30 year civil war in 2009. For instance, George Classens were sold in a 1993 exhibition at Barefoot were merely R 10,000/= each, though quite a few were not sold. Last year Classens were sold for Rs 850,000/-, for one third of this size, and the exhibition was a sellout.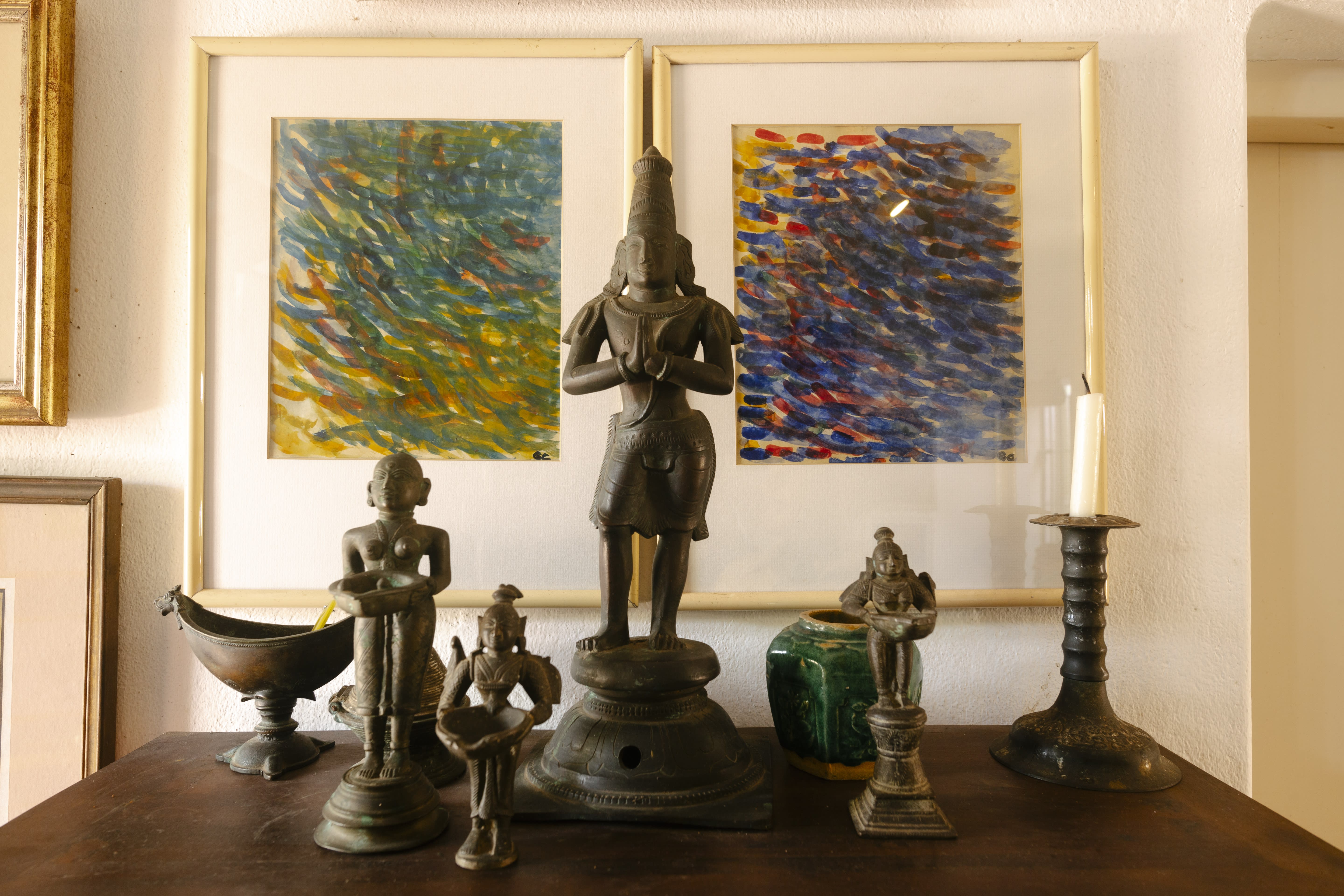 [Left to Right] George Classen,01 ,1993 Exhibition, The Gallery 706, George Classen, 02,1993 Exhibition, The Gallery 706

---
How do you view sculpture locally?
Laki Senanayake made brilliant sculpture to enhance building by Geoffrey Bawa. The Sinhalese-Portuguese Battle Star Rail of the Lighthouse Hotel is a excellent example. But I think that the best contemporary sculpture are created by the likes of Kingsley Gunathillake and Ralph Klose. From the old school, the bronzes of Tissa Ranasinghe are breathtaking, full of Asian ethos.
Whose art are you eyeing at the moment?
I will know when I find it!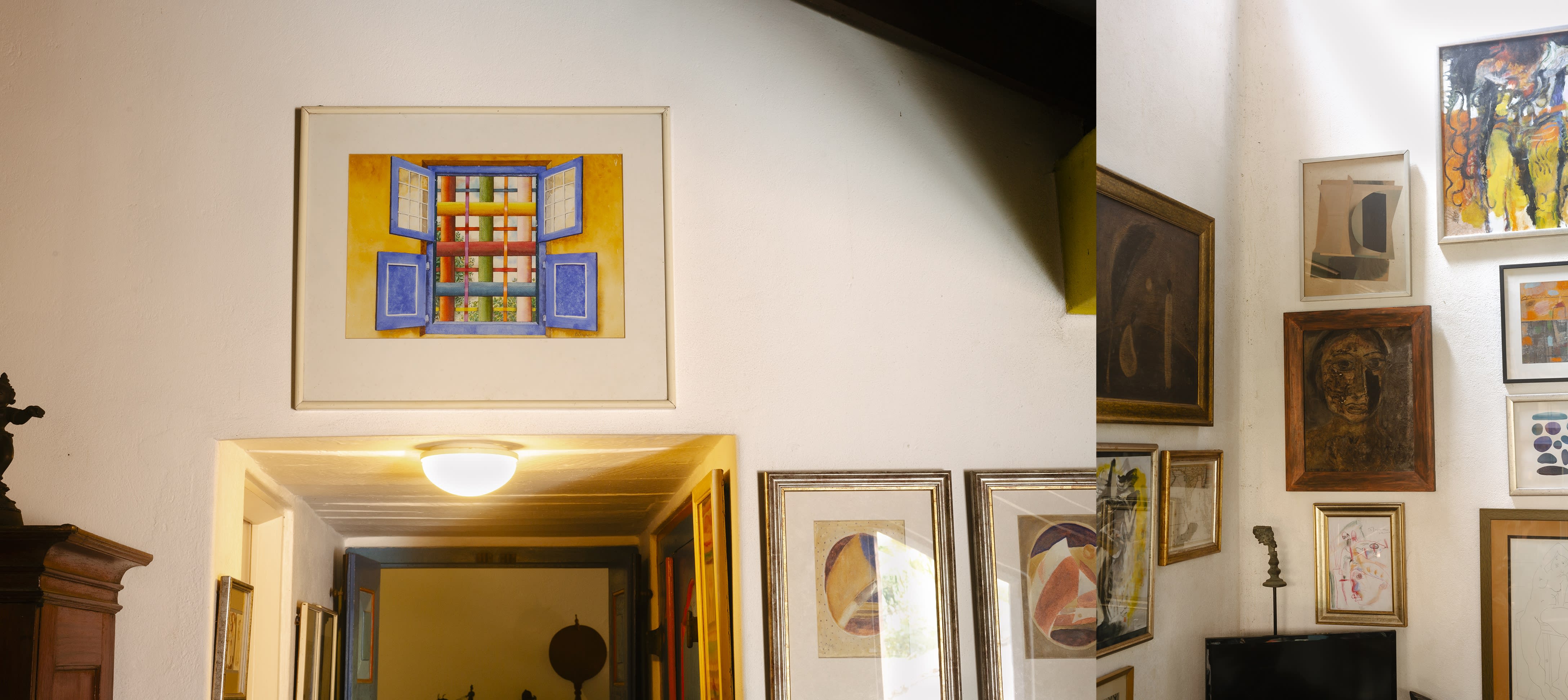 [Left to Right] Barbara Sansori, Windows of Batticoloa, Ivan Pieris, Sails,1 & 2 ,1974, Ivan Pieris, Abstract Collage, Swami Jayawardene

---
Why indulge in art?
Art is anything that is beautiful. Art could be both modern & traditional, but here let's restrict ourself to what is contemporary. Art also need not be restricted to paintings, but should also include sculpture, artist illustrated books and even ancient maps, as well as incredible toys.
Art is simply about knowledge & passion.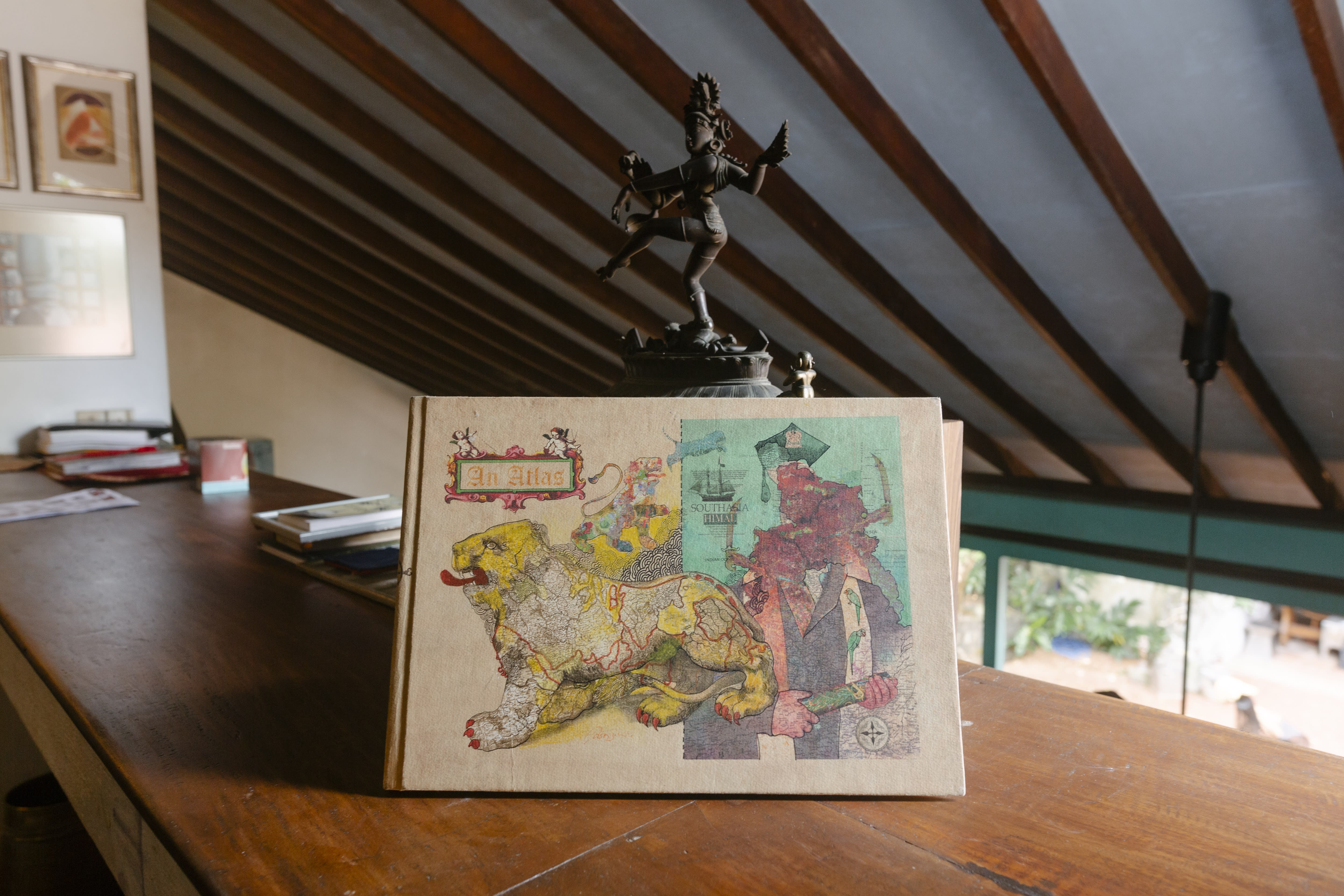 Pala Pothupitiyam, Book of Maps 1 Exhibited in New York

---
To own a Matisse lithograph from 1937, or a Howard Hodgkin print, besides a sensuous drawing by Donald Friend and one or two Bikku Sumedhas, or Schmidlins (as he was known in Germany, from 1990s) is a very great privilege indeed.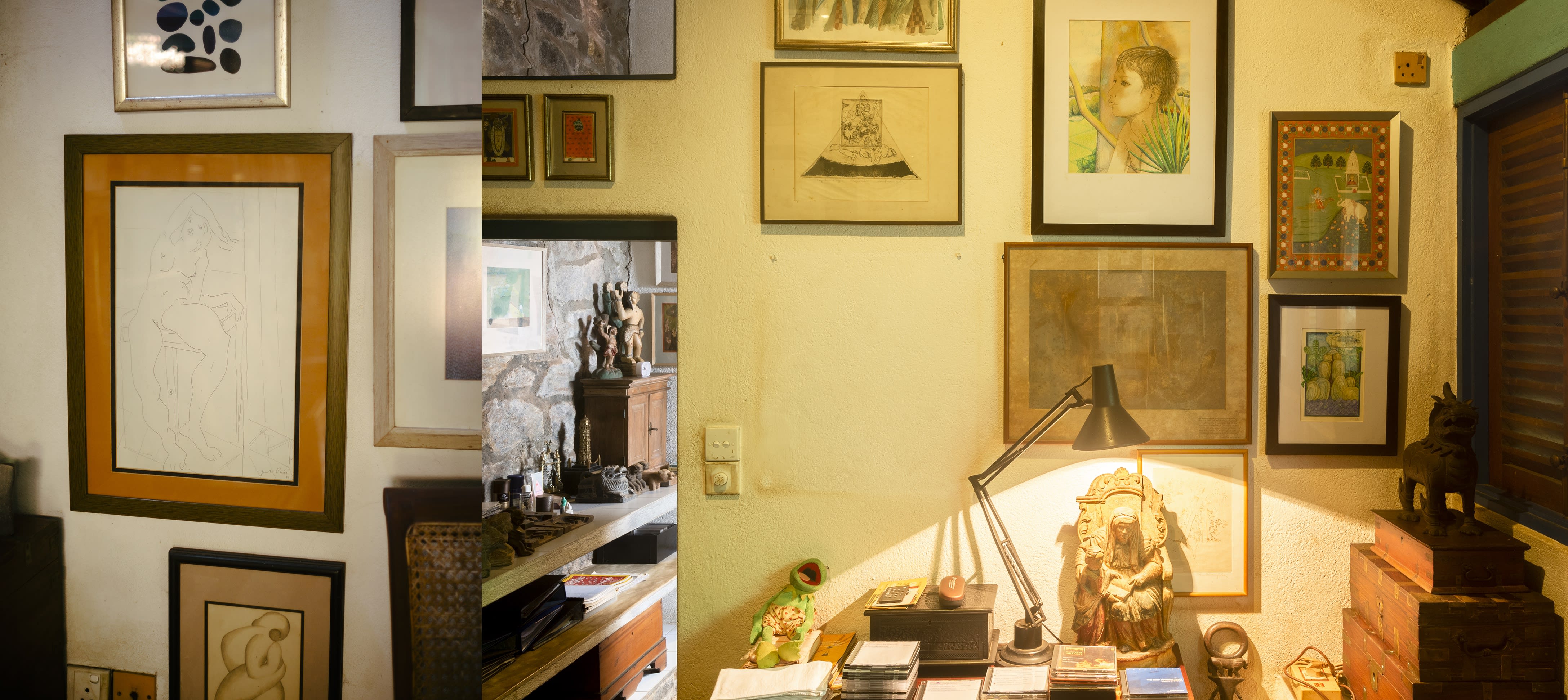 [Left to Right] Justin Peris Deraniyagala, Nude, 1937, Manjusri, Ranil Deraniyagala, Barbara Sansoni, Rajisthani Style Painting of Gajendra Moksha, Alex Stuart, Raavana Reclining, 2014