[left to right] Ivan Peries, Laki Senanayake, Mahen Perera, Ivan Peries
---
Chamika De Alwis is a leading Sri Lankan architect and Trustee of the Geoffrey Bawa and Lunuganga Trusts.His stunning tropical modernist home is filled with a collection that is a cross section of contemporary and modern Sri Lankan art.
While perfectly placed within a predominantly muted aesthetic, the works are connected by a distinctive thread of minimalism.The story of this collection is characterised by long friendships, a true appreciation of Sri Lanka's burgeoning art scene and an inherent sensitivity to composition, texture, balance and form.

[left to right] Rupaneethan Pakkiyarajah, Indo Portuguese chair, Dutch Calamander Cupboard, Barbara Sansoni, David Paynter, Ivan Peries, David Paynter sketch book from 1930, David Paynter sketch book from 1912, Justin Deraniyagala, Laki Senanayake, George Claessen,Rupaneethan Pakkiyarajah, Installation of timber objects, Christian altar
---
Tell us a little bit about yourself...
[Left to right] African masks, Mahen Perera sculpture, Ola Leaf Manuscripts, Turtle Shell Box, Bronze Ganesh

---

[left to right] Channa Ekanayake, Calamander boxes, Bronze Krishna

---

Where do you live?

I live in the suburbs of Colombo.

And what makes it a home to you?

The comfort of being amongst art and artifact that evokes personal memories, emotions and stories.
Jagath Weerasinghe, Satinwood Church bench

---

What was the first work of art that you fell in with?

It would have been an Ivan Peiris painting.

I think most of the pieces that I generally fall in love are the simplest pieces. While the work of art itself could be quite complex it's minimalist composition tends to be what engages me.
[left to right] Bandu Manmamperi, Ivan Peries, Jagath Weerasinghe, Vydehi, Ivan Peries
---
What are some of the most sentimental or meaningful pieces in your collection?
Every single piece holds a memory of whom or where I bought them from.
Most of these pieces are purchased from artists whom I know personally and the purchase is the result of a conversations I have had with the artist and that makes the piece more meaningful.
Perhaps the first piece of art, gifted to me by Anjalendran, that began my journey into collecting, could be one of the most sentimental pieces I could identify.

[left to right] Lionel Wendt, Justin Deraniyagala, Laki Senanayake
---
What is the most recent piece of art added to your collection?
Saskia Pintelon paintings
I have always admired her work but I struggled to find the piece I wanted. I regrettably lost one piece I admired very much to my lack of haste in purchasing it at SFG. But I now have two very special pieces of hers.

[Saskia Pintelon, Egg 2013, Mixed Media on Paper, 106cm x 150cm
Saskia Pintelon, Faces Series- Those Day's, 2004, Mixed media on Paper, 135cm x 90cm ]
---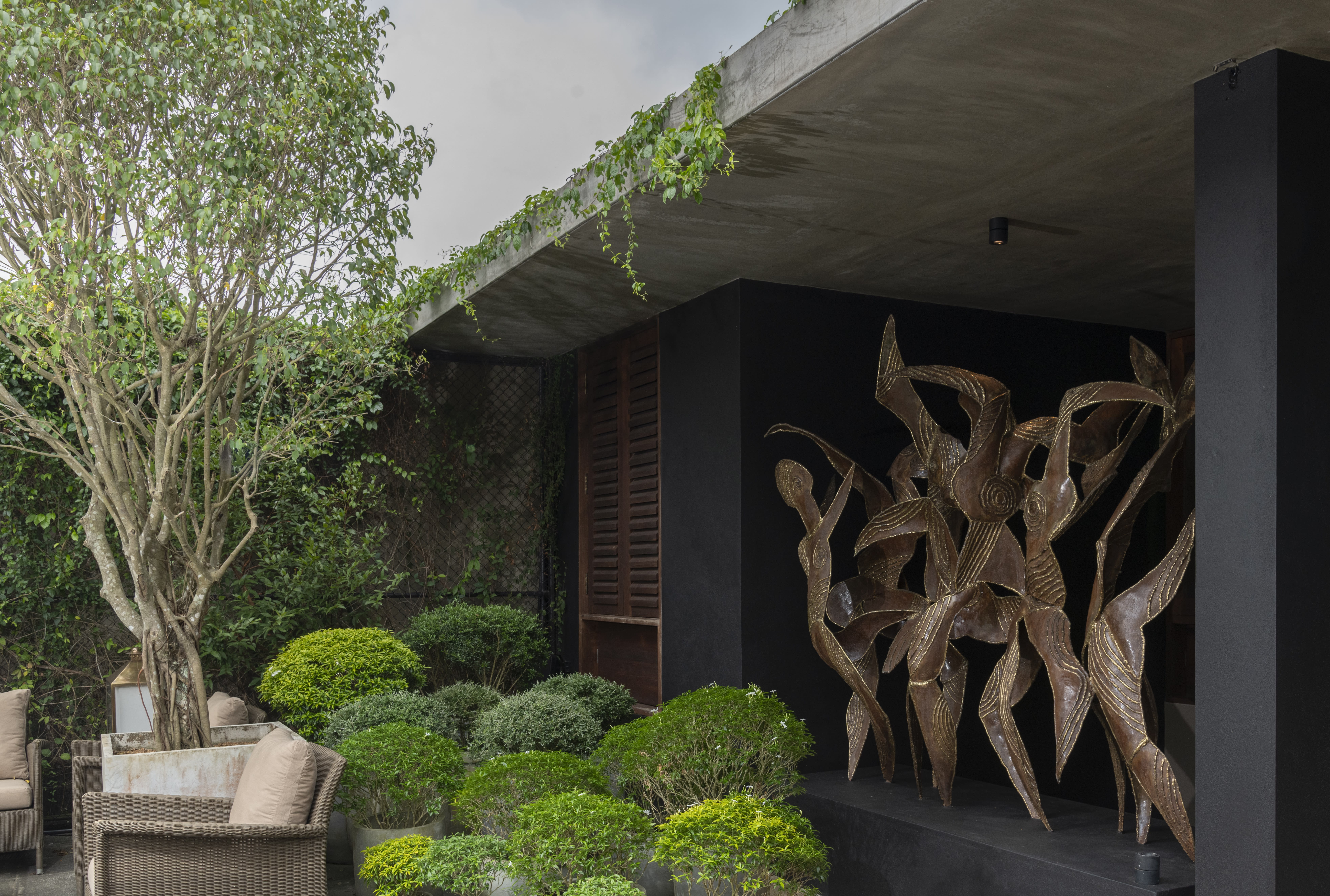 Laki Senanayake sculpture
---
Your collection has a very clear representation of specific modern and contemporary Sri Lankan artists. Is this a decision you make purposely or is it something that you just progressed organically?
Probably something that progressed organically.
I always look at something new and fresh with contemporary art. It is to do with the sophistication of the work in relation to the current environment.
Artists Laki Senanayake and Jagath Weerasinhge's work has tremendously influenced my collection. They are extremely talented, multi-faceted artist always being one step ahead and pushing boundaries from multi-disciplinary perspectives.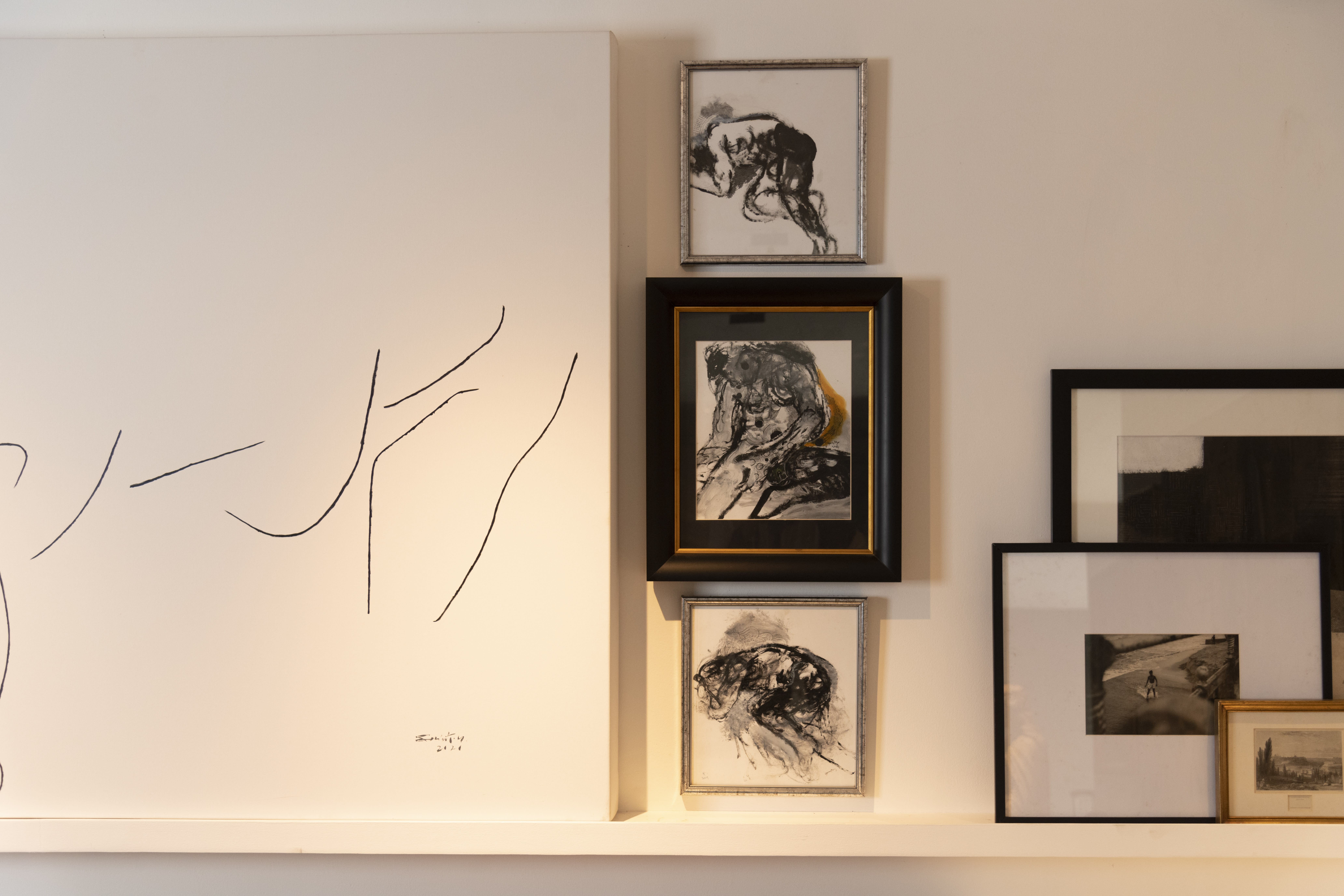 [left to right] Kingsley Gunatillake, Jagath Weerasinghe, Lionel Wendt, Nirmalavasan, Lithograph
---
CAN YOU SHARE THE STORY BEHIND ONE OFF YOUR SPECIAL WORKS?

A Kingsley Gunathilake painting that I commissioned recently for a certain space in my office was discussed extensively as a New Idea.

After it had been completed and hung on the wall my eye was drawn to a small sketch of Kingsley that was given to me as a gift 16 years ago that coincidentally sat next to the new artwork.

Kingsley and I were both stunned to realize that this New Idea was a subconscious evolution of this little sketch he had done 16 years ago. It really goes to show how everything in art is connected - to memories, experiences and interactions, no matter how much time has passed. Those connections are eternal.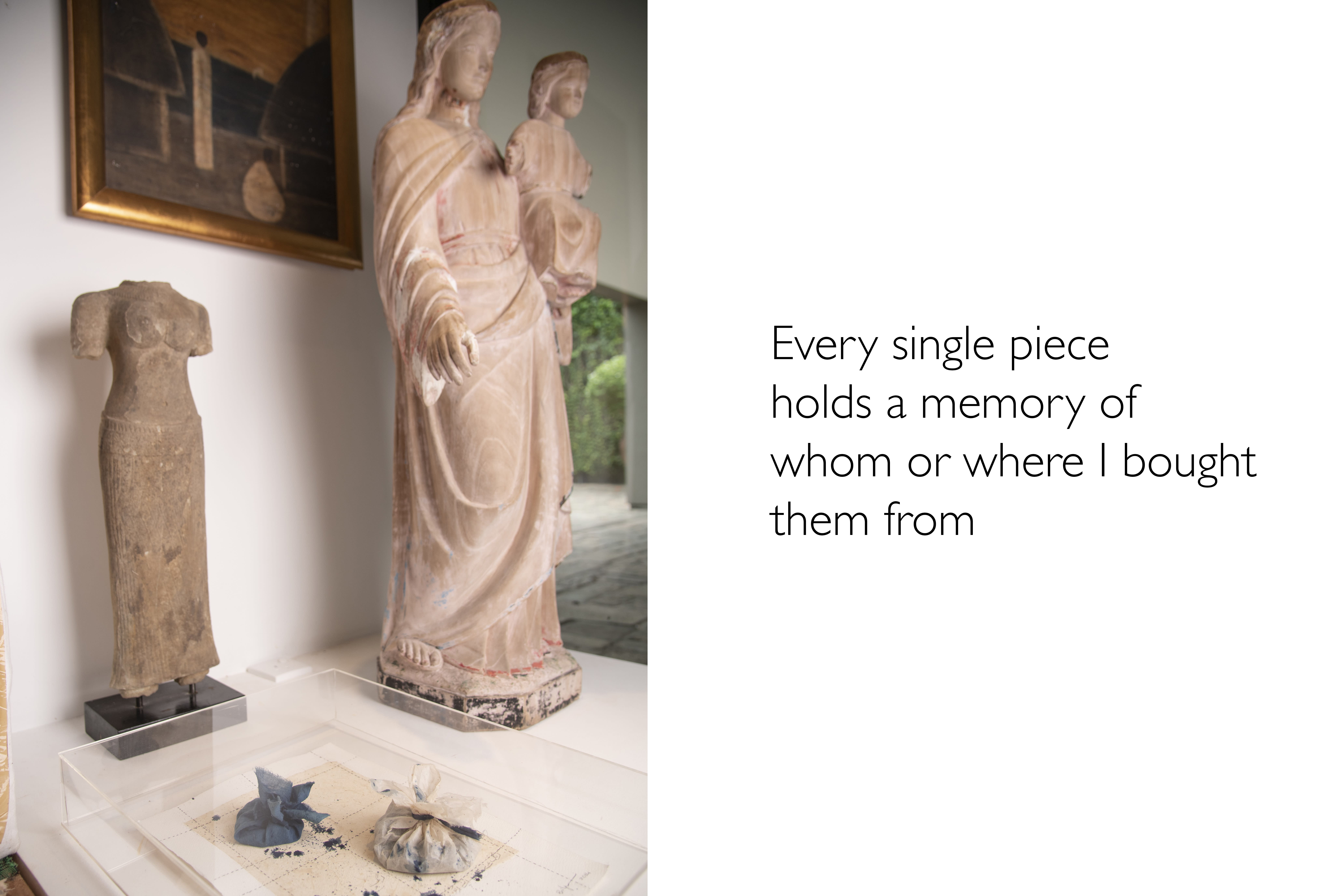 [left to right] Noorjehan Bilgrami, Cambodian bust, Madonna and Child
---
Is there a particular type of art that you collect?
No particular type of art.
It could range from minimalistic to complex, but in both extreme ends having a common identity of beauty.
Do you have a favorite list of artists you follow?
Yes…. But it doesn't mean I restrict myself to that list.
There are so many talented new artists out there who I'm eager to discover.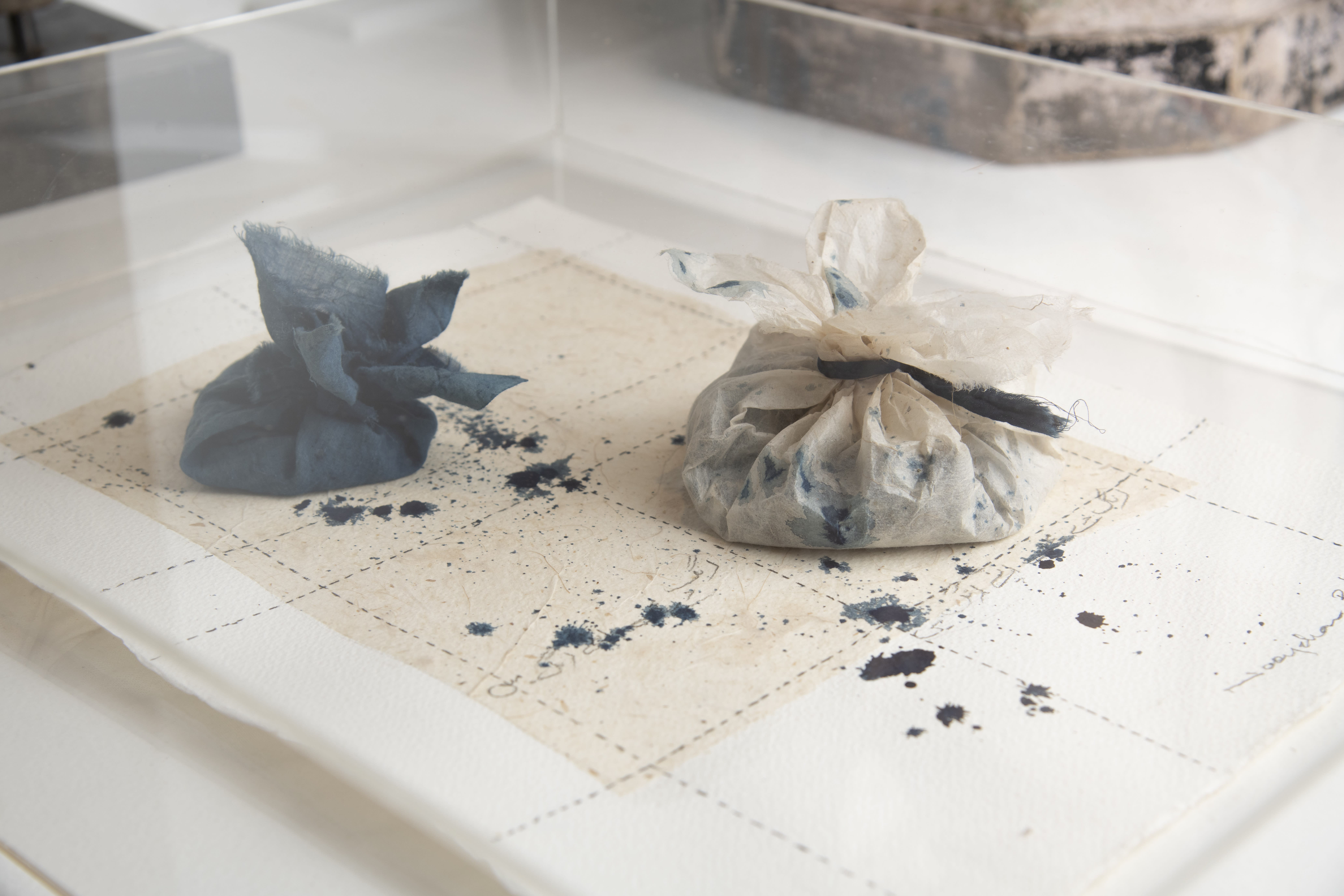 Noorjehan Bilgrami installation
---
Do you choose pieces for investment and what are the things you keep an eye out for, in a portfolio of an artist if you do?
Investment is not a priority for me.
The priority is whether that piece gives happiness and whether you could live with it forever.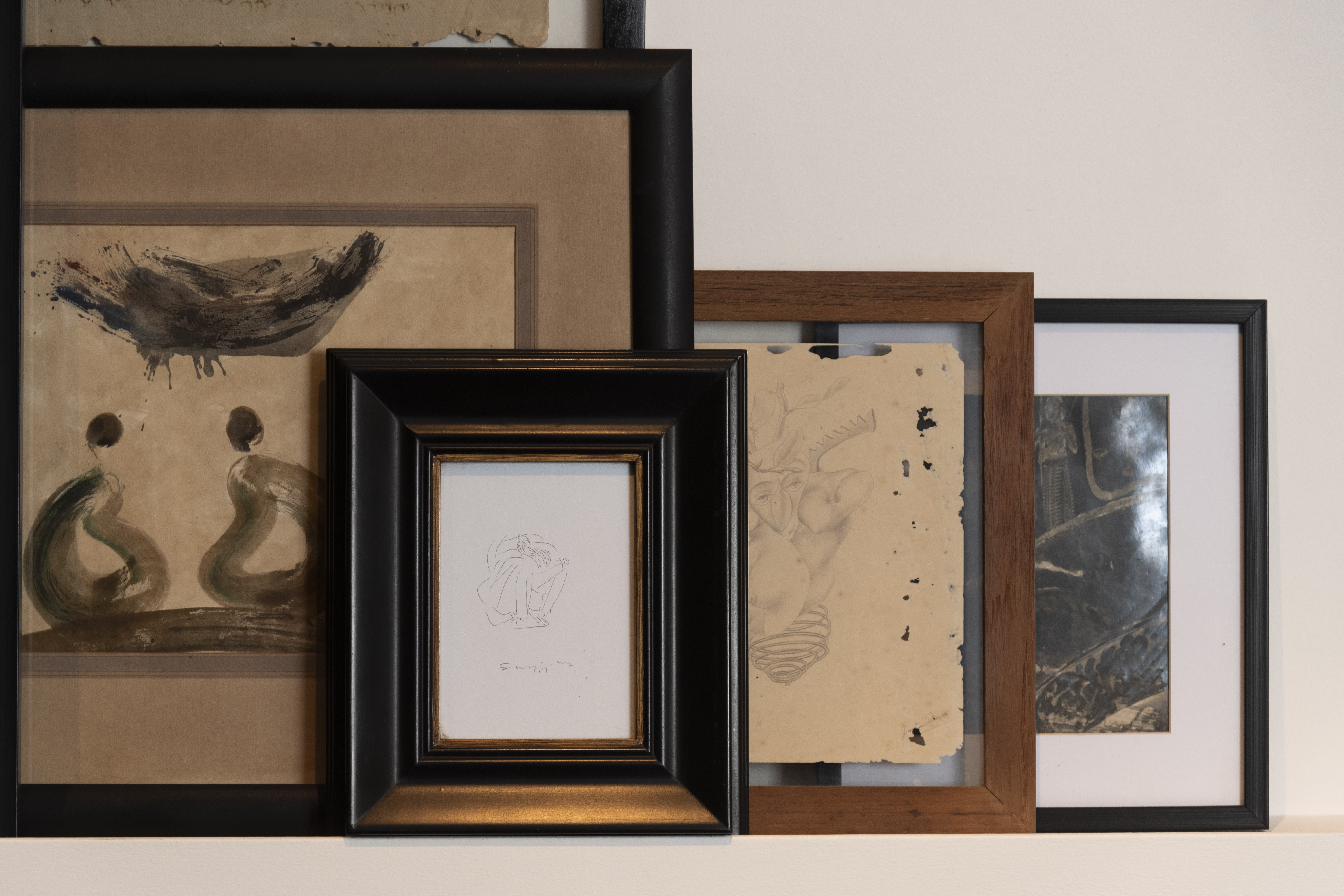 [left to right] Ivan Peries, Kingsley Gunatillake, Justin Deraniyagala,Lionel Wendt
---
Do you buy works for a space or do you find yourself storing pieces?
Both, in vast numbers...
ADVISE FOR NEW COLLECTORS?
Don't collect for the sake of collecting,

You must find joy in what you collect.
The emotional connection to what you collect is what will make your collection unique to you.
[left to right] Laki Senanayake, Lithograph - Churches of Ceylon, Jagath Weerasinghe, George Cleassen, Stanley Kirinde, Laki Senanayake, Print from China, Laki Senanayake, Laki Senanayake, Bandu Manamperi
---
Inspiring artists to watch.
Mahen Perera, Rupaneethan Pakkiyarajah, Rajni Perera
[left to right] Mahen Perera, Saskia Pintelon, Mahen Perera sculpture
---
Who would you like to collect?
Shanaathanan, Dumith Kulasekara
Kingsley Gunatillake

Yen 02, 2020

Acrylic on Canvas

196 x 196 cm
77 1/8 x 77 1/8 in

$ 2,700

FiriRahman

Enclosed 03, 2020

Mixed Media on Canvas

112 x 94 cm
44 1/8 x 37 1/8 in

$ 1,750

Yuwantha Yasas Silva

Dreamer II, 2021

Acrylic on Canvas

91 x 122 cm
35 7/8 x 48 1/8 in

$ 1,200

Hanusha Somasunderam

Silent Struggle III, 2016

Mixed Media on Paper

27.5 x 9 x 5 cm
10 7/8 x 3 1/2 x 2 in

$ 520

ENQUIRE
ENQUIRE
ENQUIRE
ENQUIRE

Fabienne Francotte

27, 2020

Mixed Media on Paper

25 x 17 cm
9 7/8 x 6 3/4 in

$ 377

Jagath Ravindra

Untitled, 2017

Acrylic on Canvas

151 x 182 cm
59 1/2 x 71 5/8 in

$ 4,750

Jagath Weerasinghe

Untitled XXXII, 2019

Mixed Media on Paper

16 x 22 cm
6 1/4 x 8 5/8 in

$ 470

Hashan Cooray

Anima Animus II, 2018

Charcoal on Paper

69 x 51 cm
27 1/8 x 20 1/8 in

$ 570

ENQUIRE
ENQUIRE
ENQUIRE