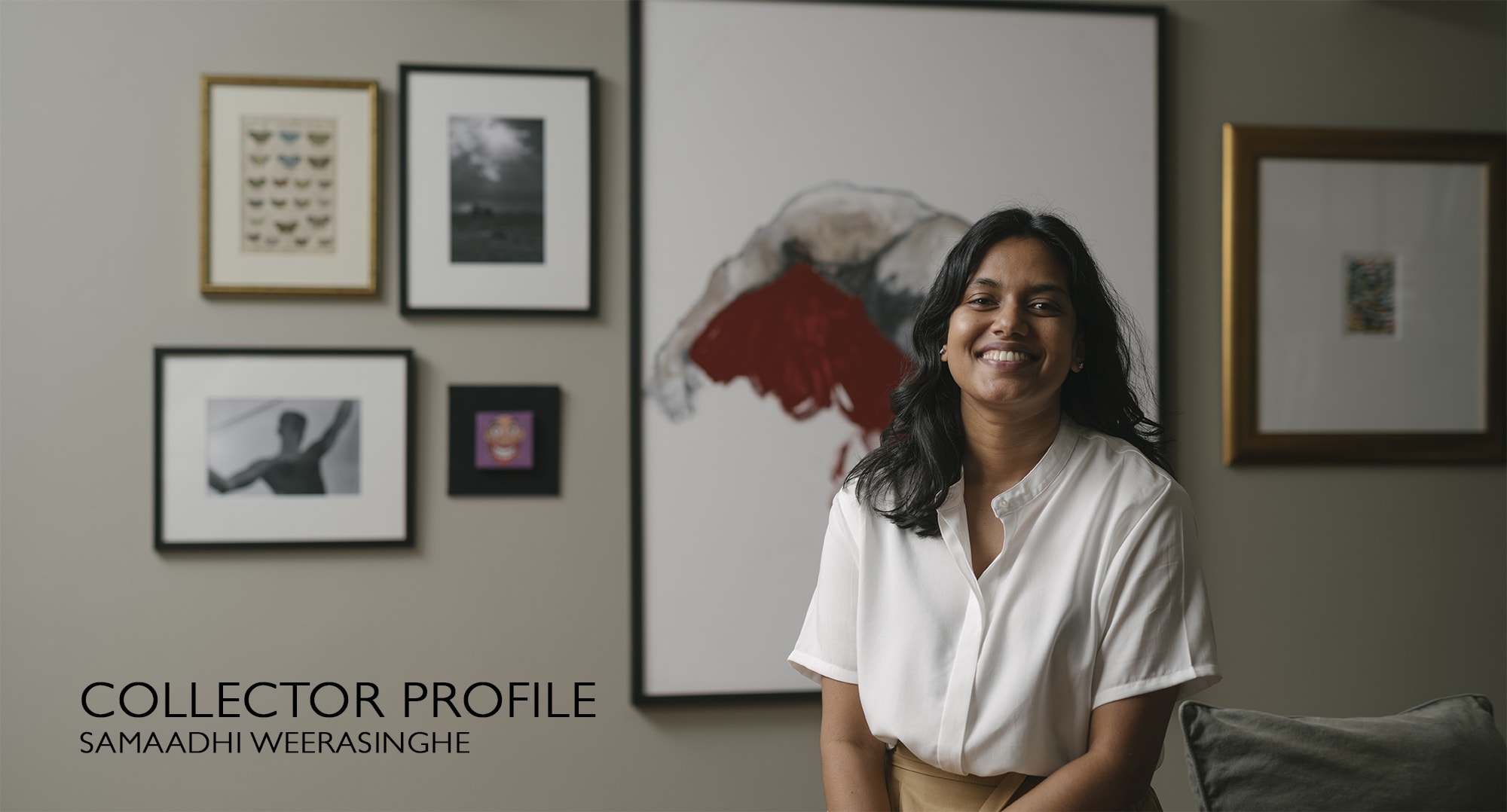 Samaadhi Weerasinghe is no stranger to design. A director of Oryx Benodar Limited, her family-owned apparels business, Samaadhi founded her own sustainable fashion brand ANUK in 2016 an internationally retailed line that boasts collaborations with Sri Lankan artists including Muvindu Binoy. The Weerasinghe family collection expands across their homes, representing their collective interest in both art and design. Samaadhi's parents, Errol and Indira Weerasinghe have collected art for decades, both locally and on travel around the world. The result is a beautifully thought-through collection that is placed sensitively throughout their Philip Weeraratne-designed home and Samaadhi and her husband's Colombo apartment.
Tell us the story behind one or more of your favourite purchases?

My piece from Yuwantha Yasa is by far my most favourite piece. It's the first piece I bought when I moved out with my husband. The series was called A love story if I'm not mistaken and the whole exhibition sort of took me through all the feels I was going through at that point. To this day that piece just makes me so happy.

Yuwantha Yasas, COMPOSITION II, 2019, Acrylic on Canvas, 137cm x 152cm
(from left to right) Tavish Gunasena Photograph | Charith Wijesundara limited edition canvas print | Fabienne Francotte, Memorial, 2019, Mixed Media on Canvas, 139cm x 110cm
| George Claessen, 02, Chromatic Abstract, 1997, Watercolour on paper, 17cm x 12cm

(from left to right) Muvindu Binoy, Star Wars, 2019, Print on Matt Archival Photo Paper, 25cm x 25cm | Dominic Sansoni photograph | Adbul Halik Azeez, Suburban Poetry V, 2017, Giclée Print on Archival Photo Paper, 34cm x 26cm
| | |
| --- | --- |
| | |
| (from left to right) Sujeewa Kumari, 2021 Time Map 26 | Firi Rahman, Paul, 2015, Pencil on paper 43cm x 30cm | |
Your large Prageeth work and others are located in your parents home, do you always agree on pieces and how have your parents encouraged you to live with art?

We definitely don't agree on all pieces, we actually have many disagreements on pieces and where they have been placed quite often. My mother loves colour and her idea of adding colour to a room is hanging a painting because my dad loves white walls and is always a little weary of painting walls in different colours. So from a young age whenever my parents were changing things around the house I'd always hear my mother say 'let's find a piece of art'.

Prageeth Manohansa Mask Sculpture (left) and Prageeth Manohansa, Elephant, Acrylic on Paper (right)
Both your parents have an interest in art,

when did you start to observe this influencing you?

When I think back to my childhood I cannot remember my parents

ever having an empty wall. When I started to actively look into art was

when I was on my university breaks and my parents asked me to help

around in their new home. They said they were getting too tired of

looking for new things and it was time for me to take on a more active

role around the house.

(from left to right) Errol Weerasinghe, Indira Weerasinghe

Samaadhi Weerasinghe with their Nuwan Nalaka Sutra XII painting in the background)
| | |
| --- | --- |
| | |
| (Left) Deshan Tennekoon & Asvajit Boyle, Paper Canvas Illustrations | Abdul Halik Azeez Suburban Poetry III | Pramith Geekiyanage Heavenly Bodies 07, Sameera Kalupahana Nude Drawing | |
Do you recall the first work your parents purchased

and perhaps the story associated with it?

My parents have always had pieces around the house

and something that I distinctly remember from my childhood

was this light feature my parents had hanging in their stair case

done by artist Prasad Abu Bakr.

Ruwan Prasanna commission for Silent Auction for the School for the Deaf and the Blind
How do you think about/plan to build your collection?

What are the factors most important to you?

I'm still figuring this out, to be honest. I think with

everything that's going on in the country I've been leaning more

towards investment pieces rather than emotional buys. However,

something a friend of mine who is a collector mentioned to me in

passing is that you need to make sure you don't get sick of the

pieces you purchase in a few years time and to not just buy a piece

because there's some sort of excitement behind the artist.

You need to enjoy and revere the piece you bought.

Nuwan Nalaka, Flower Vase 02, 2020,

Tempera on Canvas, 122cm x 122cm
| | |
| --- | --- |
| | |
| (left) Rajni Perera print for Silent Auction for the Deaf and the Blind, Prageeth Manohansa sculpture | |
Do your parents discuss art purchases with you and your brother?
They do and they don't. It comes in waves. We mainly talk about the story behind it, either how or why they purchased/acquired it. There are some funny stories about them being questioned at customs or how my dad was shy to hang this specific picture that was left to him so he hung it in his toilet were only my mum and dad saw it. Again, I think for my parents it's the stories that mattered to them rather than the reputation of the artists.
(left to right) Sculpture (Artist Unknown), Sanath Gunasiri Perera, Abstract Painting on Canvas
What is a recognizable difference in the way you and your family. (Parents/husband) relate to art?
My parents picked art to fill their walls and add colour to their homes. I don't think they necessarily thought of the investment value or who the artist was. They have had friends gift them pieces and vice versa. My husband on the other hand is still trying to wrap his head around my interest in art.
What works are you eyeing next?
Jagath Ravindra, Priyantha Udagedara's work
SAMAADHI'S SELECTIONS:
Jagath Ravindra
Time, Mind and Space V, 2020
Acrylic on Canvas
152 x 245 cm
59 7/8 x 96 1/2 in

LKR 1,250,000.00

Hashan Cooray
Untitled 06, 2021
Mixed Media on Paper
80 x 55 cm
31 1/2 x 21 5/8 in

LKR 77,000.00

Muvindu Binoy
The Witching Hour, 2021
Giclée Print on Archival Photo Paper
61 x 51 cm
24 1/8 x 20 1/8 in

LKR 134,000.00

Muvindu Binoy
Phuture Devi, 2018
Giclée print on archival photo paper
25 x 28 cm
9 7/8 x 11 1/8 in

LKR 78,000.00

ENQUIRE
ENQUIRE
ENQUIRE
ENQUIRE

Chandraguptha Thenuwara
Glitch VI, 2016
Mixed Media on Canvas
40 x 50 cm
15 3/4 x 19 3/4 in

LKR 395,000.00

Gayan Prageeth

Sinking and Flying , 2021
Acrylic on Canvas
130 x 100 cm
51 1/8 x 39 3/8 in

LKR 390,000.00

Saskia Pintelon
Face Series, 2004 - 2006
Mixed Media on Paper
149 x 118 cm
58 5/8 x 46 5/8 in

LKR 2,636,000.00

Firi Rahman
Untitled 2, 2021
Mixed Media on Acrylic
26 x 26 cm
10 6/25 x 10 6/25 inches

LKR 74,000.00

ENQUIRE
ENQUIRE
ENQUIRE
ENQUIRE