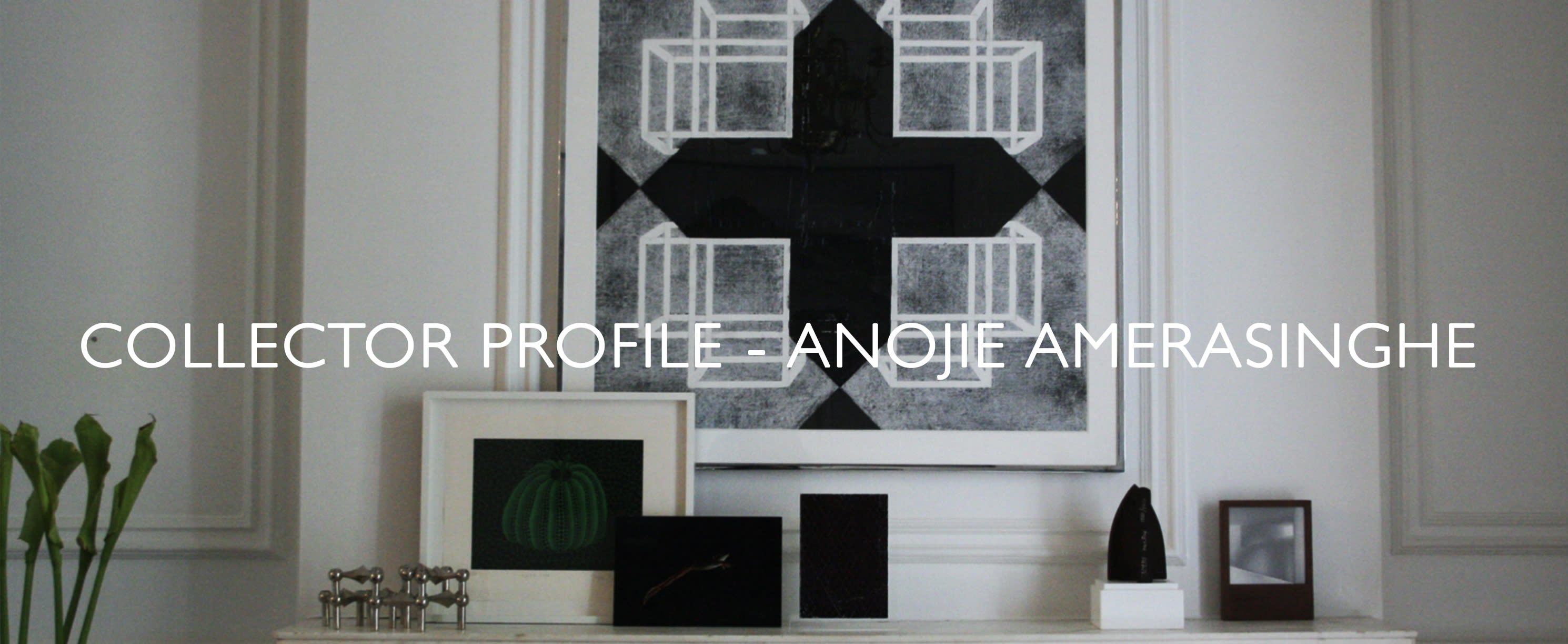 Anojie Amerasinghe and Hugues Marchand's collection reflects their interest in culture, combined with a preference for an architectural sensibility and a keen eye for strength of practice. Their collection has a distinct identity of it's own. Divided between London, Brussels and Colombo, the works take pride of place in sleek architectural spaces. Anojie's passion for the Sri Lankan contemporary art scene has grown significantly over the years and today she plays an important role as a patron of the Sri Lankan art scene. Anojie approaches art with a patient and critical eye never swaying from her own taste but is always open to discovering new work.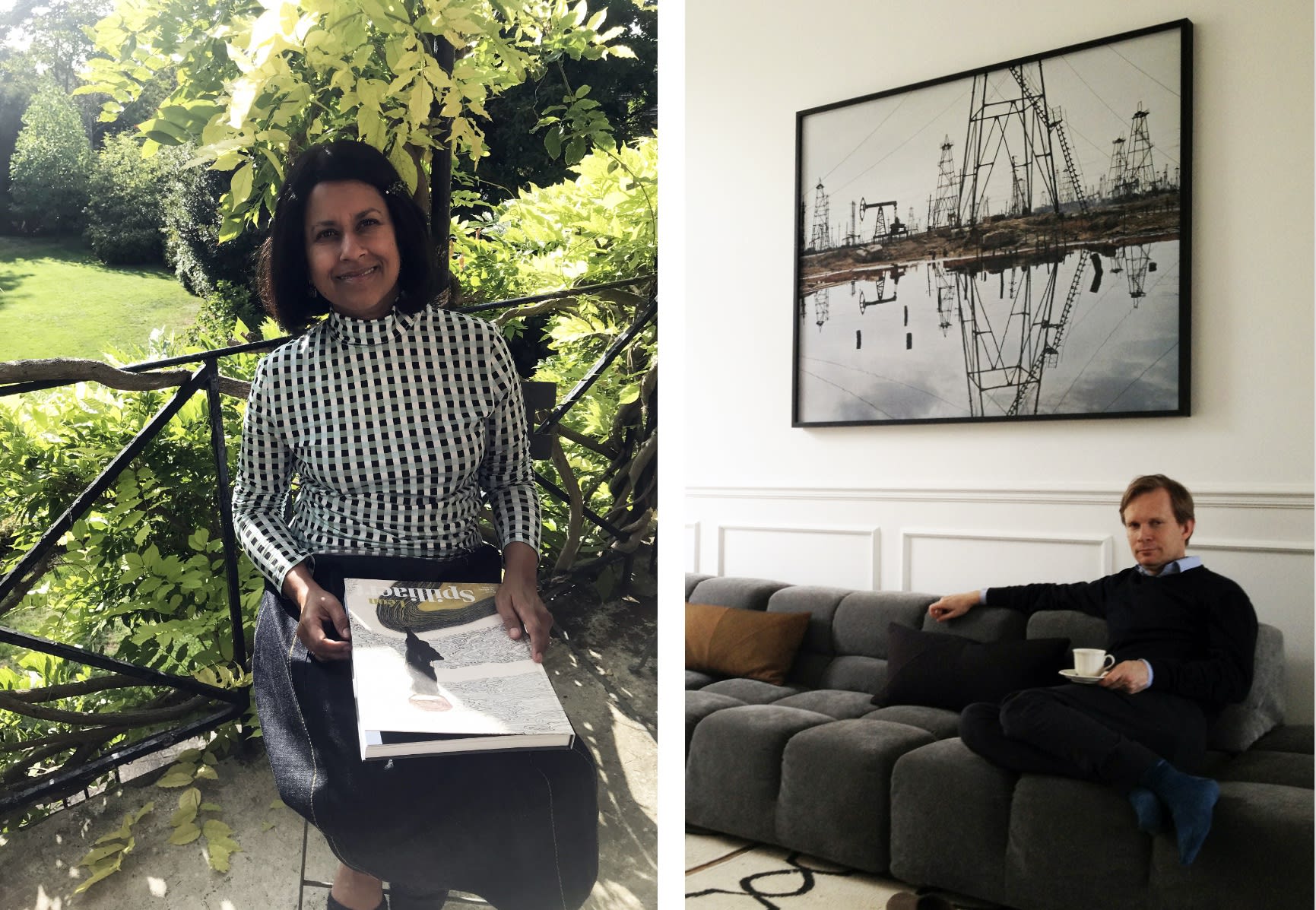 Anojie and Hugues at their home in London
Anojie Amerasinghe says
OUR FOCUS ON SRI LANKAN ART IS WITHOUT A DOUBT THE MOST SPECIAL AND IMPORTANT TO US ALL AS IT HAS GIVEN US THE OPPORTUNITY TO UNDERSTAND MORE DEEPLY SRI LANKAN CULTURE, MY IDENTITY AND ENABLES US TO FORM CLOSE RELATIONSHIPS AND FRIENDSHIPS WITH LIVING ARTISTS AND THOSE IN THE ART WORLD WHO ARE CONTRIBUTING IN VARIOUS WAYS TO THE ADVANCEMENT OF SRI LANKAN CONTEMPORARY ART AND CULTURE.
Tell us a little about yourself...
I am a Sri Lankan living in London at present. I have had a peripatetic life living in the United Kingdom, Sri Lanka, Australia, Philippines, USA, Belgium, Turkey, Thailand since birth, first with my parents and siblings and later with my husband and our two sons. I am an Architect and Urban Designer and my husband, Hugues is a Mathematician now in Finance. I have been a collector of one thing or another since I was young but collecting art has been a more recent interest and is one of our family projects. We do this with more than an objective of acquiring works. For nearly a decade we have been involved in not just learning more about art to improve our knowledge and for pleasure but have been supporting projects that promote learning and exchange about the importance of art to inspire thinking and reflection, community engagement, as well as better understanding about identity, culture and the world around us. Our collection has 3 distinct trajectories that are very personal and resonate with our family story. We collect Belgian Art from the Belle Epoque to Modernism; these are important art historical moments intertwined with an interesting chapter in Hugues' family story. A second trajectory is our focus on Sri Lankan Contemporary Art which is driven by my insatiable curiosity, interest and desire to know and understand more about Sri Lanka, particularly related to the time frame that spans my life. And thirdly we have a collection of International Contemporary Art that tracks our particular journey as a family globally. Our focus on Sri Lankan art is without a doubt the most special and important to us all as it has given us the opportunity to understand more deeply Sri Lankan culture, my identity and enables us to form close relationships and friendships with living artists and those in the art world who are contributing in various ways to the advancement of Sri Lankan contemporary art and culture.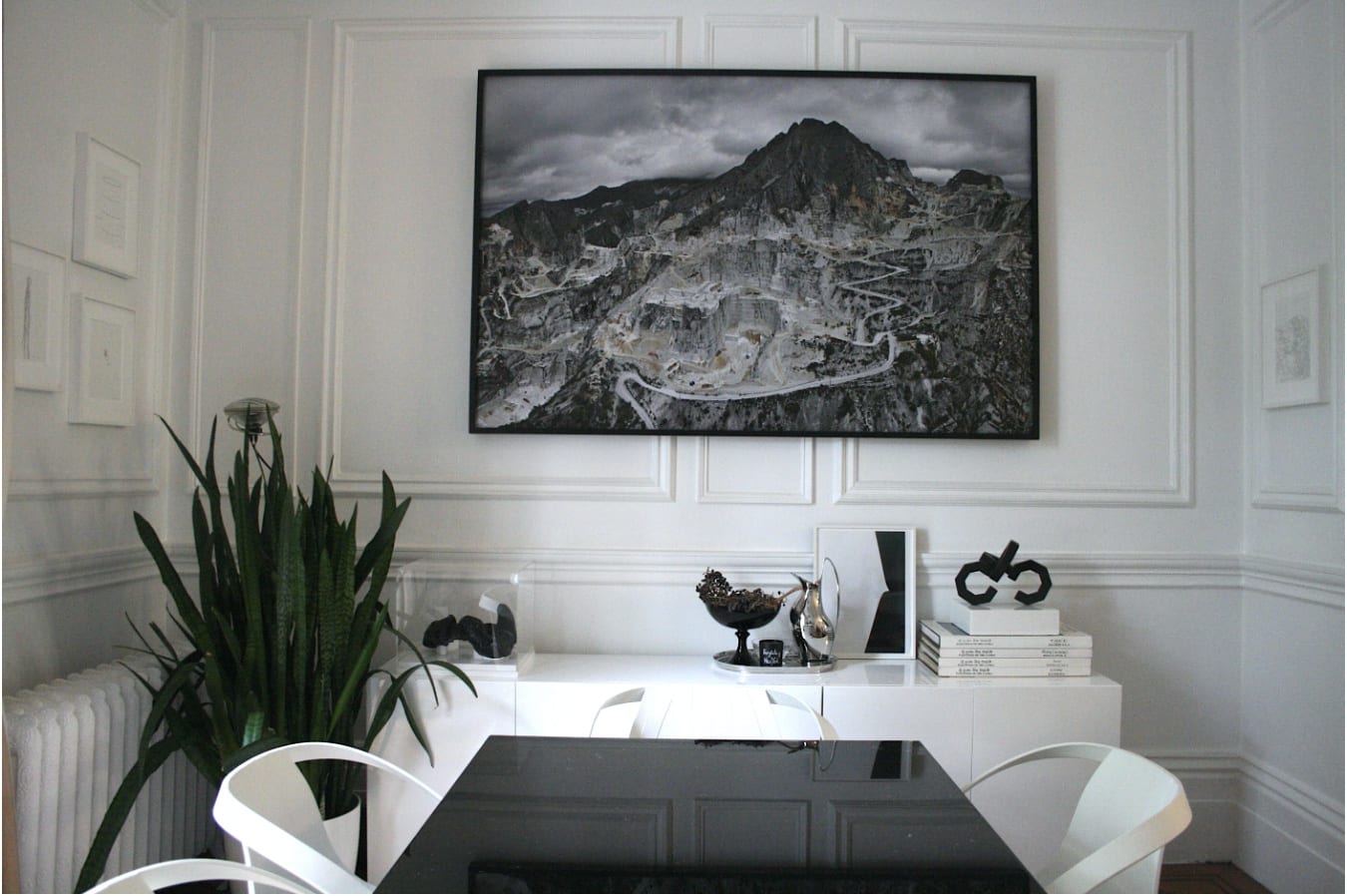 Ensemble 1
Art works from L-R:
Trident/ Tar Barrel/ Lion from A-Z of Conflict, Chandraguptha Thenuwara, 2017 | Carrara Marble Quarries, Carbonera Quarry #1, Edward Burtynsky, 2016 | 3 Mixed Media Sculptures, Mahen Perera, 2017 | Paper Drop Fused I, Wolfgang Tillmans, 2006 | Istif 6 Sculpture, Ergan Saglam, 2014 | Camouflage, from A-Z of Conflict, Chandraguptha Thenuwara, 2017
You have a substantial body of work Chandraguptha Thenuwara, what drew you to his work?
In fact, an untitled [2009], work by Thenuwara of refugees at the end of the war, was the first work of art that we gave 'serious' thought to acquiring. It is a small work that might seem insignificant on its own but is now part of a larger set of drawings and paintings that have a focus on the war in Sri Lanka. I have spent the majority of my life abroad and mostly travelled for holidays to Sri Lanka. This meant that I had little chance to see and really experience the impact of war on lives, on our cities and urban life and our communities. I was drawn to this ink line drawing as it represented to me in the simplest graphic terms, the human cost and complexities of the end stage of the protracted war. I find the language Thenu uses, his choice of working with a limited colour pallet, his manifesto - Barrelism, and his annual commemorative shows all give structure and a framework to fill in gaps in my own knowledge and experience. His works allow me to understand better a little of what every person who lived in Sri Lanka during that time might have experienced. It is simultaneously our reality and at the same time makes a statement about war that is universal. It is clever. It has clarity and integrity. It's beautiful. It is not too deeply personal but the voice of many who have little or no power or presence in society. Most importantly his work is a provocative reminder about the importance of being actively engaged with and reflecting on all realities in our midst, no matter how difficult that may be. He is for me the most important artist to have a significant body of work that represents the narrative of the war in terms of Sri Lankan contemporary art. He is an outstanding Sri Lankan artist.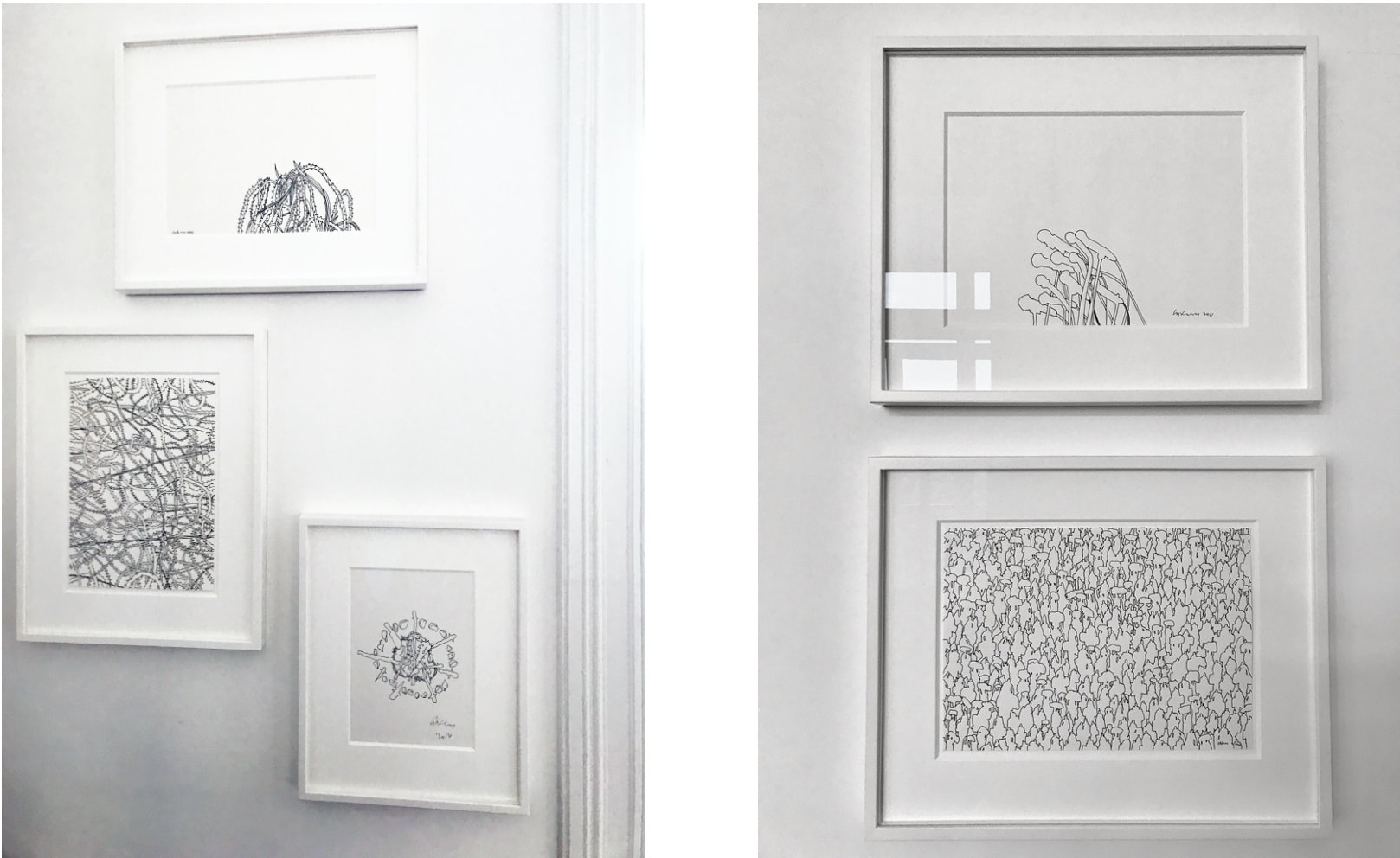 Artworks from L-R: Thorns iii [2011], Untitled ii, Barbed Wire [2011], Chakra [2014], Freedom of Speech [2011], Untitled, Refugees [2009], Chandraguptha Thenuwara, 2009-2014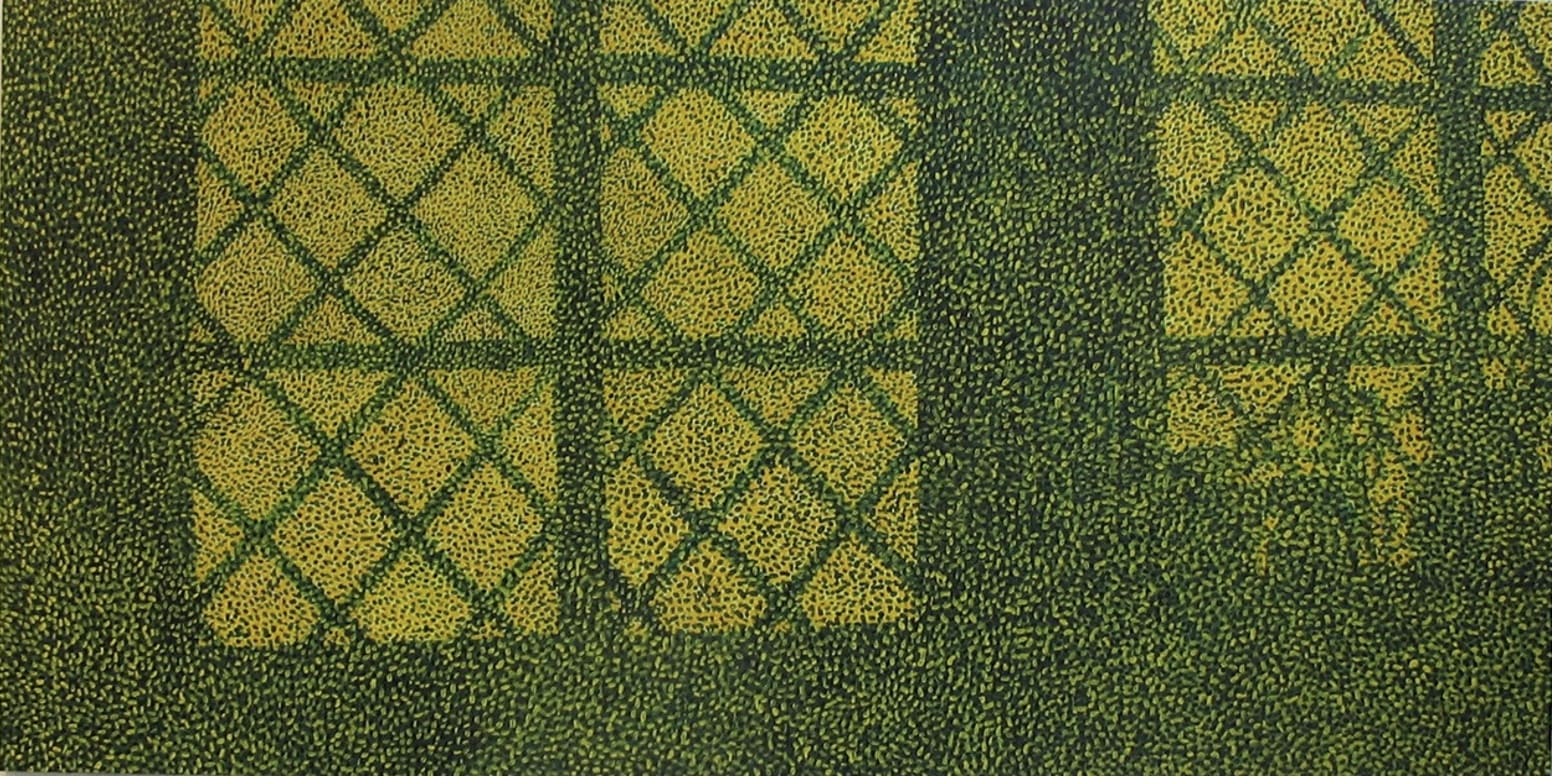 Art works from L-R: Camouflage I, Chandraguptha Thenuwara, 2006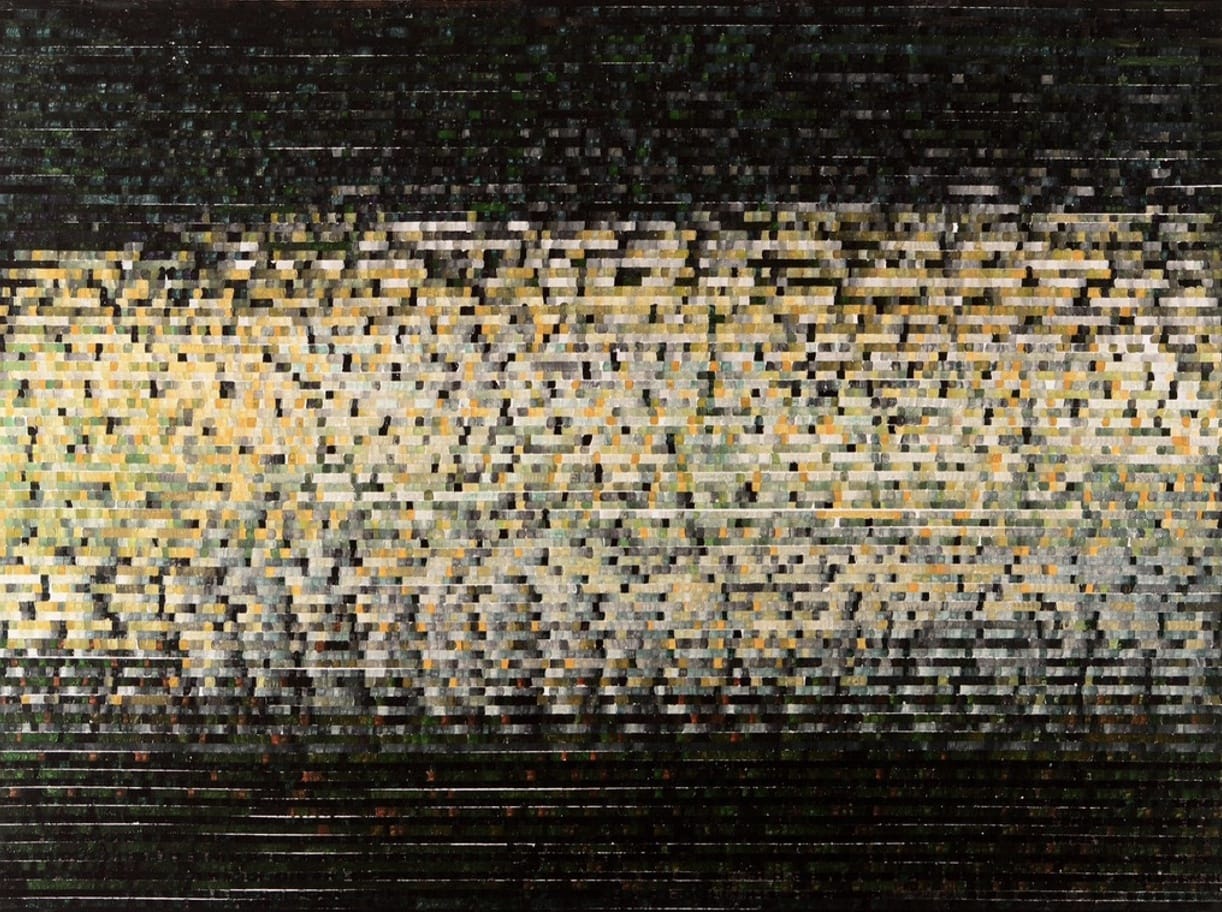 Art works from L-R: Glitch ii, Chandraguptha Thenuwara, 2016
When did you first start acquiring art?
We first started acquiring art when the Saskia Fernando Gallery first opened. Saskia was the first gallerist we came to have a relationship with. We have been collecting all over the world and have very different experiences of working with other gallerists. It's easy to say that other galleries are far less personal and very often the relationships seem too transactional. It has been a fantastic experience to grow our knowledge and interest in art alongside and in conversation with the evolution of SFG and an invaluable opportunity to discover art in a very personal way. We may not have waded into collecting in the same spirit or to the same extent if we didn't have the opportunity to indulge our wishes to meet and engage with exceptional artists and others working in the Sri Lankan Contemporary Art scene.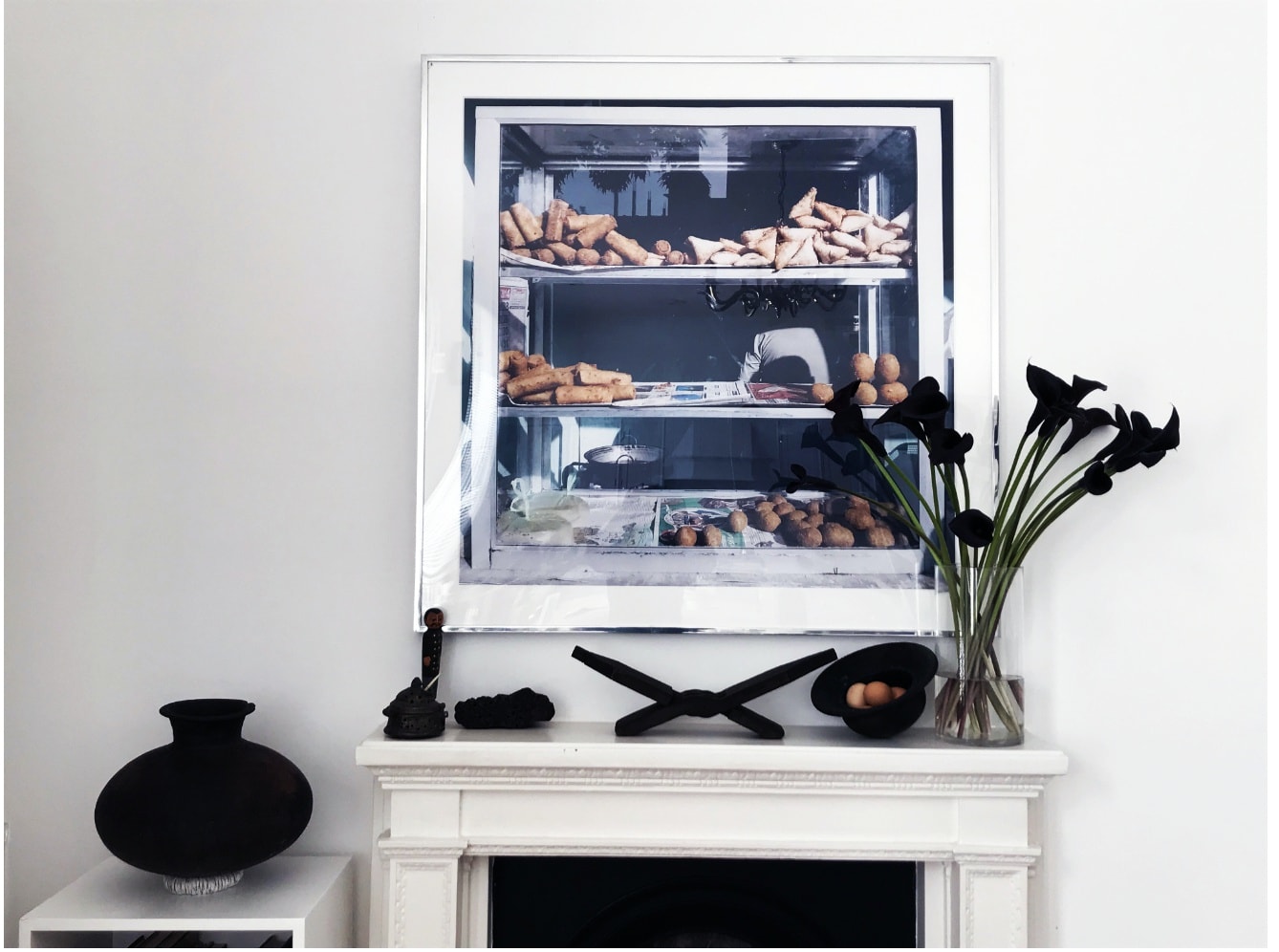 What was the first piece you fell in love with, and why?
La Folie Almayer by Rene Magritte. I love it as a symbolic reminder that the inspiration and focus of our family collection is underpinned by our roots.
What are some of the most sentimental or meaningful pieces in your collection?
The most sentimental piece in our collection is a portrait of Hugues' great grandmother [1927] by the Belgian painter Jean Laudy, known best for his portraits of the Belgian Royal family. Another interesting piece for us that is highly personal is the Crow painting by Belgian artist Saskia Pintelon, who is very well known in Sri Lanka. We encountered this particular piece on a visit to the artists home in Flanders in 2010. We understand that she had kept this particular crow out of the series for herself and its very special for us to have seen the work in her atelier and had the morning to discuss her work.
Blast Print IV [2009] by Documentary Photographer Sri Walpola is an image of over 2500 kgs of explosives being destroyed in a controlled blast in the Jaffna Peninsula. The explosives had been collected by de-mining teams. Our print is the 5/6 edition and this particular work was made for the Public Library of New York Photo Exhibition titled War and Peace in Sri Lanka. One edition of the work was exhibited at the Barefoot Gallery War and Peace Exhibition and another was purchased by an anti-landmine NGO for a Princess Diana commemorative photographic exhibition in London. It was quite an adventure to track down and finally see the work that seemed to be travelling the world.
Exploration [1994] by George Claessen is a work that came into our hands very recently in 2019. It is a work that we had been keeping our eye on and having conversations about for at least 5 years. For our collection Claessen is where the contemporary art story in Sri Lanka begins. We are interested in his experimentation with abstraction, light and colour and find his work tremendously important for its originality. I think his work is in my view under estimated in favour of other Group 43 artists. We are not focused on the work of other artists in the Group 43 as too many other collectors are.
| | | |
| --- | --- | --- |
| | | |
| Exploration, George Claessen, 1994 | | Explosion, Sri Walpola |
Who do you want to collect next?
Works by Sri Lankan-Swedish photographer Nina Mangalanayagam are in the pipeline. I am eagerly awaiting Kavan Balasuriya's forthcoming solo show at SFG. Work from this show is at the top of my list. I am particularly interested in his work that is inspired by an on-going exploration of art-architecture. In addition, I've been very keen on acquiring photographic work by Anomaa Rajakaruna, the acclaimed film maker. I came across her work that was commissioned by Sharmini Pereira, Chief Curator of the Museum of Modern and Contemporary Art in Sri Lanka, for her Raking Leaves Art Book Project titled the A-Z of Conflict. I'm also looking at work by photographers Jacques Henri Lartigue, Albert Renger Patzsch, Dayanita Singh, Rana Begum and/or Tacita Dean all of which I have had my eye on for awhile.
Art works from L-R: Aithihaasika, A-Z of Conflict , Anomaa Rajakaruna, 2015 | Irul, Muhanned Cader, 2016 | Vellakari – A-Z of Conflict, Nina Mangalanayagam, 2015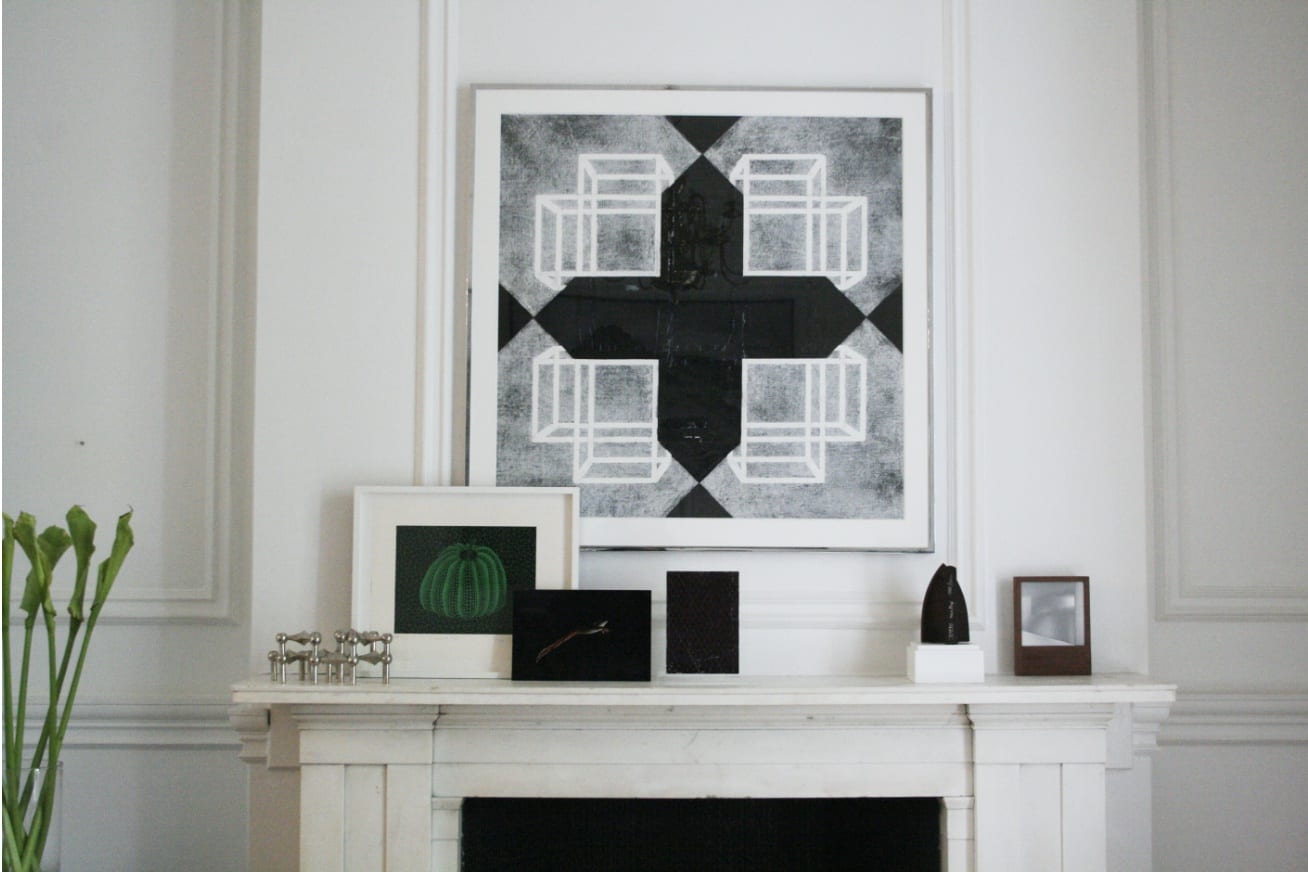 Ensemble 2:
Art works from L-R: Pumpkin [GY], Yayoi Kusama, 1996 | Paradigm, Kavan Balasuriya, 2015 | Wired, Kavan Balasuriya, 2019 | Leap Frog, Ozlem Gunyol and Mustafa Kunt, 2009 | Cadeau, Man Ray, 1921/1974 | Box 507, Dayanita Singh, 2019
Ensemble 2 Detail:
Pumpkin [GY], Yayoi Kusama, 1996 | Leap Frog, Ozlem Gunyol and Mustafa Kunt, 2009 | Box 507, Geoffrey Bawa 100 – Lunugana Trust - Dayanita Singh, 2019
Favorite museum or creative space for inspiration?
Royal Academy Arts London [RA]. It is a home for both art and architecture, it is a learning institution and exhibition space. And I particularly like the library space and Academicians Room that are wonderful spaces to retreat into in the bustling heart of Piccadilly and within the RA itself.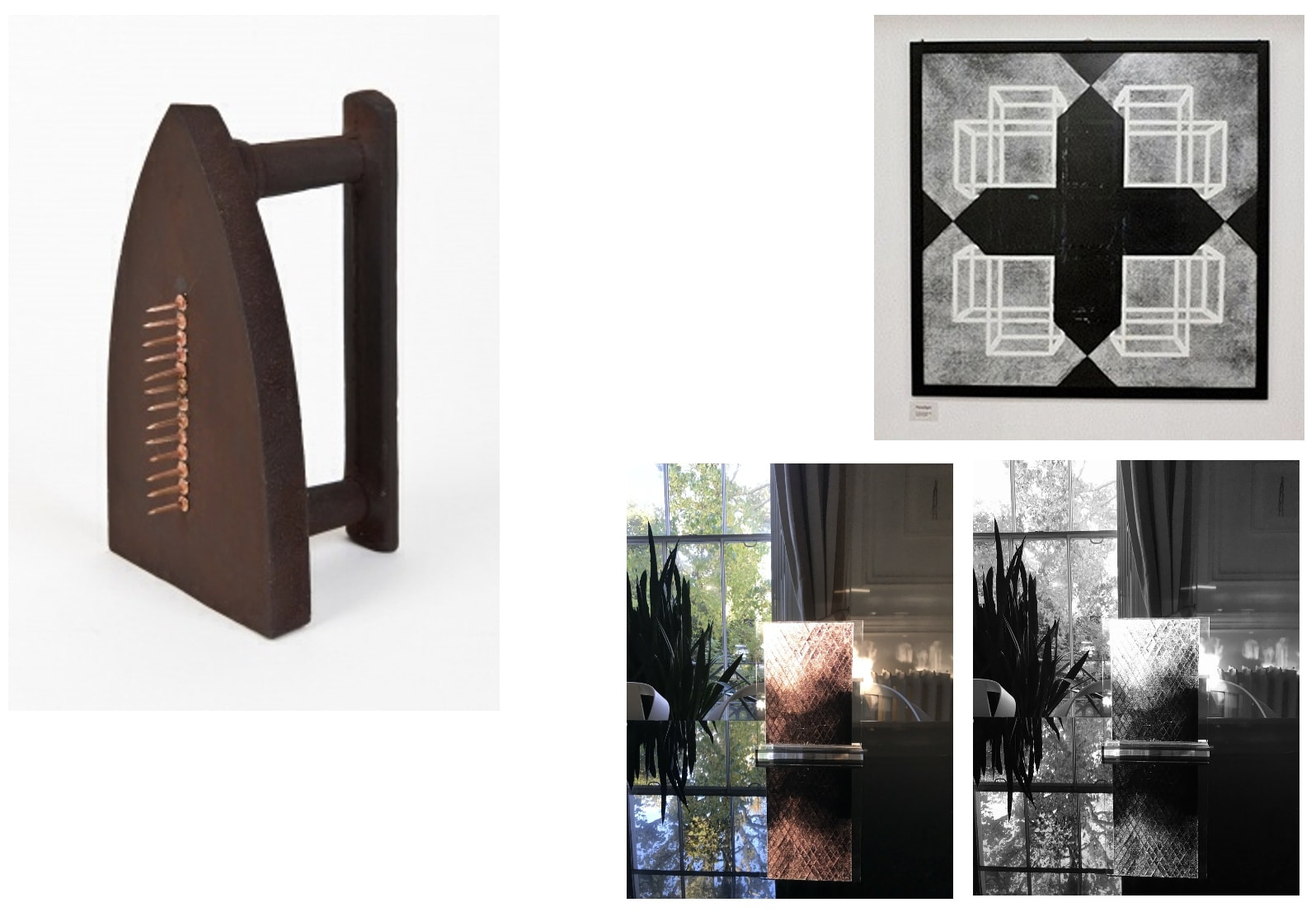 For new collectors, do you have any advice you wish to impart?
"The importance of a collection does not lie in its valuable pictures alone, for anyone with great wealth may acquire the most famous ones. The real value of a collection lies in its organic growth and selection, expressing the personality of the collector." Hilla Rebay, 1936 [Co-founder and first Director of the Solomon R. Guggenheim Museum]
There are many different ways to approach collecting and collection building. Very often we set about acquiring works without any serious thought or particular preferences. For me collecting isn't about miscellaneous accumulation. I would say that one of the most important things I've learned is that it takes reflection, research, time, patience and good relationships with various interesting people in the art world - artists, gallerists, curators and auction houses. I believe that you can build an interesting collection if you are personally invested in this as a project that is as much about exploration as it is about art.
I'd like to share the names of two wonderful collectors who are my inspiration. Peggy Guggenheim and her courageous approach to identifying and acquiring the fantastic collection of avant garde artists, whom she worked with to inspire their careers and success. And Jim Ede who set up Kettle's Yard in Cambridge. Jim Ede was a former Curator at the Tate Gallery in London who collected the works of British Artists he associated with. His collection is on display in his home. His remarkable collection was built without being wealthy. Many artists gifted him works, as he was alone in liking their work.
I would like to encourage new and young collectors to have the courage, patience and passion to reveal their own stories through their collecting.
Abdul Halik Azeez

Abdul Halik Azeez

Giclée Print on Archival Photo Paper

25.5cm x 34cm (G/F)

Edition of 10

Abdul Halik Azeez
Who are some of your all-time favourite artists?
This is a difficult question and I'm going to limit it to artists I'd like to own or already own as there are many I'm interested in. I've already spoken about Chandraguptha Thenuwara and include other Sri Lankan artists such as Kavan Balasuriya, Mahen Perera and Abdul Halik Azeez. In terms of other artists Candida Hofer, Wolfgang Tillmans, Edward Burtynsky, Rene Magritte, Constant Permeke, Glen Ligon, Jean Arp, and Yayoi Kusama in no particular order.
Chandraguptha Thenuwara

Painted Barrels

Chandraguptha Thenuwara

Ink on Paper

30 x 21 cm
11 3/4 x 8 1/4 in

Chandraguptha Thenuwara

Ink on Paper

30 x 21 cm
11 3/4 x 8 1/4 in
Hanusha Somasunderam


Tea Bags and Ink

37cm x 21cm

Hanusha Somasunderam

Tea Bags and Ink

32cm x 21cm

Giclée print on archival photo paper
What's your relationship to emerging art? Is it important to you to invest in artists careers from the beginning?
We believe very much in supporting emerging artists, art initiatives and projects in whatever ways it can be interesting and constructive. It's very exciting to get to know young artists and to help them to advance their practice and careers. In fact, it has also been an interesting experience for us to have to learn to be patient and wait for work to develop and even be produced. It is a very long road and happening in real time so there is a lot of speculation and anticipation involved. I have in my collection a number of works by Kavan Balasuriya from his days as a student at Central St Martins in London and his first show in Colomboscope. They are bold and very accomplished even though they are formative. We are very happy that he has been recently signed with SFG. I have recently discovered the work of photographer Ashini Nanayakkara a student artist at RMIT in Melbourne and we are having interesting conversations about her focus on art-architecture. So I invest as much in their work as I do in mentoring emerging artists.
Kavan Balasuriya

Etching on Mounted Aluminium Foil

15 x 11 cm




Kavan Balasuriya

Etching on Mounted Aluminium Foil

21 x 15 cm

Kavan Balasuriya

Etching on Mounted Aluminium Foil

21 x 15 cm
Art works from L-R: Untitled Sculpture, Jean Arp, ca.1966