Housed between her homes in Colombo and Horagolla, Sunethra Bandarainake's collection is a captivating encounter between old and new; bridging Sri Lanka's ancient past with its contemporary present. In her Colombo home, a range of modern and contemporary artists including Pakkiyarajah Pushpakanthan, Jagath Weerasinghe, and George Keyt line the walls. Ms. B shrugs off the title "collector," telling us that her primary goal is not to build a collection, but to surround herself with works that speak to her – and surround her they do. Every niche, nook and wall of the house is home to a carefully placed work of art – including the bathrooms, where a Lionel Wendt nude hangs majestically exposed in one, and two Saskia Pintelon's sit cheekily in the other. Tucked under her glass coffee table are three stacks of books on Sri Lanka's greatest painters, above it are two works she purchased from an anonymous Dutch painter in Goa.
| | |
| --- | --- |
| | |
| | |
As she walked us through the space, each work elicited its own anecdote. The George Keyt that hangs near her sleek ebony dining table was originally gifted to Ms. Bandaranaike's cousin (who Keyt held a flame for) and is a rare depiction of an elephant by the artist. An older Chandraguptha Thenuwara work features three ladies, two in the nude. Originally, all three were bare bodied but the artist later clothed the central figure to avoid outrage (how Pope Paul III-esque!). A friend of the artist, Ms. B once had a portrait painted by Thenuwara; it now sits in his studio, and according to her, is a source of much inspiration for the artist.
Her home in Horagolla, a Geoffrey Bawa creation, is a celebration of Sri Lankan art itself. Nestled in its exposed frame are works by Anoma Wijewardene, Saskia Pintelon, Kingsley Gunatillake, and Fabienne Francotte. In the middle of the house, hanging above an orange couch is Ms. Bandaranaike's favorite piece: a Laki Senanayake installation composed of delicate, individually crafted Bo Tree leaves, fused together to form a singular leaf that is so intricately crafted it appears to ripple in the wind.


(Left) Fabienne Francotte, 2017, The Bride, Pencil and Oil on Paper, 58cm x 42cm, (Middle) Laki Senanayake, (Right) Saskia Pintelon, 2016, Free Fun Fit, Collage and Mixed Media on Paper, 113cm x 94cm

Having begun her collecting early in the careers of now-ubiquitous artists like Chandraguptha Thenuwara, Jagath Weerasinghe, and Kingsley Gunatillake, the works in Sunethra Bandaranaike's collection predate these artists developing their signature styles, making them all the more fascinating in the eyes of art lovers. Imagine a time before Weerasinghe's distinct brushstrokes or Thenuwara's foray into abstraction.
Can you spot these works?
Could you describe your art collection in 3 words?
Eclectic.


Mural by Donald Friend
Do you feel that collectors have an obligation to share their collections with the public?
Collectors do not have an obligation to share their collections with the public. However, I would say that it is an individual collector's choice, and it would certainly be a good idea to encourage others to understand and appreciate art.
Mural by Donald Friend
You take a more minimalist approach to design, do you feel that the same can be said of your approach to art?
I do tend to take a minimalist approach to art although this is not always the case. I have art with powerful designs which have adorned large wall space.
You have a large collection of modern Sri Lankan art, from Ivan Pieris to Richard Gabriel, who are your favourite contemporary artists?
Saskia Pintelon, Chandraguptha Thenuwara, Jagath Ravindra, Anoma Wijewardena and Jagath Weerasinghe.
Is there one unifying thread that ties together all of the works in your collection? Perhaps a narrative you want to build or a style that speaks to you?
My art collection does not have a unifying thread that runs through it. I prefer minimalist art. If I were to talk of building a narrative or style in my collection, my preference would be for abstract art.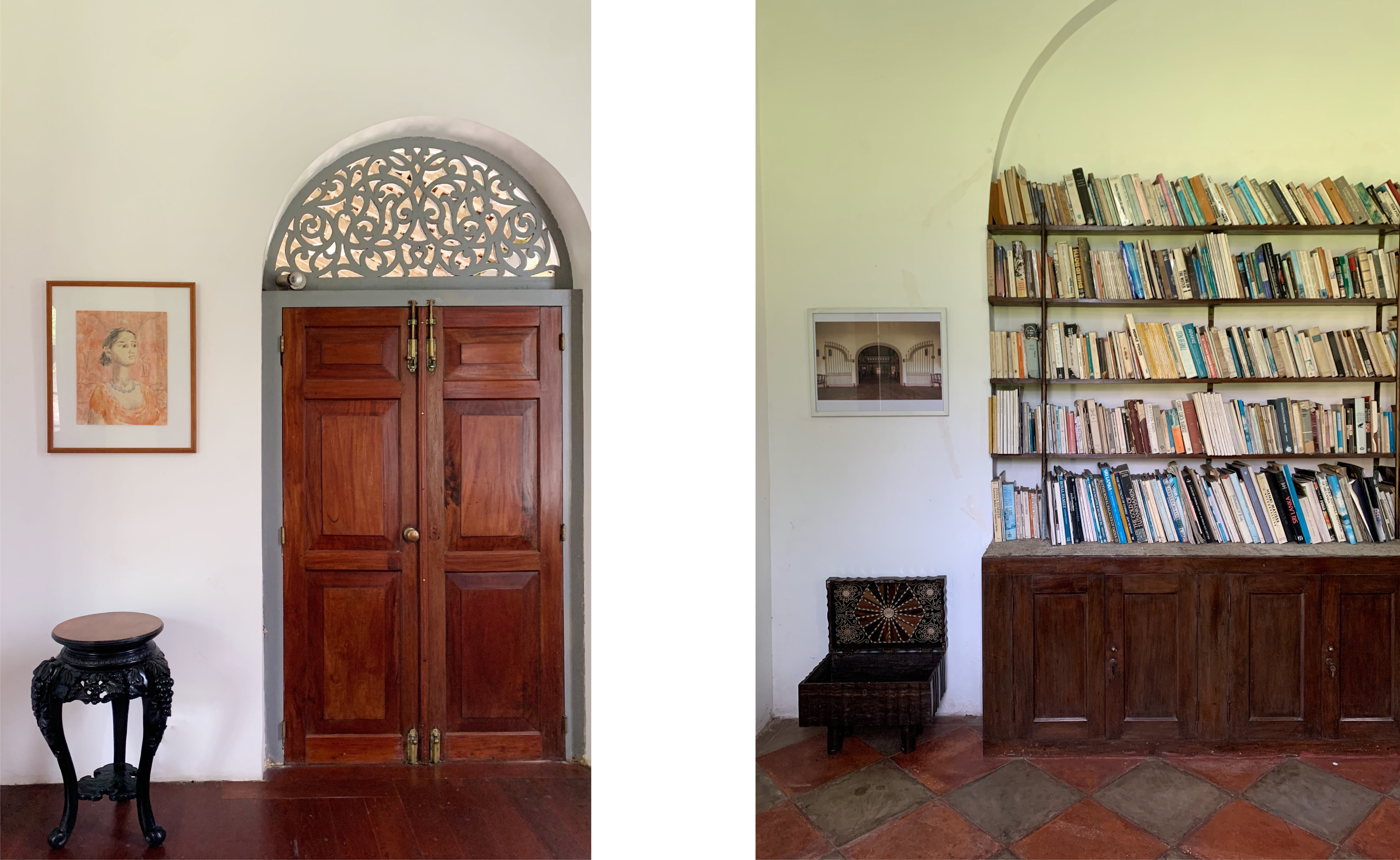 (Left to right) Justin Deraniyagala and a Calamander Box featured on the right.
What was the first piece you purchased?
My first purchase was a collection of Ivan Pieris Water Colors which I bought in 1969.

Ivan Pieris 1969
Do you collect anything else other than art?
Yes, I am particularly fond of calamander boxes which were crafted when the British were in Sri Lanka. I have a collection of these beautiful boxes.
What is your art-world pet peeve?
Any work of art which is a copy of another piece of art would be my pet peeve.
Can you name an emerging artist that we should put on our radar?
Recently there were two exhibitions at Paradise Gallery Café by two artists whose works of art were amazing in their simplicity and strong messages. They are Susiman Nirmalavasan and Rupaneethan Pakkiyarajah who are from Batticaloa. They have suffered a great deal during ethnic conflict, and are now trying to build their homes and lives by creating amazing works of art and selling them.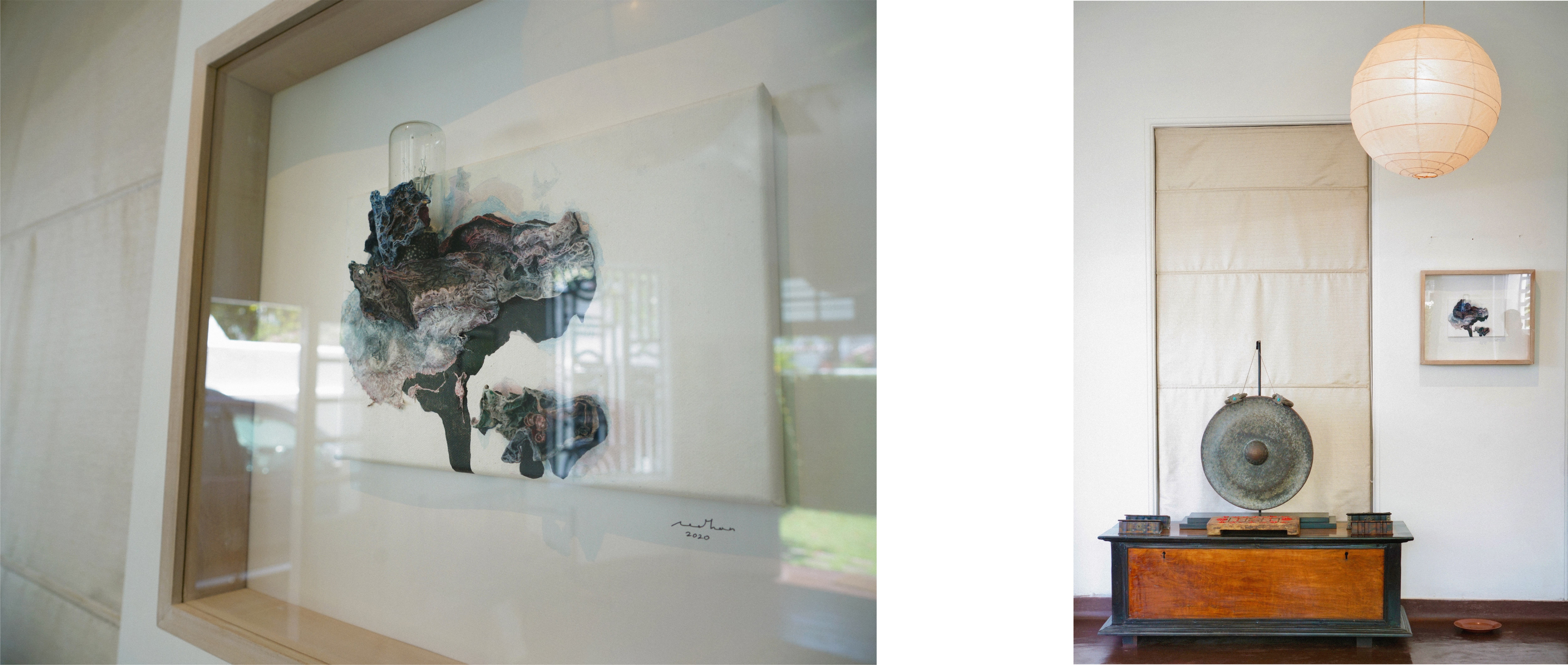 Rupaneethan Pakkiyarajah, 2021, Searching for Connection XXX, Mixed Media on Canvas, 51cm x 61cm
There is a lot of religious influence in the works you have in your collection. Do you feel that art has a role to play in the contemplation of religion?
I do have works of art that are inspired by Christianity and Buddhism. However, I did not buy them for that reason. These pieces date back centuries and the artists showcase their remarkable abilities in these works of art. Both art and religion appeal to human emotions. To this extent art definitely has an influential role in religion.
Yuwantha Yasas, 2021, Rati II, Acrylic on Canvas, 122cm x 122cm (right)
The founder of the Sunera Foundation, your activism focuses on improving the quality of life of people living with disability - what role do you feel art can play in activism? Can art bring about social change?
Art embraces paintings, performing arts, sculpture, crafts. In each of these forms, art has been known to play an activist role contributing to bringing about social change. Sunera'a work with the differently abled using the medium of performing arts is a fine example of the strong impact art has had on changing lives.
FIRI RAHMAN

Enclosed 05, 2020

Mixed Media on Canvas

28 x 25 cm

LKR 120,000.00


YUWANTHA YASAS SILVA

Rati I, 2021

Acrylic and Oil on Canvas

122 x 122 cm

LKR 394, 500.00

SASKIA PINTELON

Untitled X, 2017

Print and Mixed Media on Board

30 x 21 cm

LKR 296,000.00

HASHAN COORAY

Untitled 06, 2021

Mixed Media on Paper

80 x 55 cm

LKR 76,000.00
ENQUIRE
ENQUIRE

MUVINDU BINOY

God is a Mesh V, 2019

Giclée Print on Archival Photo Paper

58 x 58 cm

LKR 139,000.00

HANSIKA HERATH

Hidden Story 07, 2019

Woodcut

49 x 64 cm
USD 204.00

PAKKIYARAJAH PUSHPAKANTHAN

Untitled IX, 2020

Pigment Ink on Paper

23 x 31 cm

USD 450.00
ENQUIRE
ENQUIRE