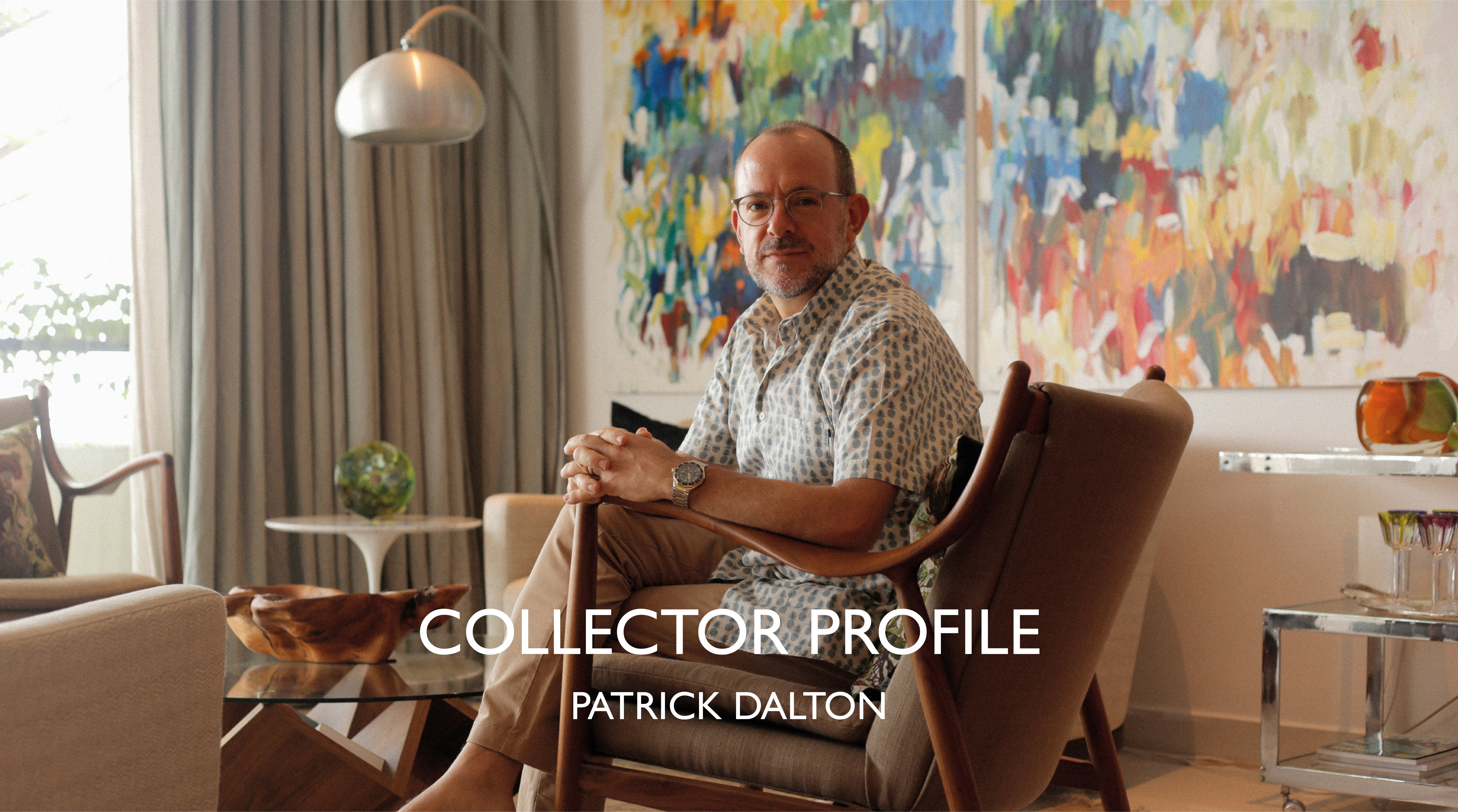 Patrick Dalton's art collection has grown from a simple decorating endeavour into a vibrant homage to the places that have filled Patrick and his partner Rob's life (and now fill their walls). Ten years ago, after working in the marketing and banking industry for many years, Patrick made his venture into the world of property development. A Tasmanian living between homes in Athens, Australia, and Sri Lanka, his art collection is a carefully curated and strikingly coloured ode to the lands he has called home and to their complex and equally vibrant histories. Patrick calls himself a perpetual fish-out-of-water, zipping between his apartment in Rajagiriya and his 50-acre tea and spice estate in the hills of Weligama. The estate, lovingly christened Wild Buffalo Hill, was featured in a spread by The New York Times and is a meeting space for nature, architecture, and art.
We sat down with Patrick in his Rajagiriya apartment to talk about what inspires his collecting, how he got into the art world, and what pieces he is looking to get his hands on next.
(from left to right) Sanjeewa Kumara, 2015, The Joy of an Uncanny Personality, Oil on Canvas 110cmx 150cm | Sanjaya Geekiyanage, Owl, 2017, Brass and copper, 77cm x 57cm x 34cm | Chandraguptha Thenuwara Lotus Swasthika, 2018, Ink on Paper, 19cm X 24cm
Describe your art collection in three words...
Big, Colourful and Eclectic! There is nothing subtle about our collection. It's vibrant and busy and far from boring. Many of our pieces are large format, but I don't discount our smaller pieces' beauty and complexity, many of which house intricate detail and profound messages.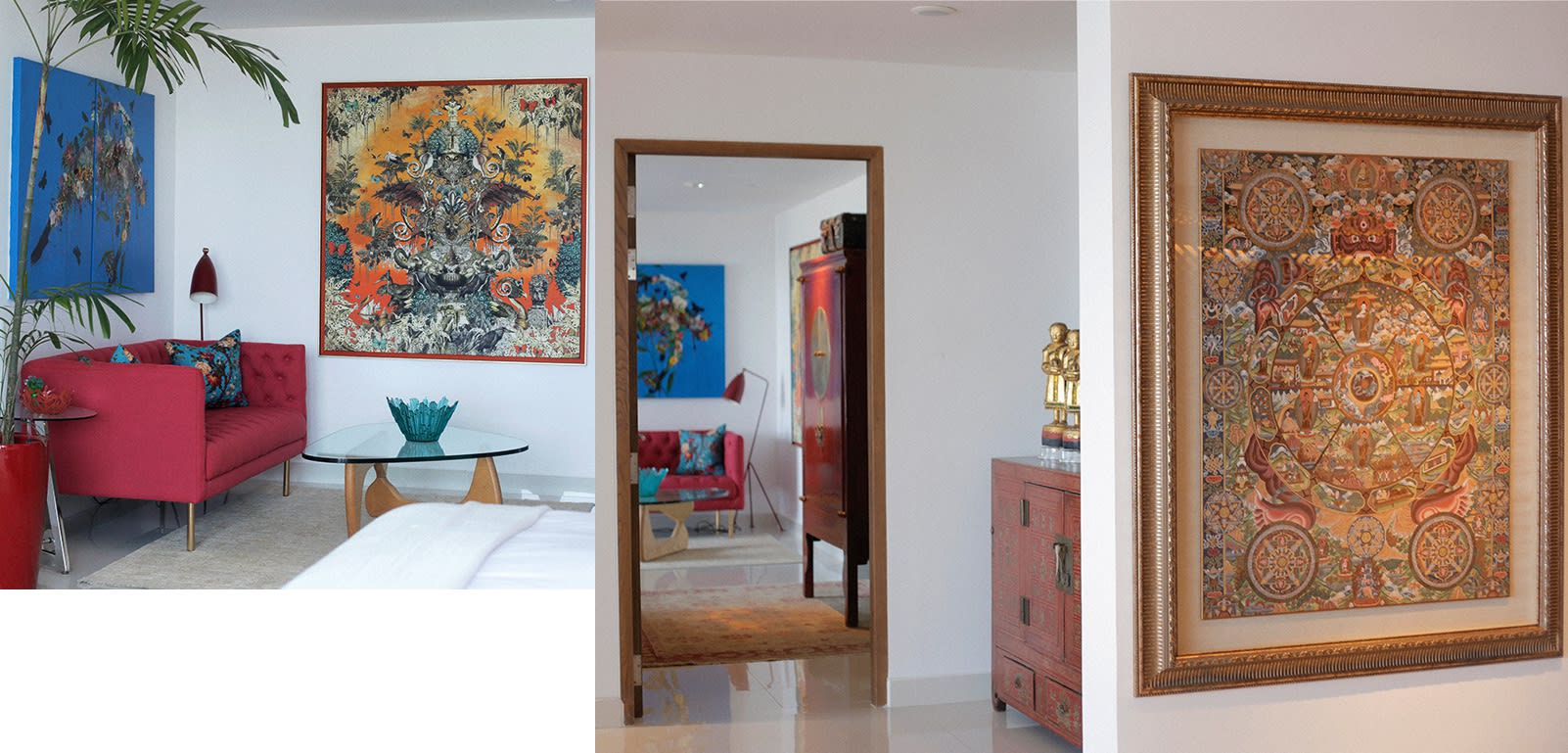 (Left) Priyantha Udagedera , Paradise Lost V, 2011, mixed media on canvas, 101 x 76cm (x2) |Framed Italian Printed Silk Scarf 'Ceylon' by Santorus. (Right) Hand painted 'Wheel of Life' from Bhutan
Why did you decide to start collecting art?
I never saw myself as an art collector; I think this is just a label that appears when you have more art than walls allow! I think once we had a store-room that housed art, I felt comfortable being called a collector. In essence, we originally bought art to decorate, then a little more to invest in, and finally to support artists we loved.
What was the first piece you purchased?
In the early years, the pieces we collected were not serious artworks, so it wasn't until 2005 when we finally purchased something exceptional. It was in Paris, and the artist was Denis Frémond. The piece was a calming (and surprisingly not so colourful) scene from the artist's imagination, merging a mid-century New York loft interior with a window view towards a coastal ocean park. In the foreground is a comfortable but empty leather chair, always inviting me to sit down and enjoy the view. I did say I liked eclectic ideas.
(left to right) Ruwan Prasanna ,Contemporary Landscape XI, 2013, Acrylic on Canvas, 152cm x 152cm | Chandraguptha Thenuwara, Lotus Swasthika, 2018, Ink on Paper, 19cm X 24cm

What is the most recent piece of art you added to your collection, and why?

Recently I acquired a small and intricate piece from Chandraguptha Thenuwara. I had been a big fan of his line drawing series since 2014, when I first encountered his work. I was in Saskia's gallery talking to her Gallery Manager, who explained the background of the pieces in detail. So moved yet quite disturbed, I wasn't comfortable buying works that held such pain. Over the subsequent years, I increasingly understood that Sri Lanka is beautiful yet still grappling with loss and unreconciled conflict. I felt OK about finally owning a piece of this work that represents those two alternate realities. This piece is already one of my favourites.
Priyantha Udagedara ,Where is Hanuman, 2017, Mixed media on canvas, 160cm x 120cm
What do you look for when purchasing a work of art?
Put simply, Beauty & Brains; the elusive double act! For me, art still has to be beautiful, which doesn't just mean colourful. I am a massive fan of architecture, industrial design, mid-century furniture and garden landscapes. These are at their most alluring when form (beauty) and function (brains) are combined. With art, the colour, design, form and modality often dictate the aesthetic beauty, whilst the underlying messages and the hidden technical execution enhance the depth of meaning. Increasingly as I evolve and learn more about art, I require pieces to appeal to me, ideally meeting both these criteria.
How do you decide on works as a couple?
Fists have never been required, thankfully. Generally, if one of us doesn't like something, the other will usually say, "but where will it go?" ... which is short for "I don't like it". If we both love something, we usually know immediately that there is a space somewhere, and we will find it together.
(Left) Self Portrait, Henrique Cavalleiro, Rio de Janeiro, Circa 1940 (Right) Set of four Persian Illustrated Manuscript Pages
What are some of the most sentimental/meaningful pieces in your collection?
In 2006 we travelled to Brazil and went to an antique auction with friends. We fell in love with a self-portrait of Henrique Cavalleiro and succeeded in outbidding the others. The subject's pensive gaze has fascinated us since we always find a prominent space to display him. On the other hand, we do not have a lot of old inherited artwork. Hence, a small group of hand-painted Persian manuscript pages with miniature scenes surrounded by Farsi calligraphy continue to be one of the most meaningful parts of our collection.
Is there any particular type of art that appeals to you or anything that unites all the works in your collection?
Absolutely nothing unites the collection other than Rob and myself. Our collection purely represents what we love or have loved, each a tiny (or sometimes big) morsel from our past that creates joy in the present and gives us something around which our future will revolve.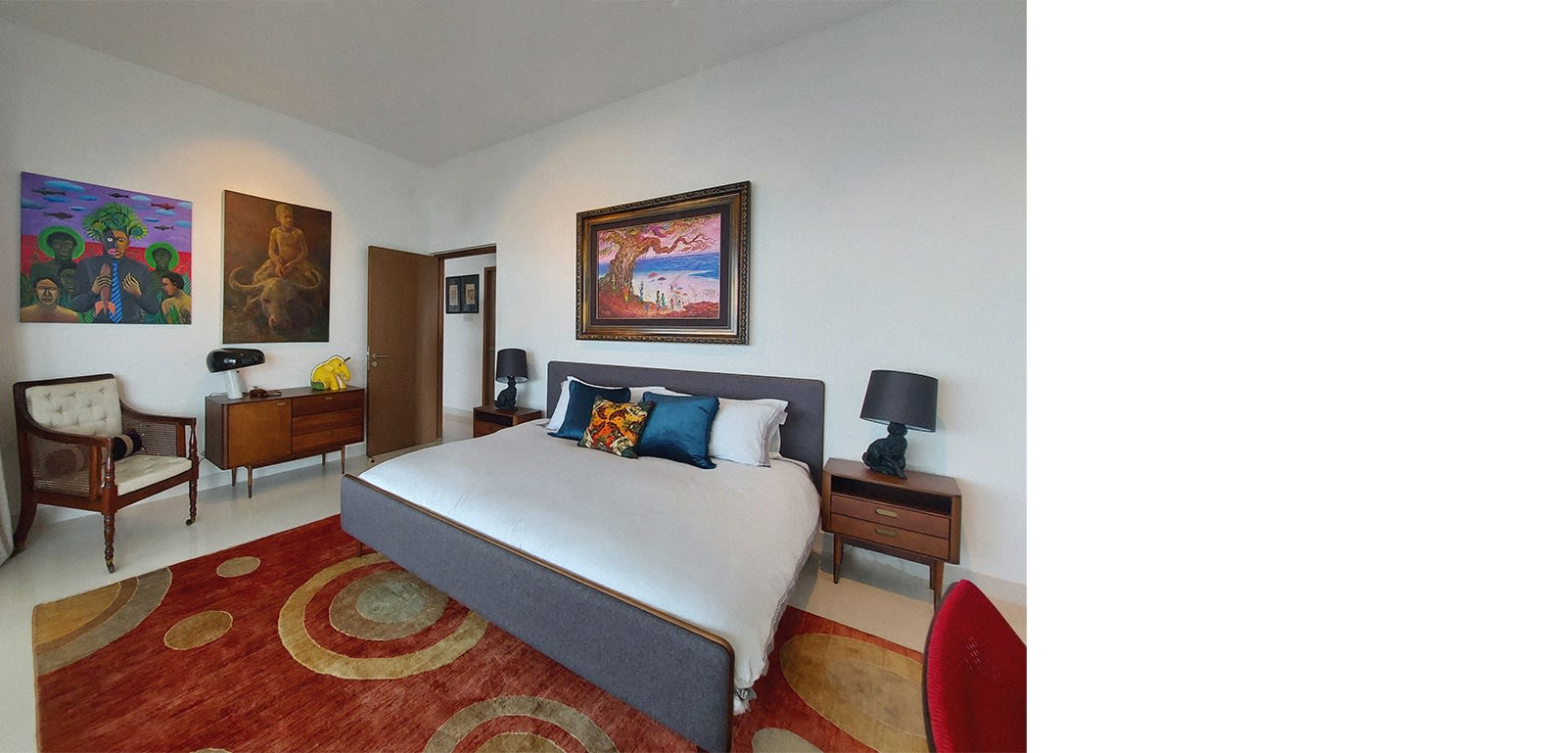 (Left to right) Rasika de Silva. 2016, We Are On The Earth, Acrylic on Canvas, 91cmx91cm | Shanaka Kulatunga, Conqueror, 2016, Oil on canvas, 120 x 90 cm | 'Melasti (Hindu Balinese Purification Ceremony) by Balinese Artist, Atjeng (2009)
Is there a specific way you arrange the art in your collection?

Fortunately, or unfortunately at times, we have often moved house or country or set up a new home or re-arranged our existing living quarters. Each time allows me the opportunity to review, edit and arrange the artworks to suit the new spaces. This rotation of pieces, giving previously hidden or stored artwork new prominence, and the natural editing process consistently concentrates the collection. Each move forces us to engage with the artworks, and that is the most important thing about being "a collector"; to engage and enjoy the works ... otherwise set them free!
Do you collect anything else other than Sri Lankan art?
Yes. Over the last 30 years, we have collected Australian Aboriginal Artwork which I find incredibly special. We also have several significant works from Singaporean and Chinese artists, which we display with the indigenous artworks at our home in Australia. We also have an eclectic range of mid-century European furniture and quirky objects from the 60s and 70s in a small apartment in Athens, where we often spend time in the summer (not during the pandemic, sadly). In Athens, we have a fun collection of vintage lifestyle photographs, reproduced by Getty Images, taken by Slim Aarons, a fashion and society photographer active between the 1950s and 80s. The photos mostly depict glamorous Greek scenes and celebrities from the mid 20th century.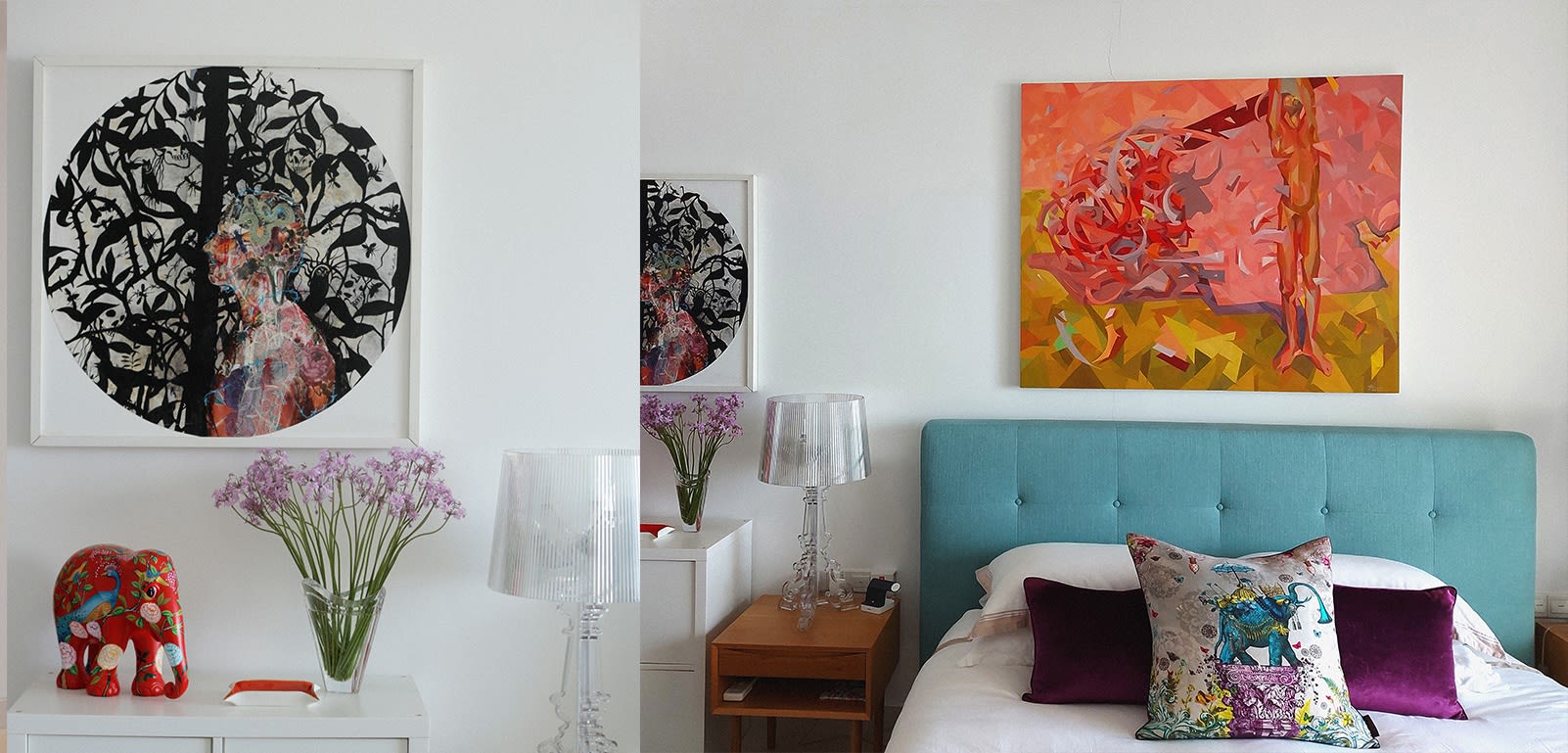 (Sculpture on left) Peacock Garden by Narin Kantawong designed for Elephant Parade, Hong Kong, 2014 (Edition 4/250) | (Left) Priyantha Udagedera, Adam, 2012, mixed media on board, 75 x 75cm |

(Right) Namal Kumara Mixed Media on Canvas

What are you looking to acquire next?


A bigger place to display the collection! This is a tricky question to answer, all joking aside since we have little space available for new artworks. There are many new, exciting and established artists from whom I would love to have pieces. These include Saskia Pintelon, Pakkiyarajah Pushpakanthan and Muvindu Binoy, who each represent very different artistic perspectives. Increasingly drawn to abstract photographic art and montages, I really must find some more wall space.




Chandraguptha Thenuwara

REMINISCENCE V/ LOTUSES, 2019

Brass

79cm x 50cm x 37cm

Edition of 5

LKR 2,000,000

Abdul Halik Azeez

day dreamer you are 08, 2016

Enhanced Archival Matt Paper

46 x 61 cm
18 1/8 x 24 1/8 in

Edition of 10 plus 1 AP

LKR 80,000

Muvindu Binoy

Deity and the Feast, 2016

Giclée Print on Archival Photo Paper

61 x 61 cm
24 1/8 x 24 1/8 in

Edition of 10

LKR 139,000

Muvindu Binoy

God is a Mesh IV, 2019

Giclée print on archival photo paper

58 x 58 cm
22 7/8 x 22 7/8 in

Edition of 5 (#1/5)

LKR 139,000

ENQUIRE
ENQUIRE
ENQUIRE
ENQUIRE

Nuwan Nalaka

Sutra XXVII, 2019

Watercolor on Fabriano Paper

76 x 76 cm

29 7/8 x 29 7/8 in

LKR 255,000

Pakkiyarajah Pushpakanthan

Untitled XIV, 2020

Pigment Ink on Paper

48 x 70 cm

18 7/8 x 27 1/2 in

LKR 170,800

Priyantha Udagedara

Super Hybrid IX, 2014

Watercolour on Paper

30 cm x 38 cm

11 3/4 x 15 in

LKR 170, 800

Ruwan Prasanna

Komorebi XXVII, 2018

Acrylic on Canvas

182 x 112 cm
71 5/8 x 44 1/8 in

LKR 884, 100

ENQUIRE
ENQUIRE
ENQUIRE
ENQUIRE